A Definitive Guide to Emollients, Humectants and Occlusives
March 28, 2023
Your skincare arsenal may be stocked with a multitude of moisturizers, but did you know that they can largely be classified into three different groups: emollients, humectants and occlusives?
"Moisturizer is simply a generic term that encompasses an extensive array of topical creams, gels, lotions, emulsions and ointments," says Dr. Peter Schmid, a plastic surgeon, SkinCeuticals ambassador and Skincare.com consultant. "These formulas may contain humectants, occlusives or emollients in their combination of ingredients."
In order to choose the best moisturizer for your skin type and to treat dry skin effectively, it's important to understand the difference between these terms. To help, we're breaking down the difference between the three types of moisturizers, ahead.
Why It's Important to Moisturize Your Skin
"Moisturizers make dry, tight skin feel better and plump up the surface skin cells to enhance the texture and glow of the skin," says Dr. Schmid. "They hydrate the outer surface of the skin and help resolve dryness, flakiness, redness and itchiness."
Moisturizers also serve an important anti-aging purpose. "It is clinically proven that as we age, our skin loses natural moisturizing factors such as hyaluronic acid and lipids like ceramides, cholesterol and fatty acids that keep our protective barrier intact," adds Dr. Schmid. By reintroducing these key moisturizing elements to your skin daily, you are helping to not only improve the appearance of your skin but also prevent damage as a result of a compromised skin barrier.
It's clear to see why incorporating a moisturizer into your skincare routine is so crucial — but choosing the right formula is equally important.
As Dr. Schmid explains, there is a key difference between moisturizers that solely hydrate the skin and those that can offer skin protection. Depending on your needs and concerns, you'll want to choose a moisturizer formulated with humectants, occlusives or emollients. And the difference between emollients, humectants and occlusives boils down to the benefits.
Humectants
What Is a Humectant?
Is your skin feeling extra dry, or does your skincare routine feature products formulated with drying ingredients like soaps or alcohol? If so, you should consider adding a humectant moisturizer to your routine. Humectants draw moisture from the air into your skin, which makes them great for counteracting dehydration and dryness.
"Humectant ingredients you may see include amino acids (urea), sugar alcohols (glycerol and sorbitol), honey, molasses, egg white and yolk, aloe vera gel, ceramides, alpha-hydroxy acids (lactic acid), glycerin, hyaluronic acid and others," says Dr. Schmid.
What Are the Benefits of Using a Humectant?
Humectants can counteract the drying effects of soaps and alcohols by extracting water molecules from the air and pulling them into the skin's surface. Keep in mind the term humectant isn't typically plastered on product labels, which is why you should look for specific humectant ingredients. Glycerin and hyaluronic acid are two of the more commonly used humectants in skincare.
Who Should Use a Humectant?
Humectants are best for those with dehydrated skin. Dehydrated skin doesn't necessarily mean dry skin — in fact, any skin type can be dehydrated, including oily skin. "Dehydrated skin can be the result of not drinking enough water or liquids," Dr. Dendy Engelman, a board-certified dermatologist and Skincare.com expert, previously told Skincare.com. "It can also be caused by irritating or drying products, which can strip the skin of its moisture." If your skin is dehydrated, it may start to feel "parched and crepe-y," she explained, or it may develop a film of excess oil to compensate for the lack of hydration.
The Best Skincare Products With Humectants
This face serum recharges dry, dehydrated skin with 48 hours of moisture. It's formulated with hyaluronic acid and Vichy's mineral-rich thermal water to leave all skin types feeling soft and supple, including sensitive skin types. The texture is refreshingly lightweight, so it won't leave behind an oily or heavy residue under your favorite moisturizer or makeup.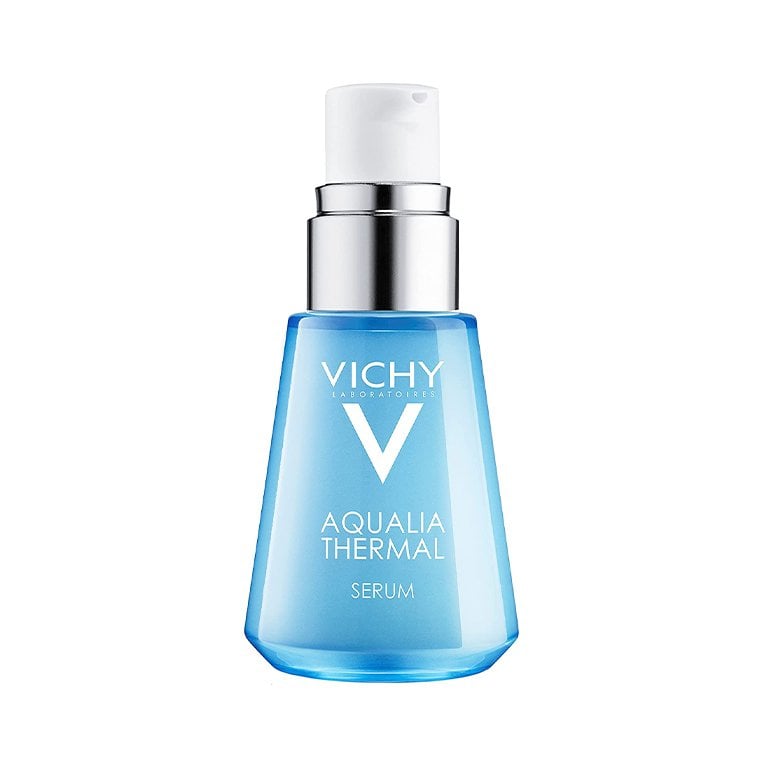 This gentle moisturizer is a fail-safe option for hydrating all skin types. With a blend of hyaluronic acid and three essential ceramides, it's designed to soften skin, restore the natural moisture barrier and provide 24 hours of comforting hydration. The formula is fragrance-free, allergy-tested, non-comedogenic and has a seal of acceptance from the National Eczema Association.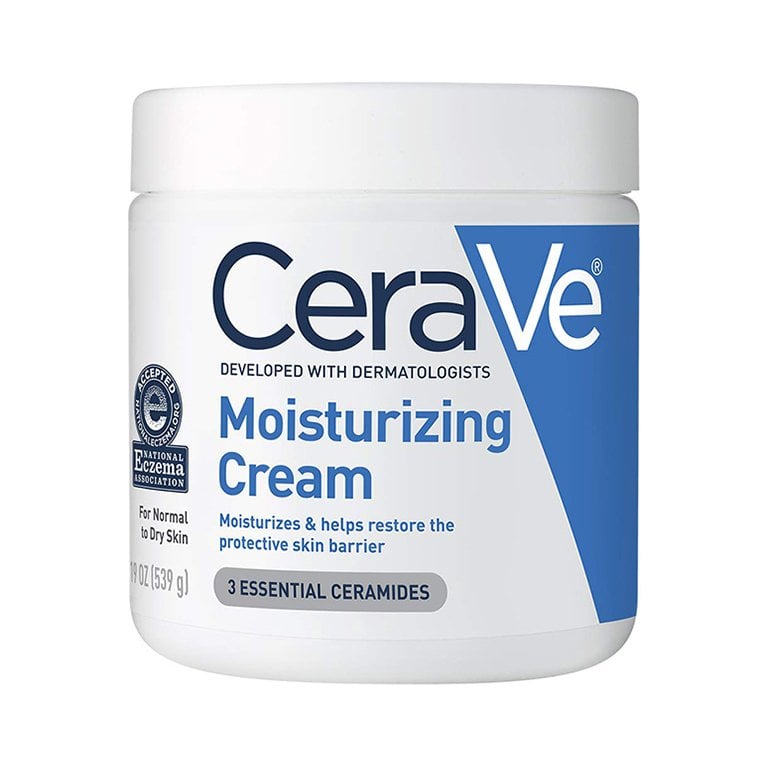 Supercharge your skin's hydration levels with this hyaluronic acid serum from SkinCeuticals. It leaves skin smooth, dewy and plump, with long-lasting hydration and fewer visible fine lines. In addition to hyaluronic acid, the serum contains hydrating botanical extracts of licorice root and purple rice.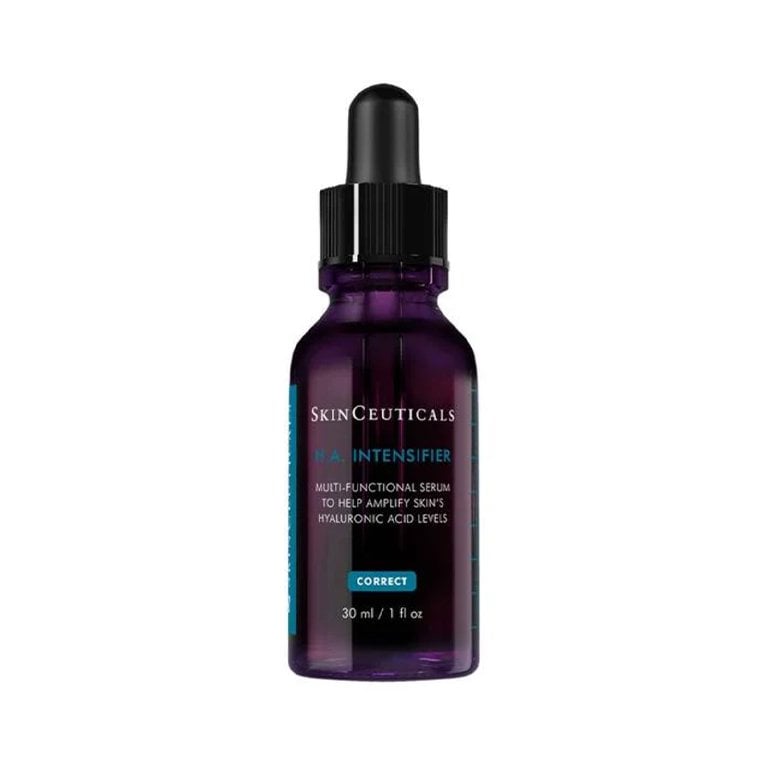 Emollients
What Is an Emollient?
Emollients come in the form of creams, gels, lotions and ointments. They work to help the skin feel more comfortable and less itchy. According to Dr. Schmid, common emollients include lipids and oils, colloidal oatmeal, shea butter and isopropyl palmitate.
What Are the Benefits of Using an Emollient?
"Emollients have a tendency to spread on the skin and increase the rate of skin barrier restoration," says Dr. Schmid. "Lipid application is beneficial for aging skin where natural lipids have been depleted by makeup removers, astringents, soap, showering, environmental exposure, UV radiation and time."
Who Should Use an Emollient?
Anyone can benefit from the use of an emollient, but they're especially helpful for those with mature skin, very dry and eczema-prone skin or if you suspect your skin's moisture barrier has been compromised. "Signs of damage to the skin barrier include increased sensitivity such as itching, redness, irritation, breakouts, dryness, tightness, rashes and broken capillaries," Dr. Jeanne Eyde, a board-certified plastic surgeon based in Michigan, previously told Skincare.com.
The Best Skincare Products With Emollients
For a nourishing, drugstore body-care option, we recommend this cream from La Roche-Posay. Not only is the formula incredibly gentle (it's accepted by the National Eczema Association and approved for use on babies as young as two weeks), it's ultra moisturizing. It replenishes skin's lipids with a combination of shea butter, glycerin, niacinamide, ceramide-3 and soothing, mineral-rich thermal water. This cream is fragrance-free, allergy-tested and non-comedogenic, meaning it won't clog your pores.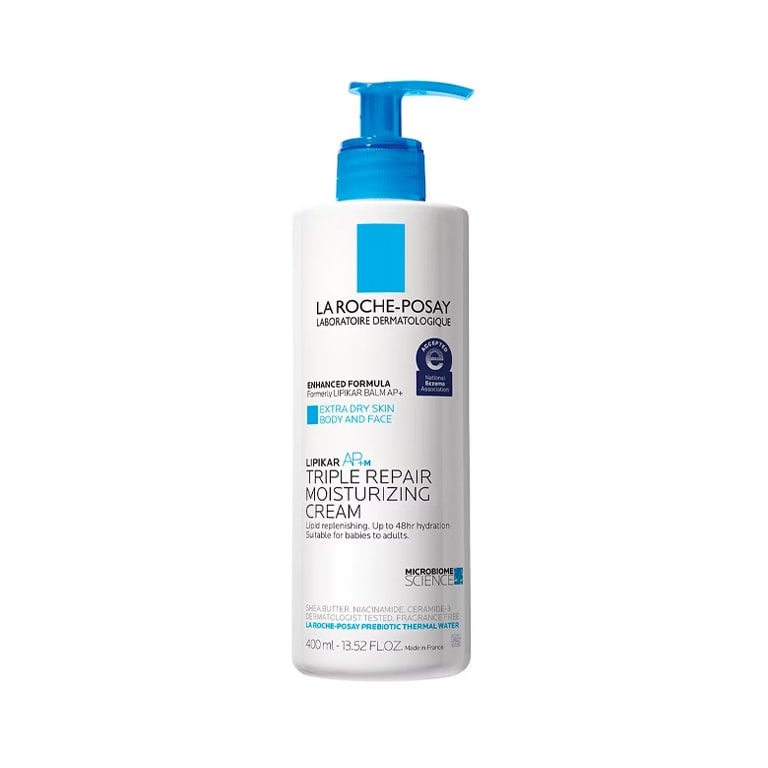 Address dryness and signs of aging with this patented, lipid-rich cream. A blend of ceramides, cholesterol and fatty acids replenish your skin's lipid levels, which in turn provides improved radiance, elasticity and barrier function. It's also great for helping your skin adjust to a new or stronger retinoid — when combined with the potent anti-aging ingredient, the Triple Lipid Restore 2:4:2 can help reduce flakiness and irritation.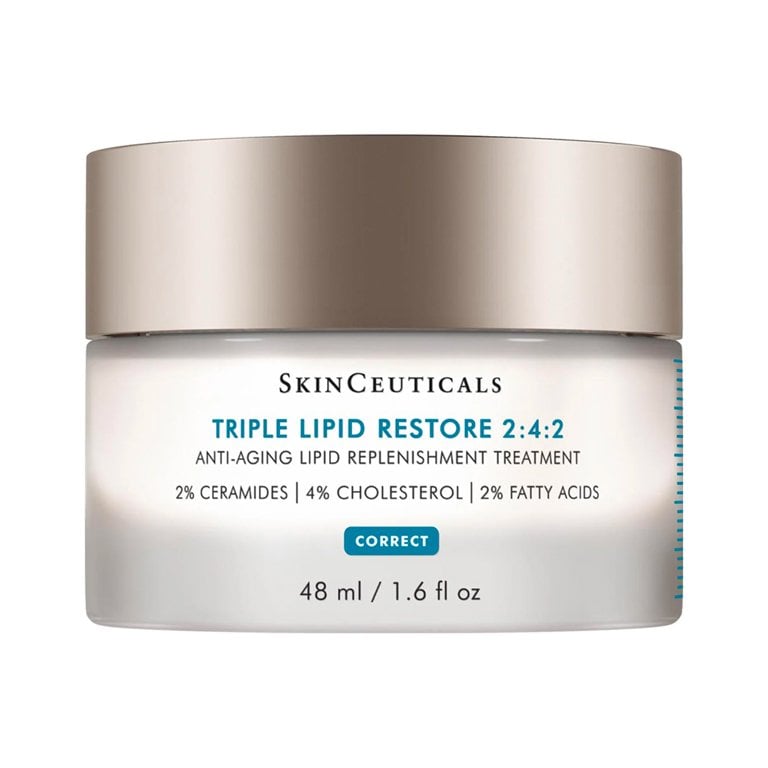 Dry under-eyes are no match for this deeply hydrating eye cream, which instantly hydrates, de-puffs and brightens the delicate area. The ophthalmologist- and dermatologist-tested formula is ideal for all skin types and formulated with emollients like avocado oil and shea butter.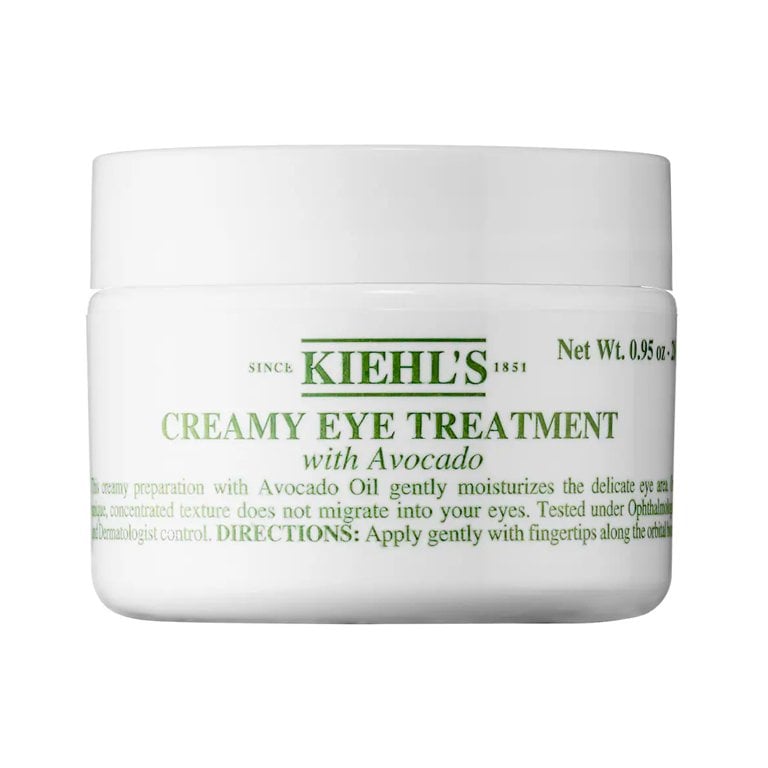 Occlusive Moisturizers
What Is an Occlusive Moisturizer?
According to Dr. Schmid, occlusives serve as a physical barrier to help prevent water loss from the skin's surface, while protecting the skin from external irritants. "The effect is retained skin moisture, reduced irritation and skin barrier restoration," he says. Common occlusive agents include waxes (carnauba and beeswax), silicone, oils (olive and soybean), dimethicone, lanolin, mineral oil and white petrolatum.
What Are the Benefits of Using an Occlusive Moisturizer?
Occlusives often have a thick, heavy consistency when used topically, making them an ideal pick for very dry skin. They're great for locking in moisture and acting as the final step of your skincare routine, as evidenced by the slugging technique. To practice slugging, follow your regular skincare routine, then apply a thick balm on top, either all over your face or focused on extra-dry patches.
Who Should Use an Occlusive Moisturizer?
Occlusives are ideal for locking in moisture on severely dry, flaky or otherwise traumatized skin. Think recovering from a serious windburn, chapped lips or too much time spent in the sun — occlusives can help soothe these areas and provide a protective barrier.
If you have severely dry, sensitive or flaky skin, look to the SkinCeuticals Hydra Balm for relief. The balmy consistency forms a protective seal over compromised skin and prevents moisture loss. Plus, it's gentle enough to soothe post-procedure dryness.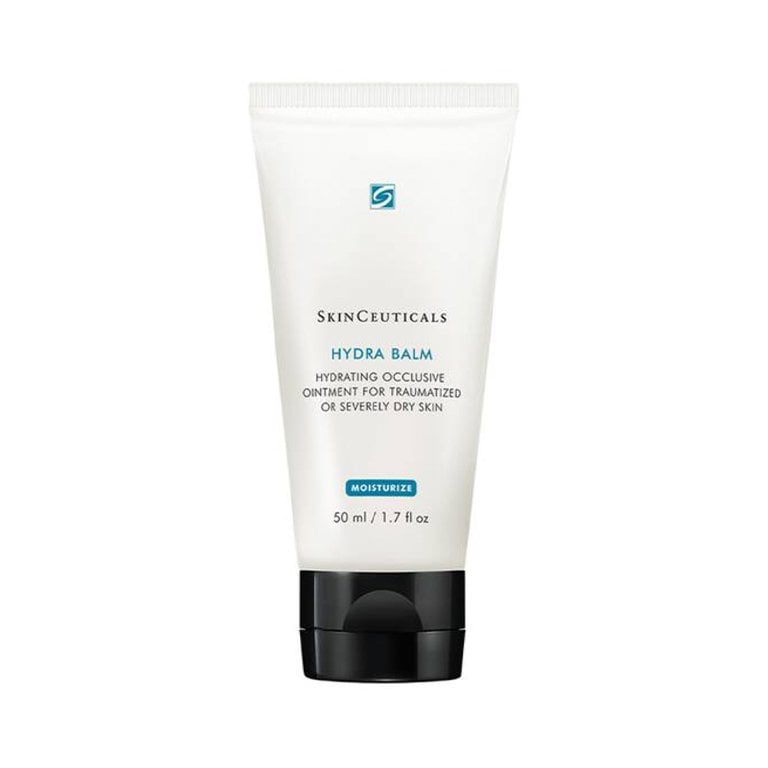 This drugstore ointment locks in moisture on even the driest of skin types. Accepted by the National Eczema Association, it's a gentle, fragrance-free option that helps restore your skin's natural moisture barrier. It's our go-to for slugging and applying to dry patches anywhere on the face and body.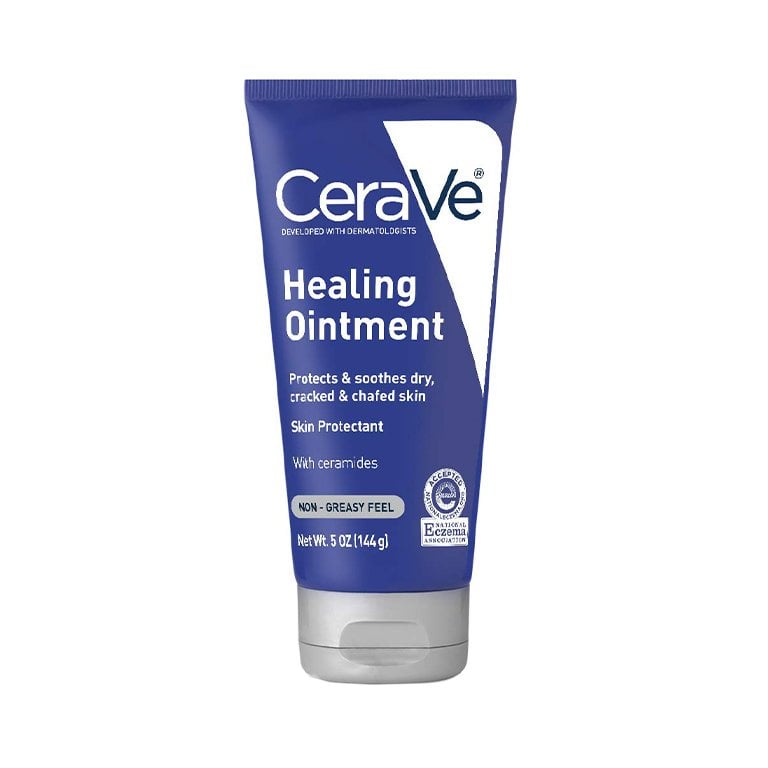 This tiny tube packs a major moisturizing punch. Available in a wide variety of fruity flavors (and pretty red and pink tints), it's a rich salve that alleviates dryness, flakiness, windburn and cracked skin. You can smooth it on anywhere you're feeling dry, from knuckles and cuticles to chapped lips and ashy elbows.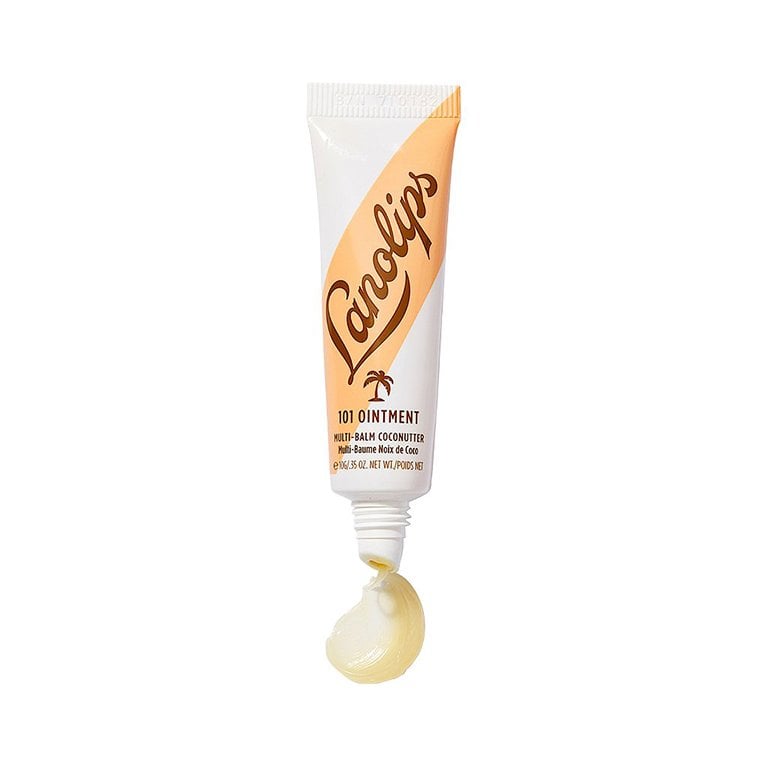 The Difference Between Emollients, Humectants, And Occlusives
You can think of emollients, humectants and occlusives as layers of a hydrating skincare sandwich. Humectants (like hyaluronic acid and glycerin) draw moisture from the air into the skin. Emollients and occlusives lock in the moisture that humectants attract. You can layer emollients on top of humectants and apply an occlusive on top if your skin is extra dry.
Additional reporting by Ariel Wodarcyk
Read more

Back to top