Here's What Makes the Kiehl's Pure Vitality Skin Renewing Cream So Different From Other Moisturizers
October 23, 2019
Do you ever look at a new moisturizerand think to yourself, "So what makes this one so different from the other moisturizers in my arsenal?" Because if you do, it's a fair question, and I'm about to answer it for you in regards to the new Kiehl's Pure Vitality Skin Renewing Cream. The revitalizing moisturizer recently hit Kiehl's shelves in a bright and cheery yellow jar that instantly grabbed my attention. Upon further inspection, I realized it's formulated with manuka honey and red ginseng root, and it promises a glowy complexion (AKA I was already obsessed and had to try it).
Now, when you first open this skin renewing cream you'll notice it has a unique push dispenser on the top; this is to protect its potency. If you're confused by this — don't worry I was, too — here's how to open it: press down and slide your finger on the raised bar towards the dispenser until the product starts coming up. It has a lightweight, creamy texture that feels smooth when applied in circular motions to work it into the skin. Manuka honey in the formula is known for its ability to soothe and purify skin, while also strengthening its barrier, and red ginseng root helps to boost radiance and improve vitality.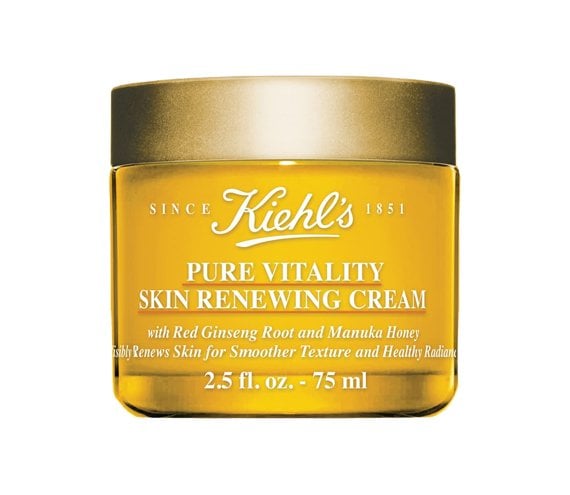 After applying a coating to your entire face, you may immediately experience a glowy and illuminated complexion (I did!). I love how hydrating it feels sans any greasiness or stickiness, but because of its rich texture, I prefer to use it at night. I have fairly normal skin, so it works great as a night cream for me; someone with a drier complexion may benefit from using it in the morning as well. With continued use, Kiehl's Pure Vitality Skin Renewing Cream can help smooth your skin's texture and deliver a youthful-looking glow. It also strengthens your protective barrier and improves resilience, which is great for your skin all around. 
Kiehl's Pure Vitality Skin Renewing Cream retails for MSRP $65. 
*I received Kiehl's Pure Vitality Skin Renewing Cream courtesy of Kiehl's to try and review.
Read More:
The Ashen Skin Struggle Is Real Come Winter
5 Neck Creams You'll Want in Your Anti-Aging Arsenal
4 Ways to Use Beauty Balms That You Haven't Thought Of
Read more

Back to top