The Lancôme Absolue Velvet Face Cream Is the Perfect Summer Moisturizer
July 31, 2020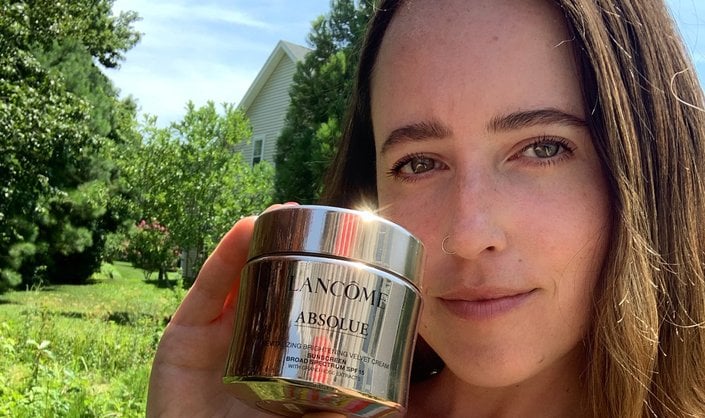 When you're looking for a summer moisturizer, you may not gravitate towards a luxurious, creamy formula. The Lancôme Absolue Velvet Face Cream SPF 15, however, is not your average luxurious, creamy moisturizer. The new limited-edition cream — the latest in the brand's Absolue line — has an innovative formula that contains sun protection and is surprisingly lightweight. I had the opportunity to get my hands on a jar of it, courtesy of the brand, and am sharing more about it and my full review below. 
The Benefits of the Lancôme Absolue Velvet Face Cream SPF 15
This cream is unique to the Absolue line in that it contains broad-spectrum sunscreen to help prevent sun damage and signs of premature aging from forming. The ingredient list also includes Grand Rose extracts, hyaluronic acid, glycolic acid and shea butter to promote a more hydrated, smoother, firmer, radiant and all-around more youthful appearance. Clinical tests show that skin is firmer within just four hours of use, brighter and more even within one week of use, and signs of aging like fine lines and dark spots are diminished over time.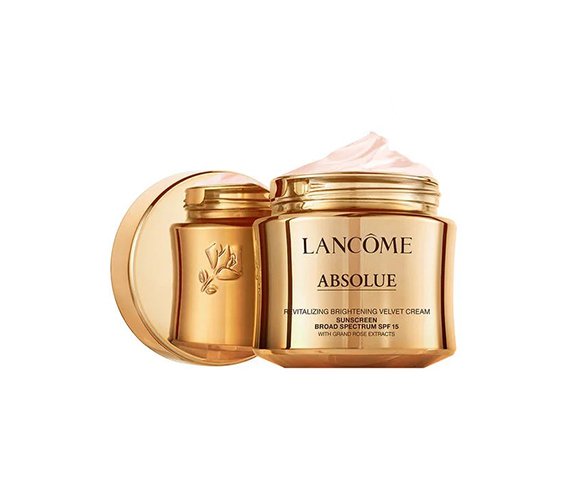 My Review of the Lancôme Absolue Velvet Face Cream SPF 15
I don't have oily or acne-prone skin, but like many, I always get my fair share of breakouts in the summer and prefer to use light-textured skin-care products over thick, suffocating ones. It can be difficult to find a moisturizer that is both hydrating yet non-greasy or pore-clogging, but I've finally found a winner in the Lancôme Absolue Velvet Face Cream SPF 15. 
Upon first glance, the formula does seem extra creamy, yet once I massage it onto my skin, it melts right in without leaving a sticky or gloppy film behind. After applying it the first time, I quickly understood why the word "velvet" is in the product's name; my face felt velvet-y soft from the second I applied it to the moment I washed my face at night. In fact, I had to stop myself from repeatedly touching my face just to feel the satisfying texture. This characteristic also makes it the perfect canvas for makeup. I found that my BB cream went on nice and smooth over top and that I didn't need a primer.
When on, the moisturizer gives my skin a glowy appearance, and I've even been applying extra formula on the tops of my cheekbones as a highlighter. For my friends with oily skin out there, don't worry — the glow is not at all shiny, simply light-reflecting. 
Also worth noting is the subtle yet intoxicating rose scent, courtesy of the formula's French Grand Rose extracts. It gives the phrase "wake up and smell the roses" a whole new meaning. 
Finally, one of my favorite aspects of the moisturizer is the SPF 15 broad-spectrum coverage. Of course I still wear sunscreen on top of it, but you can truly never be protected enough — especially in the summer. 
And while I'm currently categorizing it as a perfect summer product, I don't think I'll be retiring it come fall. If I need some extra moisture, I'll just mix in my favorite face oil. From now on, I only want my skin to feel like velvet.   
Photo Credits: Courtesy of Sarah Ferguson; Courtesy of Lancôme
Read More:
7 Ways to Wake Up a Tired-Looking Face
The Best Overnight Masks That Work While You Sleep, According to Our Editors
Quick Question: What Is a Milk Peel? Here's What You Need to Know
Read more

Back to top