No Experience Necessary: A Beginner's Guide to Moisturizing
August 09, 2016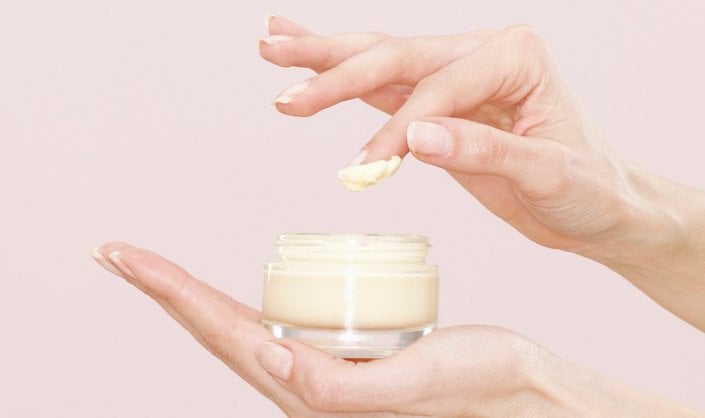 If you're new to the game, moisturizing—the right way—can feel a bit overwhelming. With many different kinds of hydrating lotions, creams, gels, and oils available to choose from, how do you know if you are even choosing the right one for the season, or even more so for your skin type? When should you apply, how often should you apply? The questions are endless! No need to panic, we've got you covered with a beginner's guide to moisturizing, below.
CLEANSE
When it comes to moisturizing, cleansing the skin—whether it be washing your face or taking a steamy shower—can be more along the lines of a double-edged sword. On one end, you should start with a clean surface when moisturizing but, on the other hand, if you don't apply moisturizer immediately following cleansing—or worse: forget all together—you can be left with dry skin. This is because your skin holds the most moisture when it's wet, but as it starts to dry, that moisture begins to evaporate. Moisturizing after cleansing can be one of the best times to hydrate, as it can help to lock in the hydration. 
EXFOLIATE 
Your skin is constantly getting rid of dead skin cells, but as we age, the natural process of shedding those dead cells slows down, which can cause dry skin that can feel impossible to hydrate. The best way to get rid of these dead skin cells? Exfoliation. On top of removing of dead skin cells from skin's surface, exfoliation can make way for creams and lotions to better do their job. For best results, apply either a chemical or mechanical exfoliator to the skin one to two times a week and follow up with a moisturizer of your choice.
KNOW THY SKIN TYPE
Having a sense of your skin type is important for a number of reasons—especially if your skin is prone to acne or can become easily irritated. The sooner you know your skin type; the sooner you can find a moisturizer that best suits your skin's needs.
If you have oily skin: Look for a lightweight lotion for the body and a gel cream like, Garnier's Moisture Rescue Refreshing Gel Cream, for the face. This hydrating gel cream can give the skin lasting hydration without leaving an oily residue on the skin's surface.
If you have sensitive skin: Look for a body and facial lotion that is fragrance-free or a facial oil designed specifically for sensitive skin, like Decléor's Aromessence Rose D'Orient Soothing Oil Serum. Formulated with pure essential oils, this hydrating facial oil can soothe and hydrate even sensitive skin.  
If you have dry skin: Look for a body and facial lotion or cream that is ultra-hydrating like, Kiehl's Ultra Facial Deep Moisture Balm. Formulated with Antarcticine and glycerin, this soothing moisture balm can help dry skin store and retain moisture, while working to restore its natural barrier function to lock in hydration.
If you have combination skin: Things might be a little bit tricky for you. Have no fear, you can mix and match your moisturizers to better fit your skin concerns. Apply a thicker cream like, SkinCeuticals' Emollience to the dry areas on your face and a lightweight moisturizer like, Kiehl's Ultra Facial Oil-Free Gel-Cream to the more oily areas—like, your T-Zone—on your complexion.
If you have mature skin: Look for an anti-aging cream that can address some of your top aging concerns- think: under-eye bags, fine lines, or loose skin. We recommend Biotherm's Blue Therapy Up-Lifting Instant Perfecting Cream, as it can soften and smooth the appearance of fine lines and wrinkles, for an overall youthful look.  
If you have normal skin: Revel in the fact that you've pretty much hit the skin jackpot. For the face, use a moisturizer that has been formulated for all skin types. As for the body, treat yourself to a rich, gorgeously scented body butter, like one of The Body Shop's beloved Body Butters. With so many different scents to choose from- mango, coconuts, British rose, and so on—the only concern you'll have to worry about it how to pick just one.
SWITCH IT UP
As the seasons change, so should your creams and lotions. There are certain skin care needs in cold, dry, winter climates that simply don't exist in the spring or summer. So, pay attention to how your skin changes throughout the year and apply thicker or lighter moisturizers to the body as needed.
DON'T NEGLECT
When it comes to moisturizing the skin, one of the easiest mistakes you can make is neglecting to moisturize certain body parts, like you neck, hands, and feet. The best way to combat this mistake is by being mindful and making it a habit to focus on these areas when moisturizing from head-to-toe. Think of it this way: every time you moisturize your face, moisturize your neck and every time you moisturize your legs, moisturize your feet, and every time you wash your hands, follow up with a hand cream.
Read more

Back to top