The Youth to The People Polypeptide 121 Future Cream Is a Win for Dry, Sensitive Skin
November 30, 2022
When I found out about the release of the Youth to the People Polypeptide-121 Future Cream, I couldn't wait to get my hands on it. I'm already a devoted admirer of the brand's Adaptogen Deep Moisture Cream (let the nearly empty container on my nightstand serve as proof), so I was confident I'd be a fan of the new formula too.
Spoiler alert: I was. Keep reading to learn more about my experience using the moisturizer, which was kindly gifted to me by Youth to the People.
The Youth to the People Polypeptide-121 Future Cream Formula
This cream is designed to replenish moisture for up to 24 hours, visibly firm the skin, help improve the look of fine lines and wrinkles and help strengthen the skin's moisture barrier. It contains synthetic, bio-designed peptides, which are made up of chains of amino acids (aka the building blocks of proteins). The peptides in this cream contain some of the same amino acids found in our own bodies.
In addition to the peptides, the moisturizer has plant-based proteins, which are high in antioxidants, as well as ceramides. Hydrating formulations infused with ceramides and antioxidants can help replenish the skin's moisture barrier, improving the appearance of signs of aging and combating loss of moisture. The cream is also meant to make skin appear firmer and minimize the look of wrinkles.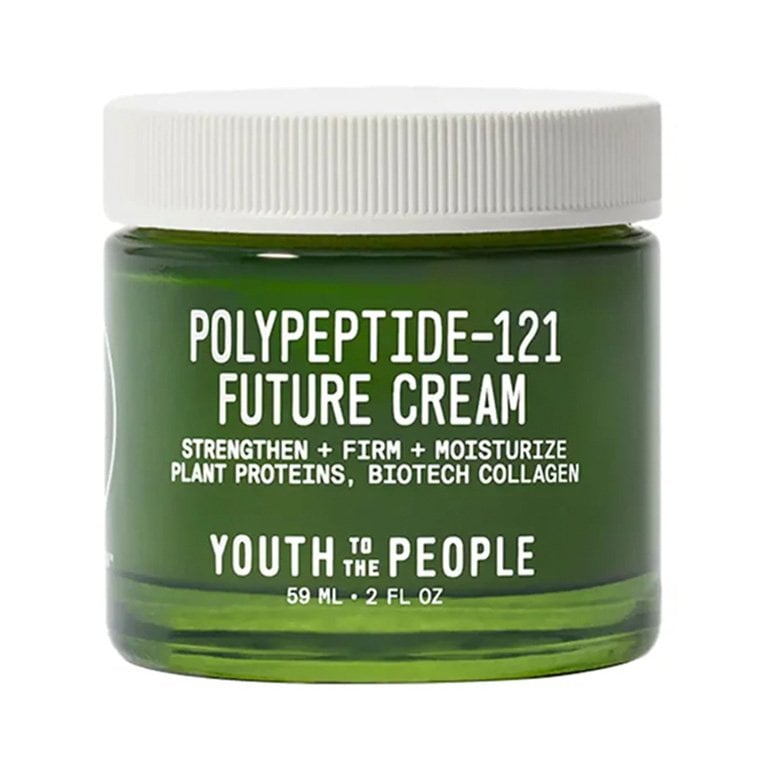 My Youth to the People Polypeptide-121 Future Cream Review
The first thing that stood out to me about the Youth to the People Polypeptide-121 Future Cream was its texture. It's bouncy, lightweight and gel-like, which surprised me since most moisturizers I'm drawn to have a rich, creamy texture. Once I applied it, my skin immediately looked dewier and felt softer. While it's rich enough to apply at night, I also love this moisturizer for daytime. My makeup glided on smoothly over top of it, and my skin felt soft all day.
I have very sensitive, dry skin, and I was grateful that throughout a month of testing this moisturizer, it never irritated my skin at all. In fact, it left it plump, glowy and well-hydrated, even when I tested it without my usual cocktail of hyaluronic acid and niacinamide serums underneath. It's also fragrance-free, which is a huge plus for reactive skin types like mine.
This is a great cream to try if you're looking for rich daytime or nighttime moisture that sinks right in and doesn't feel heavy. I'm so impressed with how lightweight it is and the fact that it didn't irritate my skin in the slightest. It's safe to say this is now the second Youth to the People moisturizer I'm hooked on!
Photo: Ariel Wodarcyk, Design: Juliana Campisi
Read more

Back to top