How the SkinCeuticals Neck Repair Cream Is Helping One Editor Deal With Tech Neck
February 11, 2022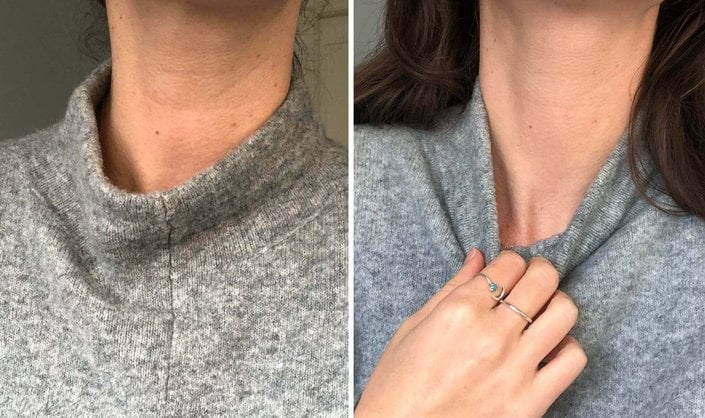 I've been looking down at my phone or my computer more than ever lately thanks to my addiction to TikTok and my working from home situation. What could be a result are the lines on my neck that are becoming way more noticeable than they were a year ago. So when SkinCeuticals kindly gifted me a sample of the Tripeptide-R Neck Repair Cream, I couldn't wait to give it a try. Ahead, I'm sharing my full experience with the anti-aging neck cream.
What Is the SkinCeuticals Tripeptide-R Neck Repair Cream?
The Tripeptide-R Neck Repair Cream is a daily retinol cream formulated specifically for the neck to target early to advanced signs of aging – such as fine lines, crepiness, and loss of firmness – for a firmer neck appearance. Fine lines can be caused by a number of factors, including repetitive movements from looking down at cell phones, tablets or computers, which in my case, has been way more common these days.
The formula is powered by slow-release retinol, a tripeptide concentrate and glaucine complex to help visibly improve several key signs of aging. With continued use, it minimizes the appearance of horizontal neck lines, wrinkles, loss of firmness and crepiness for a smoother, more youthful-looking neck.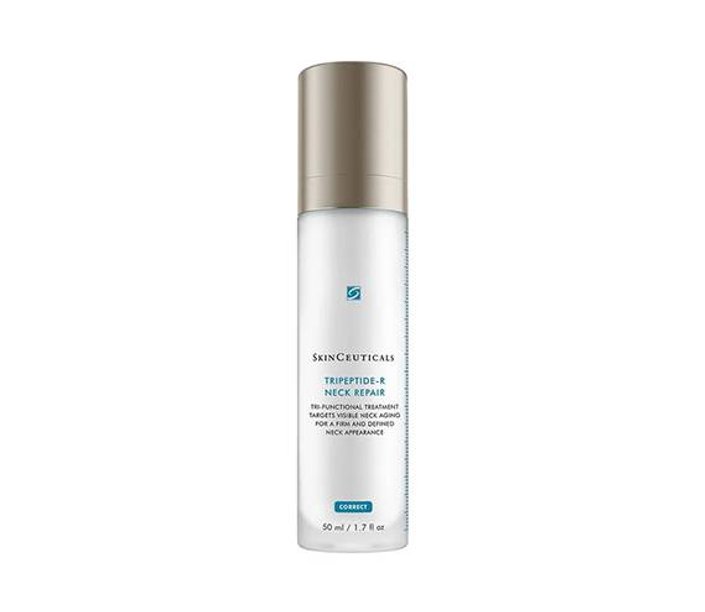 How to Use the SkinCeuticals Tripeptide-R Neck Repair Cream
The pack says to apply the cream every other night and to increase to daily use if no irritation occurs, and finally to twice daily use. Because I didn't have any irritation my first week of use, I integrated it into my nightly skincare routine. As a reminder, always use a broad-spectrum, high protection sunscreen when using a retinol-containing product, as retinol may increase photosensitivity.
After my nighttime skincare routine that includes a cleanser and a moisturizer, I massaged two pumps of the Tripeptide-R Neck Repair Cream from my décolleté to my jawline in an upward motion. Right away, I was pleasantly surprised by the cream's gel-like texture. Because it has such potent ingredients, I expected it to be super thick, but instead loved its lightweight texture. Not only is the cream easy to work with, but it also absorbs into the neck pretty quickly without leaving it feeling sticky or slimy.
My Experience With the SkinCeuticals Tripeptide-R Neck Repair Cream
I have seriously been loving the results so far. After about a month of using the cream, my neck looks and feels smoother than it did before. As with any retinol product, patience is the name of the game, so although I've noticed slight changes in the appearance of my neck, I'm excited to see what it will look like after using it for a few more months.
Read more

Back to top