6 Affordable Weekly Beauty Rituals To Put On Your Radar
January 24, 2019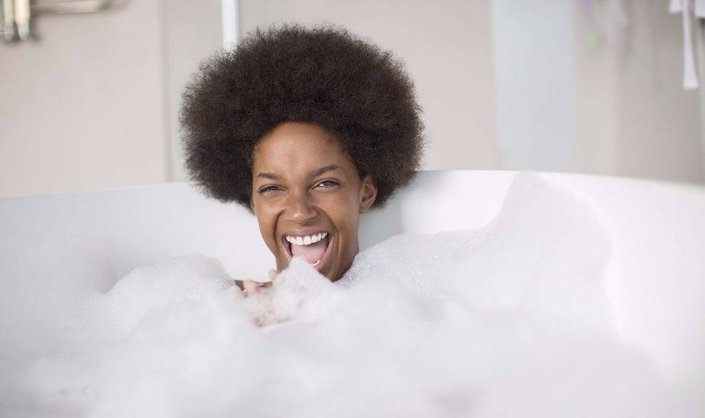 Whether it's appointments at salons or trips to the spa to maintain your look, beauty services don't come cheap. That's why we've come up with six affordable beauty rituals you can welcome into your life once a week, from the comfort of your very own bathroom. Add one—or all six—to your weekly routine to improve the look of your skin…without giving up all your pennies. 
Beauty Ritual #1: Indulge in a Facial Massage
Heading to the spa for a Swedish massage once a week isn't exactly affordable for everyone. Giving yourself a facial massage at home, on the other hand, is much more pocket-friendly. You may have heard facial massaging be referred to as "facial yoga", and the name fits. A soothing massage can help release the tension that's built up throughout the week, and can even promote circulation and enhance your complexion's glow. That's a pretty good deal for a few minutes of rubbing your skin! All you'll need are your hands, and a facial oil like the Kiehl's Daily Reviving Concentrate. Slick your skin with the oil—just like a masseuse would—and move your hands in circular motions over your skin. Trust us, when you experience facial yoga-induced relaxation, you'll struggle to stick to just once a week.
Beauty Ritual #2: Make Time for Masking
There's no reason you have to save face masks for special occasions, they should be part of your (at least) weekly beauty routine. Turn it into a ritual to use a face mask (or a few) at least once a week. We're partial to mixing and matching masks from the L'Oréal Paris Pure-Clay line, each of which contains three different clays, depending on our skin's specific needs. Smooth on your favorite(s), pop on a couple of cucumber slices—a cheap addition to your masking session—and kick up your feet for 15 minutes. Then, it's time to rinse. Be sure to also lock in whichever ingredients your mask may have with a moisturizer. For this, use the SkinCeuticals Emmollience, a rich moisturizer which helps to restore your complexion as it delivers a much-needed dose of hydration.
Beauty Ritual #3: Take a Bath
You may normally be a fan of showers, but they're nowhere near as good of a way to unwind as a bath. Fill up your bathtub with warm water, toss in a moisturizing bath bomb or relaxing bath salts, and grab a good book. Enjoy your soak, and when you're ready to reach for a towel don't dry off so fast. Smooth on a moisturizing body cream while your skin is still damp to lock in moisture. 
Beauty Ritual #4: DIY Your Manicure
Getting your nails polished by a pro starts to add up quickly, and there's no reason you can't manage a manicure on your own. It's true what they said, practice makes perfect. Keep things simple to start, pushing back cuticles with an orange stick and adding a clear coat for the ultimate shiny, natural look. Once the polish dries, slather your hands with the Carol's Daughter Karité Coco Intensive Hand Cream.
Beauty Ritual #5: Scrub Down Your Skin
Exfoliating doesn't have to be an everyday activity, for many skin types once a week is plenty—but it should still be a regular beauty ritual. When you're enjoying a steamy shower, it's easy enough to incorporate a body scrub. Use the Kiehl's Gently Exfoliating Body Scrub or a lathered-up loofah to slough away dead skin cells and reveal smoother-looking skin. Try to coordinate when you exfoliate with when you'll be shaving for your closest shave yet. 
Beauty Ritual #6: Apply Self-Tanner
Spray tans may look super natural—and we totally approve that you're saving your skin from the sun's harmful rays—but they're also likely draining your wallet. Opting to use self-tanner at home is an easy compromise since you get to keep your bronzed look and your cash. We're fans of getting our faux glows courtesy of the Lancôme Flash Bronzer Tinted Self-Tanning Body Gel. Just remember, to maintain your color, you'll need to turn self-tanning into a bi-weekly beauty ritual. 
Read more

Back to top