Scrub Sustainably: Garnier's New Argan Nut Gentle Exfoliating Cleanser
January 06, 2017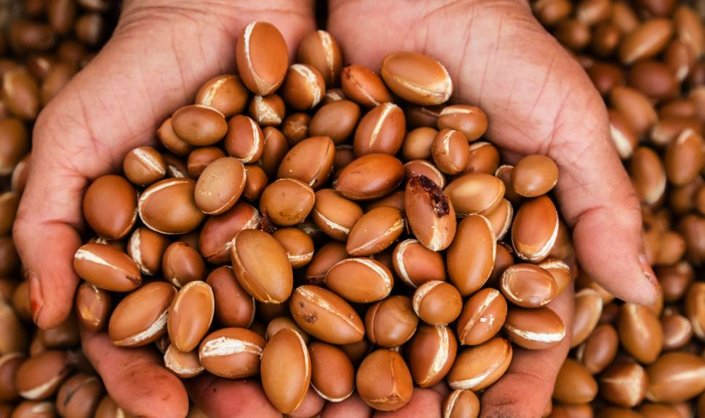 If radiant-looking skin is what you're after (and really, aren't we all?!) then it's time to get well acquainted with vitamin C. This potent antioxidant is considered a gold-standard in anti-aging with an ability to help skin fight free radical damage and the premature signs of skin aging—including fine lines and wrinkles, dull skin tone, and uneven texture. If you're looking to incorporate products formulated with vitamin C into your skin care routine look no further than Garnier's Clearly Brighter collection. The latest addition to this vitamin C-formulated line of products is the new Argan Nut Gentle Exfoliating Cleanser—a formula that also features sustainably sourced argan nut shells!
Environmentally-Friendly Exfoliation With Argan Nut Shells
Exfoliation should be a key part of your skin care routine. As you get older you may start to notice an increased buildup of dead skin cells on the surface of your skin resulting in anything from dry-looking, rough texture to dullness. To help remove this layer of buildup from skin's surface we need to turn to exfoliation. With last year's microbead ban, many exfoliating skin care formulas had to be adjusted to remove plastic (and potentially environmentally damaging) microbeads in favor of environmentally-friendly exfoliating alternatives—one such alternative is argan nut shell! Garnier's Argan Nut Gentle Exfoliating Cleanser—which is formulated with finely ground Argan nut shells—can be used up to twice daily to help to brighten and deeply cleanse the skin. What's more, in addition to being plastic microbead-free, the cleanser is also free of oil and parabens and is non-comedogenic.
The freshly-scented gentle exfoliating cleanser is formulated with a fruit acid blend, an antioxidant complex, and of course vitamin C. It helps to polish and even the appearance of the skin's tone, brighten the look of the skin, and refine pores all while washing away dirt, oil, and makeup in one easy step. Skin can look smoother and more radiant with a healthy glow!
It's important to note that the formula contains an alpha-hydroxy acid (AHA) which can increase the skin's sensitivity to the sun and the possibility of sunburn. To ensure you're keeping your skin safe always layer on a sunscreen with broad-spectrum SPF each morning and try to limit sun exposure while using the product! Get sun protection and better results from your Clearly Brighter cleanser by reaching for Clearly Brighter Brightening and Smoothing Daily Moisturizer SPF 15 after cleansing each morning. The moisturizer is formulated with an antioxidant complex of vitamins C and E, pine bark essence, and micro-exfoliating lipo-hydroxy acid—as well as broad-spectrum SPF 15!—to help to hydrate skin and protect it from the harsh effects of UV rays.
Eager to learn more about the benefits of vitamin C (and A, B and E?) Check out our skin care guide to vitamins!
Read more

Back to top