Is Dry Brushing Your Body Necessary? A Dermatologist Weighs In
May 09, 2019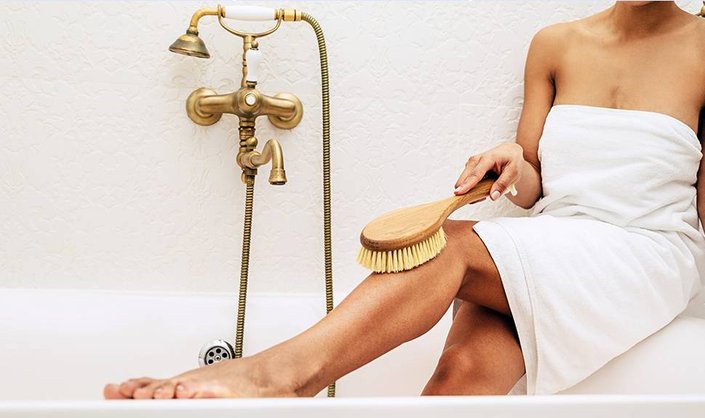 Exfoliating your body doesn't just include manual mechanical scrubbing or chemical peeling. In fact, this practice can be done another way: via dry brushing. Dry brushing is when you use a large bristle brush to massage the skin after applying your skin-care regimen and is practiced by many a skin-care lover, but others still find it intimidating. To unpack whether this practice is necessary, we spoke with skincare.com consulting dermatologist, Rita Linkner, MD, of Spring Street Dermatology in NYC, to get her take and find out the best way to dry brush your way to smoother skin.
What Are the Benefits of Dry Brushing?
According to Dr. Linkner, dry brushing helps to manually exfoliate dead skin cells on the surface of the skin. "Dry brushing is an excellent physical exfoliator and helps give the skin a natural glow," she says. Dry brushing works to temporarily increase circulation, so you may see the skin look a little pink post-brushing. "It's energizing, so it's great to do in the morning before getting into the shower," she adds.
Dry Brushing Must Be Done Gently
Dry brushing works on just about any skin type, but Dr. Linkner urges you to be careful, no matter if your skin is dry, oily, normal or in between. "For any skin type, it's important to not brush the skin too hard — a gentle message is always best," she says. Those with very sensitive skin may also want to consider skipping it and reaching for a less abrasive chemical exfoliator instead.
How to Incorporate Dry Brushing Into Your Routine
The dry brush step should be incorporated into your regimen before your shower. To do it, you want to move the brush upward with extremely fast strokes. Post shower, you should follow up with a moisturizer or body oil. And remember, dry brushing should not hurt. If it does, "ease up the amount of pressure you use with the brush, and do it softly once a week in the mornings only," says Dr. Linkner. When done correctly, it can help reinvigorate the appearance of your skin and makes you feel great, too.
Read More
Our Editors Put the L'Oréal Paris 1.5% Hyaluronic Acid Serum to the Test
The Ultimate Combination Skin Regimen
Derm DMs: What Is an Exfoliating Powder?
Read more

Back to top