A Thank You Note to the SkinCeuticals Advanced Scar Control Treatment
December 08, 2021
In an effort to spend more time outside, I decided to take up running again. Sure, I hadn't really gone for a run since high school track, but how dangerous could a jog on a rocky trail in the woods really be? As it turns out — it can be pretty dangerous. Long story short, I took a pretty nasty tumble and my knee suffered the brunt of it. Thankfully I was only left with a few bruises and a scrape or two, making it easy to cover up with body makeup. When the SkinCeuticals Advanced Scar Control treatment arrived at my doorstep courtesy of the brand, I couldn't wait to put it to the test to see if it could minimize the appearance, color and texture of my brand new scar. Ahead, find my full review.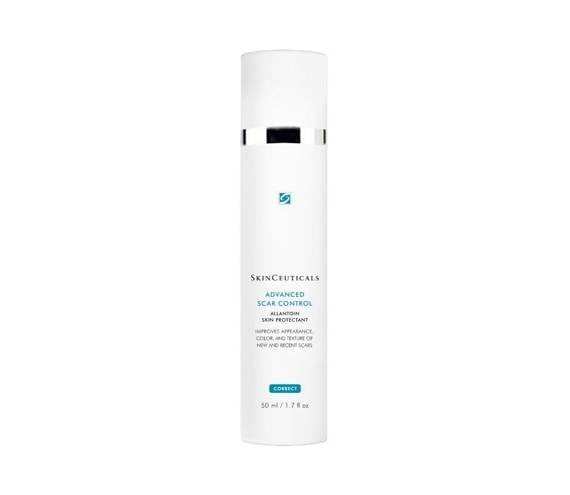 When the package arrived, I quite literally ripped it open, excited to see what I'd be working with. The formula contains silicones and allantoin and is clinically proven to improve the appearance of a scar's redness and intensity.  To use it, I popped off the cap and gently pumped some of the treatment onto my hand. The first thing I noticed was the treatment's consistency. I was expecting it to be creamy and opaque, but it's actually a clear, lightweight gel that feels smooth to the touch. 
Following the directions, I smoothed the treatment onto my scar, making sure it was evenly coated. The gel was so easy to blend and the process was completely pain-free. My favorite part: the gel dried down to a powdery finish almost instantly rather than clinging to my clothes or leaving behind a wet, sticky feeling. 
After applying product to my scar every single day for the last two months, I can honestly say that my scar is significantly less red and angry-looking. Plus, it's not nearly as bumpy and raised as it was before. With continued daily use, I'm hopeful that this treatment will help fade the appearance of the scar and the fall from my memory. 
Design: Juliana Campisi
Read More:
5 Face Mists to Freshen Up Acne-Prone Skin
Beyond Post-Sun Care: Our Favorite Aloe-Infused Skincare Products
Read more

Back to top