A Fool-Proof Self Tanner For Your Face
July 12, 2016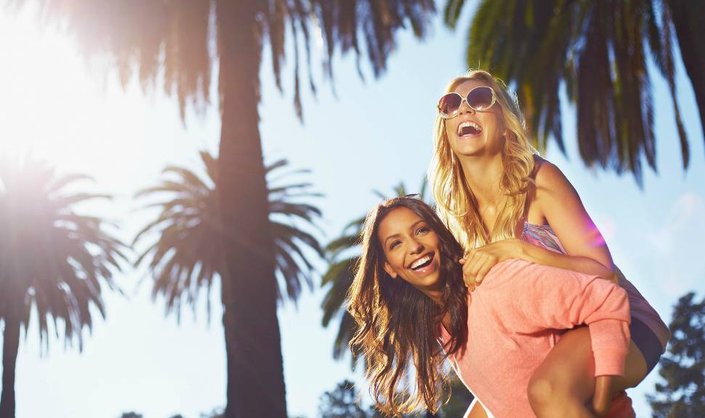 If you're a newbie to the world of self tanning, chances are applying the stuff to your face is a terrifying prospect. What color can you expect? What happens if you make a terrible mistake? Thing is, if you make a mistake on your body, it's easy to cover up with long sleeves or your favorite pair of jeans, but your face…well, that's a whole other story! If you want your head to match your shoulders, knees, and toes, you're going to want to keep reading. We're sharing the best fool-proof self tanner for your face, below!
When applied to our faces, self tanner can prove to be a bit more intimidating than say, our legs or our arms. Yes, we know that if something goes wrong, there are ways to fix or even remove our self tanner mistakes, but sometimes the risk of looking like a freshly-picked orange is just not worth taking. Especially when there are some great—and temporary—self tanners out there that can give our faces the bronze we so desire, without the anxiety-ridden possibility of our complexions appearing orange or worse…streaky.
You can leave those orange, streaky nightmares behind thanks to The Body Shop's Honey Bronze Tinted Face Gel. This commitment-free bronze is the perfect summer accessory, with a lightweight formula that is designed to hydrate the skin with the brand's Community Trade honey. What we at Skincare.com love about this Tinted Face Gel is that it promotes a faux glow that is more subtle and "sun-kissed" on our complexions, rather than a full-on bronzed goddess effect. On top of providing our skin with a natural glow, the Honey Bronze Tinted Face Gel is non-streaky and non-sticky, and can be washed off daily with a little cleanser and water.
To use, apply the product to your fingertips or a facial brush and smooth the bronzing gel evenly across your face. Let the product soak in and dry before applying your makeup.
The Body Shop Honey Bronze Tinted Face Gel, $20
You can apply the Honey Bronze Tinted Face Gel directly to a clean face, or—rather than purchasing a darker shade of foundation—you can mix the temporary bronzer with your foundation to better match your bronzed, summer complexion.
Read more

Back to top