A $425 Serum With Saffron...Yes, Saffron For Your Skin Is a Thing
June 16, 2016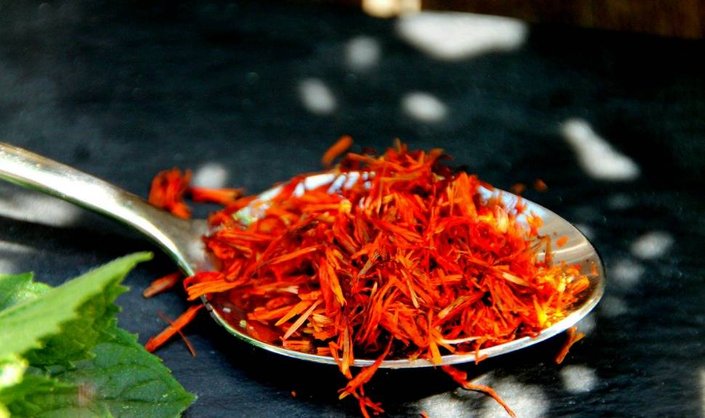 Saffron is, without a doubt, one of the most precious—and expensive—spices in the world. It's not uncommon to spend up to four (even five!) digit price tags for a mere pound of the crocus. That's because the threadlike pistols—of which there are three per flower—are separated by hand, one by one. When you picture the highly-prized spice, you may conjure up images in your mind of rich, savory stews and rice dishes of Middle Eastern influence. Or, you may have infused it into oil that's drizzled over meat and veggies. But face serum? Not so much.
That all changed this week when our friends at Yves Saint Laurent Beauté sent over their prized Or Rouge Serum for us to try. Formulated with pistols of saffron extracted from the heights of the Atlas Mountains in Morocco once per year, the serum can help reduce the appearance of 11 signs of aging—roughness, loss of firmness, dullness, lessened elasticity, wrinkles and fine lines, uneven skin tone, pore visibility, dark spots, redness, sagging, and smile lines. Yea, it's no joke. Serum is notoriously on the pricier side, and this one—at $425 a pop—is no exception. Before opening the container—side note: it's decked out in gold—I thought to myself: What if I fall in love with it? Am I willing to dish out the money for constant purchases? I weighed the pros and cons in my head. Fast forward 10 minutes: I bit the bullet. I was compelled to see what this saffron-enriched serum had to offer. Needless to say, the story doesn't end here.
The spotlight in this serum is, of course, the rich concentration of saffron; the serum offers double the concentration of saffron compared to other products in the prestigious Or Rouge line. The silky texture of the serum feels incredibly light and refreshing on the skin. I absolutely loved the way it felt and smelled, and quickly realized that it's truly a serum to covet. As far as truly special products go, you're best served to savor every last drop—and that's exactly what I intend to do.
Read more

Back to top