The Broke Girl's Guide to a 10-Step Skin-Care Routine
June 13, 2019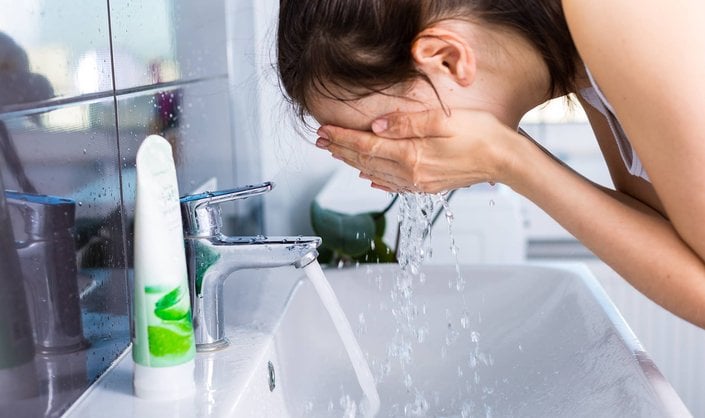 It's no secret that skin care can be expensive — and that we're willing to drain our bank accounts to get our hands on the buzzy products promising us healthy-looking, luminous skin. This becomes even more apparent if you're building out a ten-step, Korean-beauty-inspired skin-care routine, which requires a bevy of products and twice-daily application. If you're looking to save a little money on your routine, or can't afford pricier beauty buys, see our guide below — which features our favorite affordable pick for each step of your routine.
STEP 1: Pre-Cleanse
Double-cleansing is a staple in a K-Beauty routine. It starts with an oil-based cleanser, followed by a water-based cleanser. Our favorite budget pick is No. 7 Radiant Results Nourishing Micellar Cleansing Oil (it'll only set you back about $9), made with grapeseed oil and tri-vit complex to help nourish skin.
STEP 2: Double Cleanse
After rinsing off your oil cleanser, move on to your water-based cleanser for doubly-cleansed skin. We recommend choosing a cleansing and hydrating formula like CeraVe Foaming Cleanser for Normal to Oily Skin, which is formulated with ceramides, hyaluronic acid and niacinamide to help reinforce the skin's barrier. This popular pick will only run you $10.99 MSRP.
STEP 3: Exfoliate
Exfoliating is a must for glowing skin, so pick up Garnier SkinActive Deep Pore Exfoliating Face Scrub With Green Tea ($9 MSRP) on your next drugstore run. The green tea-infused formula decongests skin while exfoliating, so you can expect to see smoother skin with regular use (we suggest two times a week to start).
STEP 4: Tone
Post-cleansing, toner helps to make sure skin is ultra-clean and preps it for the rest of your skin-care routine. An affordable, fan-favorite pick we love is Thayers Witch Hazel Toner, which contains tannins, beloved for their antioxidant benefits. It's only $11 MSRP.
STEP 5: Apply an Essence
Essences offer the skin extra hydration, which can lead to that glass-skin glow. Our favorite affordable pick is the COSRX Advanced Snail 96 Mucin Power Essence ($16 MSRP), formulated with 96% snail filtrate, which helps against moisture loss and create a soothing experience on skin's surface.
STEP 6: Reach for a Serum
 If there's any product we're likely to spend lots of money on, it's a powerful serum packed with good-for-skin ingredients, but thankfully the $30 MSRP L'Oréal Revitalift Derm Intensives 1.5% Pure Hyaluronic Acid Serum is saving our skin and our wallets. There's lots of reasons to love this serum — the main one being that it's pure hyaluronic acid, which absorbs quickly into the skin.
STEP 7: Add a Sheet Mask
Masking is an essential part of any skin-care routine (and a great opportunity to take a selfie). Add a water-based sheet mask infused with hyaluronic acid option like the Garnier Skin Active Moisture Bomb Mask ($3 MSRP) into your lineup whenever your skin is in need of a little more moisture.
STEP 8: Apply Eye Cream
The skin under your eyes is incredibly thin, which is why it's essential to add an eye cream into the mix. CeraVe Eye Repair Cream for Dark Circles ($ 10 MSRP) helps to smooth and brighten the skin around your eye area thanks to its marine and botanical complex along with ceramides to help keep the skin hydrated.
STEP 9: Don't Forget Moisturizer
Daily hydration is essential for an effective skin-care routine, which is why we recommend a formula that's lightweight and effective like CeraVe Ultra Light Facial Moisturizing Lotion SPF 30. It's only $14 MSRP and contains SPF 30, so you can add a little extra protection before applying your final layer of sunscreen.
STEP 10: SPF Is a Must
Without question, every morning skin-care routine should end with sunscreen. La Roche-Posay Anthelios 60 Clear Dry Touch Sunscreen SPF 60 ($20 MSRP) is one of our favorite formulas, thanks to its ability to absorb extra oil and shine while leaving skin with a matte finish.
Read More:
How to Do a Korean-Inspired 10-Step Skin-Care Routine
8 Face Creams to Keep Your Complexion Hydrated
Read more

Back to top