Skin Crush: April Lockhart Is Changing the Skinfluencer Game
April 11, 2019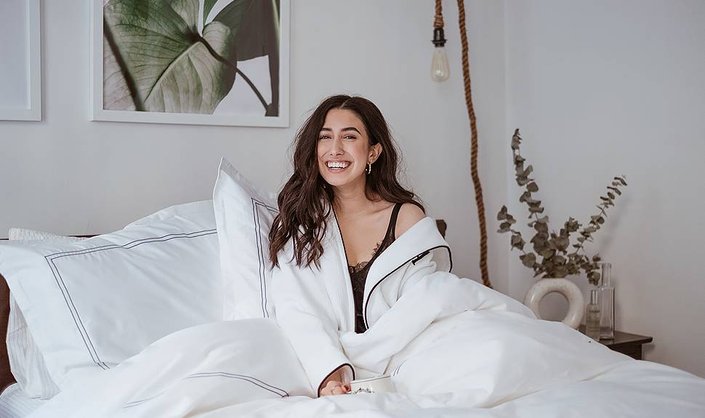 #SkinCrush digs into the routines of people who love skin almost as much as we do.
April Lockhart has one of those Instagram accounts that make us stop and stare. She makes taking care of her skin look effortless, luxe and lifestyle-friendly, so we just had to get to the bottom of what makes her complexion tick. Read on to hear what she had to say.
Name: April Lockhart
What you do: Brand Marketing Assistant Manager at Caudalie
Skin Type: Normal to dry
We're obsessed with your skin care on Instagram — what inspired you to start doing it?
I started getting really annoying adult breakouts, so I wanted to do everything I could to fix it. This was kind of in the early phases of skin-care influencers. There were so many people I loved following that were so knowledgeable about different products, ingredients, etc.I trusted their opinions. From there, I just started educating myself and became obsessed with skin care, so I started sharing my own thoughts.
Tell us about your current skin care routine.
It's ever-changing with the seasons and with my irrational skin (which has a mind of its own), but currently I first take off my makeup with the Caudalie Micellar Water. I double cleanse
with a derm-prescribed sulfur cleanser (I was reluctant, but it's made a huge difference in
keeping me clear). Once or twice a week I use the Alpha-Beta Peel Pads by Dr. Dennis Gross, because they never get old! They're so satisfying and make my skin texture feel baby soft. I'll use them forever. Next, I keep my breakouts in check with prescription retinol (tazarotene). On a dry day, I'll use the Caudalie S.O.S Thirst-Quenching Serum because it's ultra soothing and calms down any irritation I might get from the retinol, and if I'm not using the S.O.S. Serum, I'm treating my dark spots with our Vinoperfect Radiance Serum — it's life-changing. To moisturize, I'm loving the Fresh Rose Deep Hydration Moisturizer. Last but not least is eye cream! I go between the Caudalie Resveratrol Lift Eye Balm & the Fresh Crème Ancienne Eye Cream. A lot of eye creams irritate me or give me milia, but these are two gems.
What's the last skin-care product you finished? Would you buy it again?
I'm a die-hard fan of Caudalie's Vinoperfect Radiance Serum. If you have acne scars, you need to add it to your cart now. It's insane for hyper-pigmentation, but its not irritating at all like
a lot of vitamin C serums, so it's great for sensitive skin. Because I'm nerdy, I'll tell you
that the brightening ingredient in it (which is grapevine sap) is 62x more effective than vitamin C at brightening dark spots.
What's one thing you wished you learned sooner, in regards to skin care?
Actually being patient with a product and letting it run its course. With breakout-prone skin, it can be really easy to just write off a product after a week when you find yourself ~still~ breaking
out, but my dermatologist made me promise to give everything a full two months to see results, and she was right. We all love immediate gratification, and I tended to dismiss a product if I didn't wake up the next morning glowing after my first use, but I've found success in actually being patient and sticking with a routine.
What's your skin-care guilty pleasure?
Devices! I'm obsessed with my NuFace Fix. Believe the hype! I did a mini facial with them and they used it on me and my laugh lines were literally erasing away. Needless to say I'm hooked. I also bought a handheld high-frequency machine recently after one of our estheticians
recommended it for my breakouts and just overall firming and I love it.
What's the skin-care ingredient you can't get enough of?
Retinol. I've gone back and forth between loving it and being terrified of it, and currently I can't get enough. I've been using a prescription retinol (Tazarotene) that my derm recommended to me, and it's been a process, but my skin finally loves it and is the best it has been in the last year.
What's the most-asked question in your DMs?
How to get glowing skin — for sure. I'm here for it! The glowy skin trend is going nowhere. The Vinoperfect Radiance Serum and the RMS Luminizing Powder is my recipe.
What's your favorite thing about skin care?
It's therapeutic to me. It's one of the only times in the day where my phone isn't in my hand and I can just be present. That's the most relaxing feeling.
Where can we find you on the internet?
@aprillockhart on IG + most everything!
Read More
What Products Should I Apply on Wet Skin?
Read more

Back to top