How to Customize Your Skin Care With Serum
July 10, 2017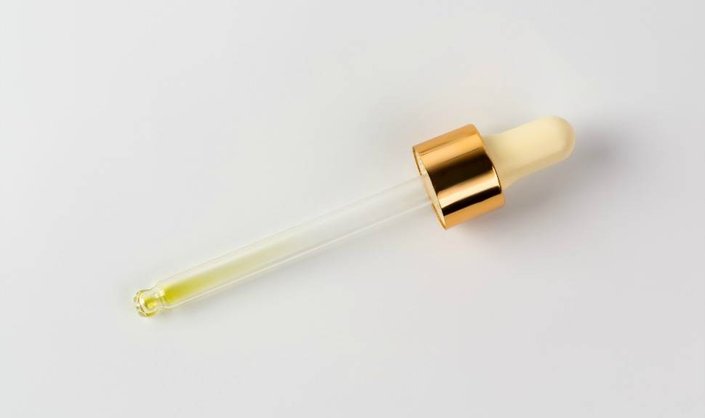 Wondering how to target specific skin concerns—think: premature visible signs of aging, blemishes, fatigued-looking skin, and more—and customize your skin care routine with facial serums? We share a step-by-step guide to personalizing your regimen with serums ahead.
Gone are the days of "one size fits all" beauty. With trends like multi-masking and personalization taking the world of beauty by storm, skin care and beauty productsare more diverse than ever before. One way we like to incorporate the personalization trend into our daily routines? With facial serums! Similar to that of multi-masking, you can use a variety of different facial serums to target specific areas of concern and create a routine that is custom to the unique makeup of your skin. We share how to customize your skin care routine with serum in a step-by-step guide, ahead. 
STEP 1: ASSESS THE SITUATION
Before you select your secret weapons facial serums, you may want to consider taking a closer look at what areas of concern you want to focus on. This can not only make the selection process easier, it can also help you map everything out… so, when it comes time to apply, you'll already have a game plan in place.
To get started, create a simple chart that lists your facial zones (i.e. T-zone, cheeks, chin, under-eyes, forehead, and around the mouth) and the concerns you have for each. For example, if you have dull skin on your cheeks, jot down "dry skin" next to "cheeks" on your chart. Once you have figured out what your concerns are, it's time to select your serums! 
STEP 2: CHOOSE THE RIGHT SERUMS FOR YOUR CONCERNS
After you have an idea of what areas of concern you wish to focus on, it's time to go shopping for serums! We share some of our top facial serum picks from the L'Oréal portfolio of brands for popular concerns, below. 
Dryness: Target dry, dehydrated skin with SkinCeuticals Hydrating B5 Gel. Its formula is enriched with skin replenishing hyaluronic acid—a humectant that can hold up to 1,000 times its weight in water— and vitamin B5, this facial serum can moisturize and nourish dry skin and leave it softer and more supple-looking upon application.
Loss of Radiance: If you have areas on your complexion that appear to be on the dull side of the spectrum, reach for SkinCeuticals C E Ferulic. A dermatologist favorite, this antioxidant-rich serum can brighten the look of lackluster skin and protect the complexion from environmental aggressors such as, free radicals andpollution. 
Dark Spots: Looking to lighten the look of dark spots? We recommend giving SkinCeuticals Phyto + a try. Its formula is enriched with a blend of botanical extracts—such as, cucumber, thyme, arbutin, and kojic acid. This soothing facial serum houses hyaluronic acid and other ingredients to hydrate the skin and improve the overall appearance of skin.
Fine Lines & Wrinkles: Target fine lines and wrinkles—and other premature signs of aging— with SkinCeuticals Serum 10 AOX+. Made with environmental protection and aging skin in mind, this antioxidant-rich serum can improve the appearance of fine lines and wrinkles with continued use. 
Roughness: Did you know that some serums have exfoliation properties? It's true! Formulated with dry, rough skin in mind, SkinCeuticals Retexturing Activator serum can help exfoliate the skin and promote a softer, smoother-looking complexion upon application. What's more? You can use this exfoliating serum daily to target rough areas on the face, neck, and chest.
Blemishes: We can all agree that there is nothing more frustrating than dealing with adult acne. Luckily, there are products out there that can help target this concern. Made with adult acne—and aging skin—in mind, SkinCeuticals Blemish + Age Defense is formulated with a blend of dioic acid and optimal apha- and beta-hydroxy acid and it reduces the appearance of acne and clogged pores and improve the look of aging skin altogether. 
Sensitivity: Soothe sensitive skin with SkinCeuticals Phyto Corrective Gel. Enriched with a blend of hyaluronic acid, cucumber, thyme, and other botanical ingredients, this hydrating skin soother can help calm the skin and promote a fresh-looking complexion.
Fatigue: When it comes to visible signs of fatigue, we like to focus on the eye contour area. From puffy under-eye bags to dark circles, our lack of beauty sleep can be the most noticeable around the eyes. Luckily, with SkinCeuticals AOX+ Eye Gel serum, you can help keep visible signs of fatigue at bay. Enriched with antioxidant-rich vitamin C, phloretin, ferulic acid, this refreshing eye serum can promote a brighter -looking eye contour.
STEP 3: APPLY IN A "MULTI-MASKING" FORMATION
One you have your serums lined up, you're ready to apply! When "multi-masking" with serums, some serums may be applied all over the complexion, while others will be used to target specific areas. For example, if you experience dry or dull skin all over your complexion and dark spots on the bridge of your nose, you'll want to apply the serums formulated for dry, dull skin all over your complexion, and layer the serum formulated for dark spots onto the bridge of your nose. We recommend applying serums in order of lightest to heaviest—that way your skin can absorb them properly.
Read more

Back to top