Why You Need the Unique Lancôme Absolue Overnight Repairing Bi-Ampoule Serum in Your Routine
January 27, 2021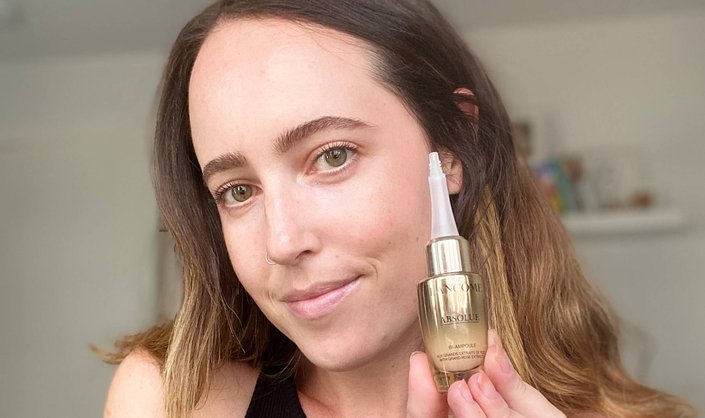 Ampoules are having a moment in skin care. These concentrated treatment formulas have long been a staple in Korean skin-care routines and they're finally getting their time to shine in the Western world, thanks to brands like Vichy, L'Oréal Paris and Lancôme, which have all released their own versions of the product. The latest to hit shelves is the Lancôme Absolue Overnight Repairing Bi-Ampoule Serum, an innovative formula made up of an oil- and essence-phase. When the brand sent me a complimentary bottle to test and review, I couldn't wait to give it a try. But before I dive into the Bi-Ampoule, though, a quick refresher on what an ampoule is.
What Is an Ampoule?
Think of ampoules like serums on steroids. Similar to serums, ampoules are formulated to help provide targeted skin care. Ampoules commonly come in small vials as part of a set and are meant to be used over a certain period of time for a complexion boost. An example of this type of ampoule is the Vichy Peptide-C Anti Aging Ampoule Set. You can also find ampoules in single bottles, like the Lancôme Absolue Overnight Repairing Bi-Ampoule Serum, which is formulated to be used daily at night.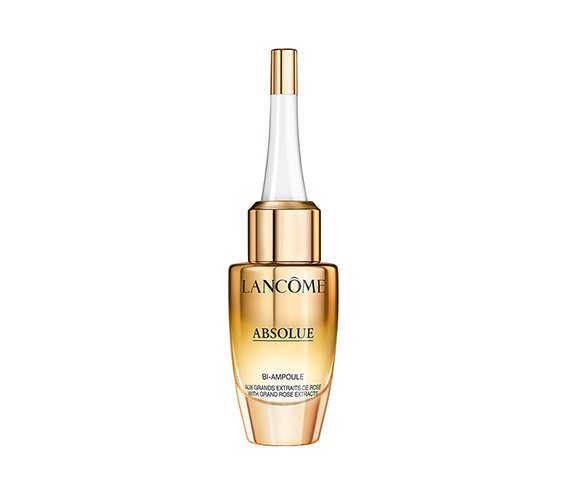 My Review of the Lancôme Absolue Overnight Repairing Bi-Ampoule Serum
Right off the bat, what makes the Lancôme Bi-Ampoule special is its bi-phase formula that is part oil, part essence and nourishes skin with moisture and target signs of aging in a one-two punch. It's formulated with eighteen skin-care key ingredients including sunflower seed oil, vitamin E, rose oil, hyaluronic acid and a tri-ceramide complex. According to the brand, just one application offers 24-hour moisture, instant radiance and helps accelerate skin surface barrier repair. Over time, a four week clinical test showed that the formula diminishes the look of wrinkles and dehydration lines. 
To use the serum, you squeeze it onto your finger before application using a rubber dropper. The texture feels velvety and luxe (the bottle itself is pretty chic, too). On my skin, I find that four drops sufficiently cover my face. I don't find it to be too heavy or greasy; it absorbs quickly, leaving behind a subtle, glowy sheen and a soft texture. As far as fast results, I do find that my skin looks more radiant, plump and hydrated. With continued use, I'm looking forward to seeing how the ampoule improves the appearance of fine lines on my forehead and around my eyes. 
Because my skin can be sensitive at times, it has been difficult for me to find an anti-aging formula that delivers results with continued use but is also gentle and  suitable for sensitive skin. That's really what drew me to this formula and the reason why so far, it's a winner in my book. 
Photo: Courtesy of Sarah Ferguson
Read More: 
Day vs. Night Moisturizer: Is There a Difference?
How to Address Sun Spots on Your Chest
You Won't Believe This Vitamin C Serum Is From the Drugstore
Read more

Back to top