Our 4 Favorite Community Trade Ingredients From The Body Shop
April 03, 2017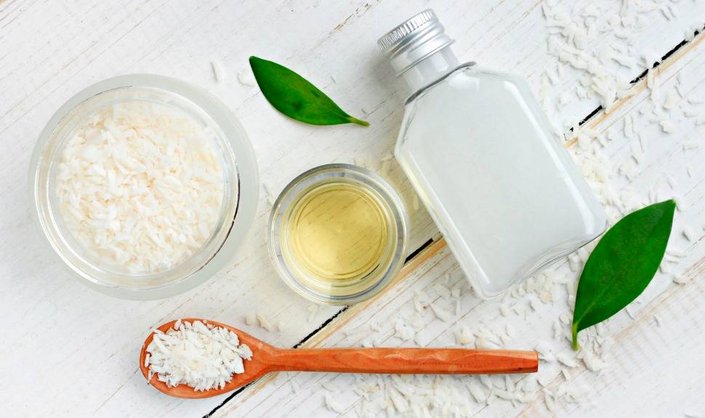 Since 1987, our favorite eco-conscious skin care brand— The Body Shop, duh!— has worked with small-scale farmers, traditional artisans, and rural co-ops to create accessories and harvest ingredients for some of their most beloved skin care and beauty, offering good trading practice, independent building prices, and real benefits to over 25,000 people worldwide within the brand's Community Fair Trade program. With 26 Community Trade suppliers in 21 countries, The Body Shop has been able to harvest some of the finest raw ingredients and hand-crafted accessories from skilled experts across the globe— resulting in effective skin care products and cosmetics that we can feel good about using in our daily regimens. From Moroccan argan oil to Peruvian brazil nuts, The Body Shop formulates their products and creates entire skin and body care lines centered around these Community Trade ingredients that can provide our bodies with nature-inspired nourishment, hydration, and more. Ahead, we share four of our favorite Community Trade ingredients that have a permanent place in our skin care regimens.
TEA TREE
The Body Shop's Community Trade tea tree oil is not only one of our Skincare.com editors' favorite Community Trade ingredients, it's a favorite of The Body Shop's Beauty Botanist and Skincare.com consultant, Jennifer Hirsch, as well. "I never leave home without my little bottle of tea tree oil," says Hirsch. "I have one that lives in my bathroom and another in my handbag." Made by the Kenya Organic Oil Farmers' Association (KOOFA)— a cooperative of over 550 small-scale farmers— "the tea tree leaves are meticulously hand harvested, ensuring that only leaves (and the best leaves) are used in the steam distillation of this pure leaf essential oil," says Hirsch. "And because of the small scale production techniques that rely on people rather than industrial machines, the waste is minimized." The Community Trade tea tree oil has made its mark on a variety of The Body Shop's most beloved products— from a purifying clay mask to a foaming cleanser to The Body Shop's Tea Tree Flawless BB Cream, there's a tea tree oil product out there for everyone!
ALOE
It wouldn't be a roundup of skin benefiting ingredients— let alone Community Trade ingredients— without mention of one our absolute favorite nature inspired components: aloe vera. Harvested from the Yucatán peninsula of southeast Mexico, Campeche Farmers cultivate the aloe plants on land and work with The Body Shop to formulate 100%, preservative-free aloe vera for the brand's line of skin soothing aloe vera products. Aloe is known for its ability to provide the skin with a cooling— read: calming— sensation as it works to soothe skin irritations, restore moisture, and can also help support the skin's natural defense against environmental aggressors. We recommend keeping a bottle of The Body Shop's Aloe vera Instant Soothing Rescue Gel on hand to combat anything from a painful sunburn to dry, irritated skin. For more on aloe vera, check out our four favorite products with aloe, here. 
HONEY
Honey is a natural humectant that can draw moisture into the skin and provide a hydrating— read: nourishing— experience, which is why The Body Shop's Community Trade honey from the UNESCO Sheka Forest Biosphere Reserve in Ethiopia has become one of our favorites— and another favorite of Hirsch's, too! "The Body Shop works with the bee whisperers of Beza Mar [which is] a group [that is] preserving the traditional way of working with wild African honey bees and their natural cycle," says Hirsch. "The Body Shop's trade helps to support the sustainable use of the Ethiopian Afromontane rainforest, providing a steady income to local people who might otherwise be forced to rely on deforestation of the rainforest to create space for agriculture." From body butters to shower gel to the brand's Honey Bronze line, you can find The Body Shop's Community Trade honey in a variety of fan favorite products— though we're currently crushing on the brand's all-new Ethiopian Honey Deep Nourishing Mask from the brand's new Beauty Recipes From Nature line. Formulated with Community Trade honey, marula oil, and olive oil, this superfood inspired facial mask can replenish, nourish, and comfort dry skin, resulting in a softer, smoother, more radiant complexion. For more on this mask— and other masks from the Beauty Recipes From Nature line— check out our full review, here.  
SHEA
If you're familiar with shea butter— found in a variety of skin nourishing products, like body butters and eye creams— you know that it can quench the skin with moisture and hydration while working to soothe and protect the skin from dryness. The Body Shop's Community Trade Shea Butter from Ghana is hand-crafted by the Tungteiya Shea Butter Association— a group of 528 women from villages around Tamale in Northern Ghana— and is a staple ingredients in the brand's line of skin hydrating body butters, hand creams, lotions, and more. We recommend trying the brand's Shea Butter Whip Body Lotion. As a lightweight alternative to their classic body butter, the Whip Body Lotion can hydrate and nourish the skin, leaving it with a soft, supple texture. 
Read more

Back to top