Review: SkinCeuticals Phyto A+ Brightening Treatment — Here's What One Editor Really Thinks
March 15, 2022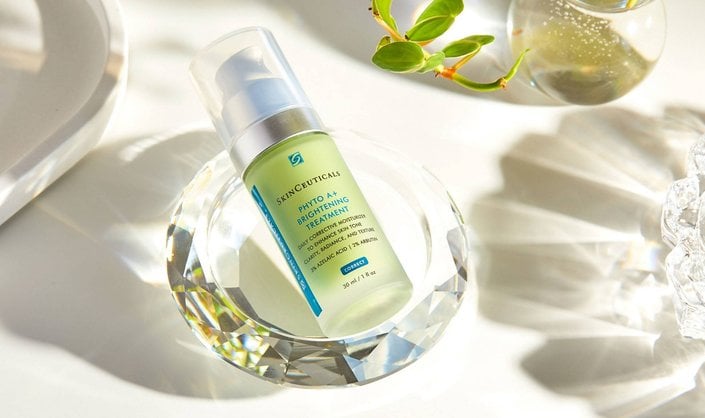 We all have our own unique skin concerns. If you have oily, blemish-prone, discoloration-prone skin like me, then you know how hard it is to find a product that works with all of these concerns at the same time. 
Allow me to introduce you to the SkinCeuticals Phyto A+ Brightening Treatment; it's basically magic. This lightweight moisturizer was designed to soothe and correct out-of-balance skin, working to visibly improve your skin's overall brightness, texture and clarity. Interested in learning more? Keep scrolling to read my review.
The Formula
Think of this as a lightweight moisturizer designed to target multiple skincare woes. The formula, which contains three key ingredients: alpha arbutin, azelaic acid and botanicals, helps to soothe and visibly improve the look of uneven skin tone, skin texture and skin brightness. 
In case you didn't know, alpha arbutin is a brightening ingredient derived from hydroquinone and is known for its ability to target dark spots. Then, there's azelaic acid, which, according to this study, is a naturally occurring acid that helps promote natural cellular turnover. And, lastly, this formula contains SkinCeuticals' phyto botanical blend, made of a combination of olive leaf, rosemary leaf, grapefruit, cucumber, thyme and mulberry, which soothes and calms the skin. 
Together, the ingredients form an oil-free moisturizer that, when used daily, helps to visibly reduce excess shine and redness, smooth and brighten the complexion, and minimize the appearance of pores.
My Experience and What to Expect 
At the time when I tried out this product, I was dealing with a lot of post-breakout redness. Thankfully my breakouts were no longer active, but the marks left in their wake were hard to look at. So I was really excited when a sample of the product arrived at my doorstep – I needed all the brightening, soothing and moisturizing I could get. 
After cleansing in the morning (nighttime works too), I applied two pumps of the green gel to my fingers. Then, I gently massaged it into my skin. Immediately, I noticed two things: the scent and the cooling sensation. The moisturizer smells very faintly of thyme, grapefruit and cucumber, all of which are part of the product's phyto botanical blend – which leaves the skin feeling cool and calm.
I also took note of how hydrated and smooth my skin felt without looking greasy or shiny (like some moisturizers do). To help protect my skin from daily sun exposure, I topped everything off with the SkinCeuticals Daily Brightening UV Defense Sunscreen and went about my day, business as usual.  
Although I still had to blot my face with blotting papers around lunchtime, I was pleasantly surprised at the fact that it helped my skin look less shiny, with ongoing use. I wouldn't say that the moisturizer is mattifying, but I think it made a difference to how my skin looked by midday. 
I've been using the moisturizer for a number of weeks now, and I've already noticed a difference in the appearance of my skin.  Not only are the post-breakout dark spots less noticeable, but the texture has also improved tremendously.  I'm hopeful that with continued use, I'll continue to see improvements in shine, smoother texture, and the appearance of my post-blemish marks. Take my advice and run – don't walk –  to get your bottle ASAP.
Photo Credit: Chaunte Vaughn
Read More:
How to Make Your Skin Look Like You Got a Good Night's Sleep
How Stress Affects Your Skin, According to a Derm
Skincare Microdosing: Everything You Need to Know About Applying Active Ingredients
Read more

Back to top