The Healthy Scalp Secrets a Hair Expert Wants You to Know
May 19, 2021
There are a lot of mixed messages about how to take care of the scalp — some people swear by only washing their hair once a week, while others refuse to skip a day. No routine is one-size-fits-all, as we learned from Bridgette Hill, a certified trichologist and founder of Root Cause Scalp Analysis. She says the most common mistake she sees in patients is not customizing their scalp-cleansing method. "I find people take shampooing and product advice from people whose hair they admire rather than what is needed for their specific scalp and hair health," Hill says. Keep reading to find out how you can take better care of your scalp, with product recommendations and expert advice.
Recognize the mind-body connection
Like any other organ, the way we treat our bodies impacts how our scalp looks and feels. "Optimal scalp health and function is impacted by genetics, hormones, general health, diet, lifestyle, medications and styling habits," Hill says. "Taking care of the scalp demands that we take care of our bodies by remaining vigilant with our annual medical checkups, healthy diet and minimizing stressors." Of course, that's easier said than done, which is why Hill recommends compensating for deficiencies in any of these areas with a pre-shampoo treatment.
Invest in an oil- or serum-based pre-shampoo treatment
"Pre-shampoo scalp treatments are game-changers for scalp health," Hill says. That's because pre-shampoo treatments, preferably serum- or oil-based formulas, have a molecular structure small enough to penetrate deep into the scalp to prevent unhealthy bacteria or fungus from forming and exfoliate and enhance cell turnover. Unlike shampoos, which only cleanse the superficial layer of the scalp, some pre-shampoo treatments can penetrate into the epidermis and provide a barrier from cleansing products that might strip your skin of natural oils. They help unclog buildup from hair products and make up for environmental and genetic stressors that may lead to hair loss or other unwanted scalp conditions. "The molecular structure and properties in quality pre-scalp products rebuild and support the layers of skin on the scalp, which retains the health of the hair follicle," Hill says. We recommend the Kiehl's Magic Elixir Scalp and Hair Oil Treatment, a pre-shampoo treatment that hydrates the scalp and hair with a blend of rosemary leaf, avocado and safflower oils.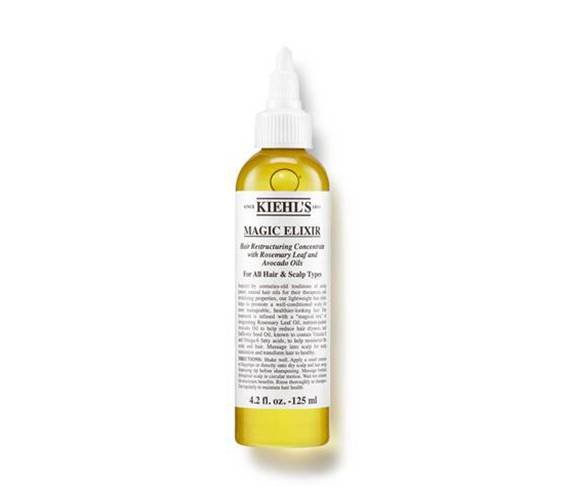 Watch out for heat styling
We all know frequent heat styling can weaken our hair and cause breakage. More specifically, it breaks down the soft keratin that Hill says is "essential" to scalp health. "The destruction of the soft keratin on the scalp disrupts the scalp barrier, which ultimately weakens the hair follicle, leading to the weakening of the hair fiber — leading to hair thinning, shedding or loss," Hill says. And remember, when you do use a blowdryer, curling iron or flat iron, always apply a heat protectant like the L'Oréal Paris Elvive Dream Lengths Heat Slayer.  
Cleansing doesn't always require shampoo
Shampoo is detergent-based, and not every wash has to be done with a detergent-based product. "Sometimes a thorough rinsing with water or using a scalp rinse is a better cleansing choice in lieu of cleansing with a detergent-based shampoo," says Hill. "General-maintenance scalps will thrive with proper uses of fatty acids and certain antimicrobial, anti-fungal and inflammation-reducing oils. I also believe fruit-based vinegars like apple and cherry are great for general scalp health when used as refreshers. And I've been recommending hyaluronic acid as toner for the scalp." 
Photo: Chaunte Vaughn
Read More:
Four Ways Stress Could Noticeably Impact Your Skin and Hair
6 Best Gentle Shampoos for Every Hair Type, According to Our Editors
This Is Why You Should Add a Scalp Oil Into Your Hair-Care Routine
Read more

Back to top