The Difference Between Mineral and Chemical Sunscreen
April 12, 2023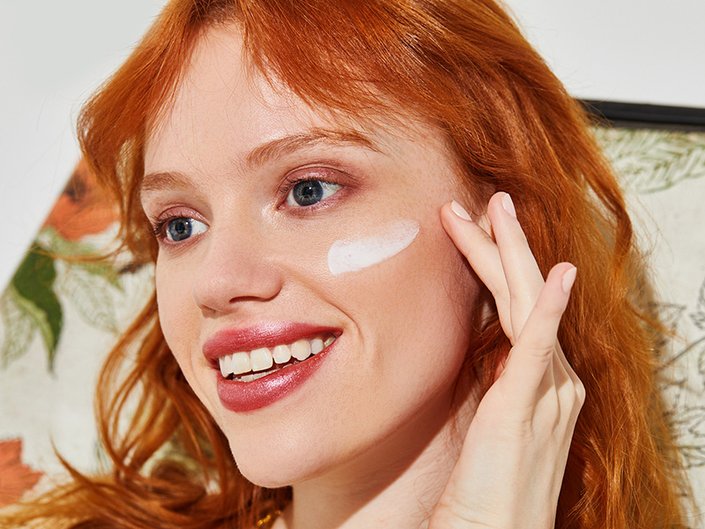 You already know all the reasons it's important to wear sunscreen every single day, but if you haven't found the right formula for you, you may be tempted to skip it. Maybe your formula feels greasy and you suspect it's clogging your pores and leading to breakouts. Or maybe it's thick and no matter how hard you attempt to rub it in, it still leaves a conspicuous white cast behind.
The first step in finding a sunscreen that's better suited for you is to understand the difference between chemical and physical formulas. Here, we explain the pros and cons of each, with the help of dermatologists.
Mineral (Physical) Sunscreen
What Is Mineral (Physical) Sunscreen?
Physical, or mineral, sunscreen contains one or both of these active mineral ingredients: zinc oxide and titanium dioxide. "Physical block is made of zinc and/or titanium oxide and it acts like a wall that does not absorb in the skin," says Dr. Elizabeth Houshmand, a double board-certified dermatologist based in Texas and Skincare.com consultant. "It sits on the skin as a protective layer." One of our favorites is the CeraVe Hydrating Mineral Sunscreen SPF 50 Face Lotion.
"I usually recommend physical blockers, which tend to create less issues with allergies overall, for people with sensitive skin," says Dr. Janelle Vega, a Miami-based dermatologist and co-founder of Bia Life. "I also think physical blockers are a better choice for people with heat-sensitive skin disorders such as melasma because you are not absorbing the sun's rays, thereby leading to a decrease in heat production."
Dr. Houshmand notes that physical sunscreen is less likely to clog pores, so it's great for acne-prone skin types as well.
What Are the Benefits of Using Mineral (Physical) Sunscreen?
As mentioned above, mineral sunscreen may be a great option for those with sensitive, acne-prone or otherwise reactive skin types (such as those with eczema or rosacea). Mineral sunscreen provides a physical shield against UV rays, which protects your skin and helps prevent sun damage from occurring.
How Does Mineral (Physical) Sunscreen Work?
Physical sunscreens contain the active ingredients zinc oxide and/or titanium dioxide. These actives help create a physical barrier on top of the skin and help scatter and deflect UVA and UVB rays so they can't penetrate your skin cells, according to the American Academy of Dermatology (AAD). The AAD recommends mineral sunscreens for sensitive skin types.
How Long Does Mineral (Physical) Sunscreen Last?
Physical sunscreens should start working from the moment you apply them, although most brands and dermatologists recommend applying sunscreen 15 minutes before sun exposure to make sure the SPF fully sinks into your skin. You should always check your sunscreen's packaging to confirm how long your sunscreen of choice lasts and whether it's water-resistant or not. For example, the La Roche-Posay Mineral Zinc Oxide Sunscreen SPF 50 is water-resistant for 40 minutes.
No matter which sunscreen you choose, the AAD recommends reapplying every two hours, or more frequently if you are in water.
How to Apply Mineral (Physical) Sunscreen Without a White Cast
Unfortunately, a major downside to physical sunscreens is that many of them do have a noticeable white cast. If you are able to try products on your hand or arm before purchasing in-store, we recommend doing so. It can also be beneficial to look for words like "sheer," "tinted," or "color-adjusting" in the sunscreen's name or product description. One sheer mineral sunscreen we love is the SkinCeuticals Sheer Physical UV Defense SPF 50. It's made with 100% mineral filters, but it has no white cast and leaves skin matte.
Our Favorite Mineral (Physical) Sunscreens
This 100% mineral sunscreen is an ultra-gentle pick that's a safe bet for even the most sensitive skin types. It's fragrance-free, oil-free, non-comedogenic and accepted by the National Eczema Association. Plus, it contains three essential ceramides to help soften skin and support the skin's moisture barrier.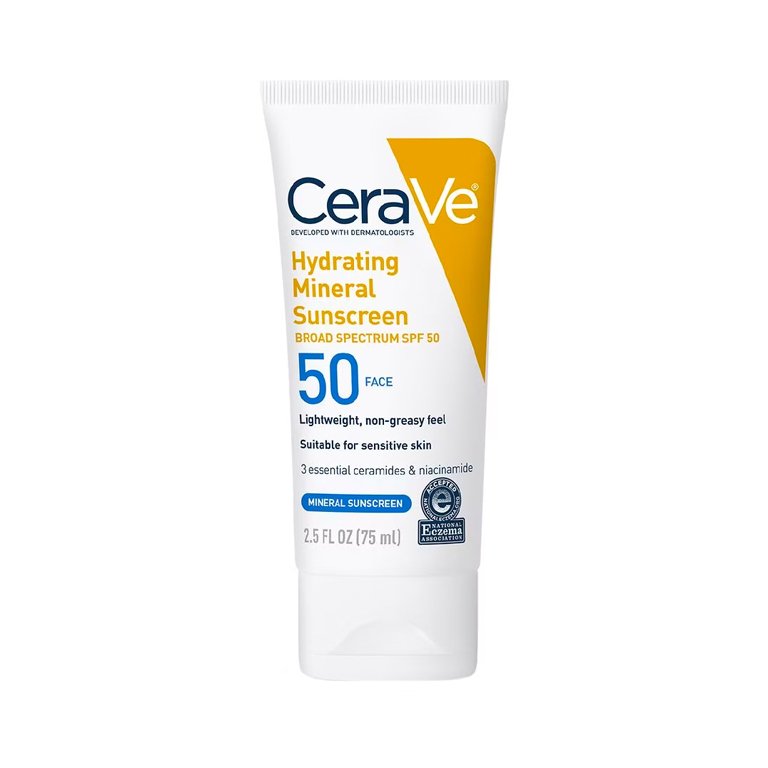 Developed for sensitive skin, this mineral sunscreen is water-resistant for up to 40 minutes. It's oil-free, non-comedogenic and has a matte finish that won't feel heavy or look greasy on your skin.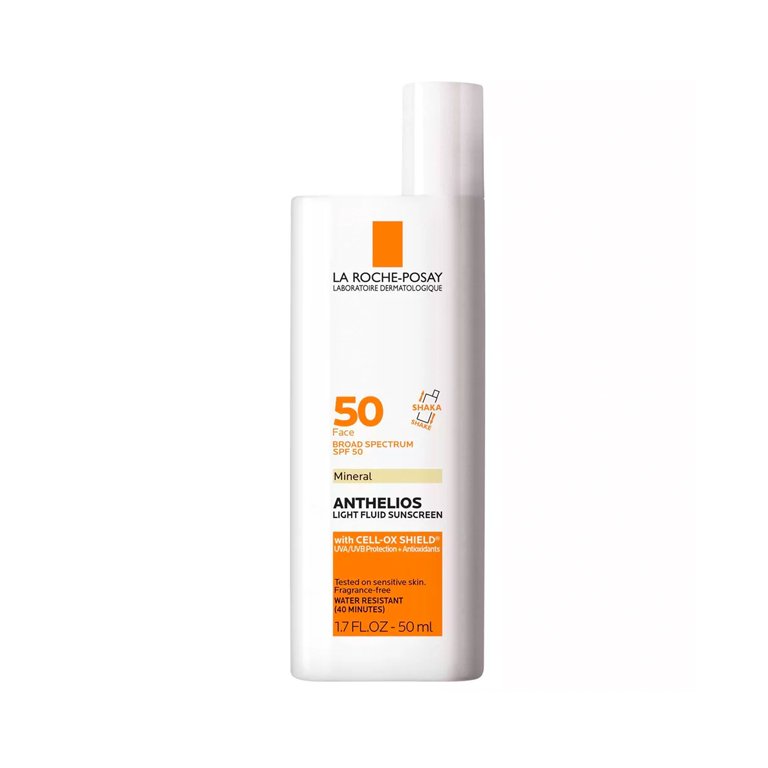 This sheer sunscreen protects your skin from UV rays with 100% mineral filters. It has a liquid-y, lightweight fluid consistency that blends in fast, and is recommended for dry, normal, combination and sensitive skin types.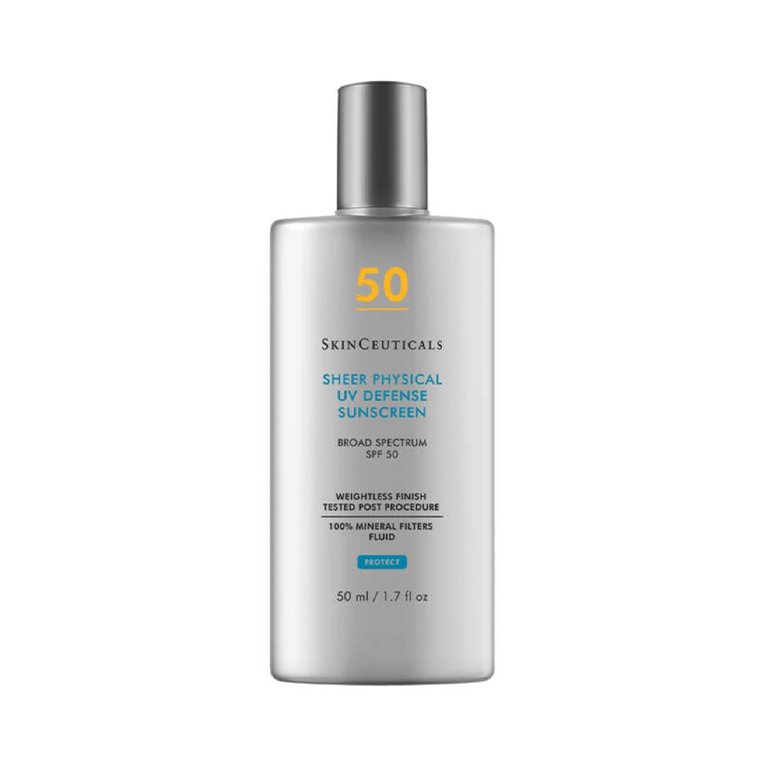 If you're looking for a mineral sunscreen that will subtly even out your skin tone while offering protection from the sun's rays, we recommend this pick from Vichy. It's a mineral formula with a soft tint and is water-resistant for up to 80 minutes.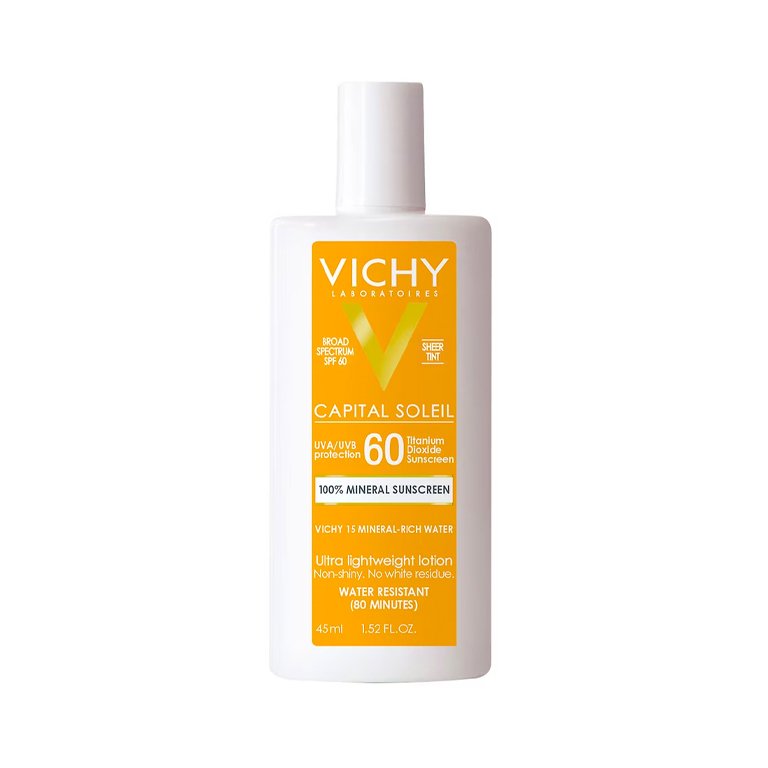 We love this lightweight, sensitive skin-friendly option from EltaMD. The formula is vegan, non-comedogenic and formulated without oil, dyes, parabens, fragrances or gluten. In addition to physical blockers zinc oxide and titanium dioxide, it contains vitamin C ester to help fight free radicals.
Chemical Sunscreen
What Is Chemical Sunscreen?
"Chemical sunscreens are made up of ingredients that absorb into the skin, and will subsequently absorb the rays and scatter UV rays into the skin as heat," says Dr. Vega. Common ingredients used in chemical sunscreens are octocrylene, avobenzone, octinoxate, octisalate, oxybenzone, homosalate and helioplex. Our go-to chemical sunscreen is the La Roche-Posay Anthelios UV Correct Face Sunscreen SPF 70 with Niacinamide, which is made with avobenzone, homosalate, octisalate and octocrylene.
Dr. Houshmand says that one of the biggest benefits of chemical sunscreens is that they're available in multiple formulations, such as aerosol sprays, lotions and sticks. And because they are designed to absorb into skin, they can be easier to apply.
However, according to Dr. Houshmand, chemical sunscreens can irritate sensitive skin types. "Additionally, the sun can break down their effectiveness over time, so it's important to reapply throughout the day," she says.
What Are the Benefits of Using Chemical Sunscreen?
One of the greatest benefits to using a chemical sunscreen is that many formulas are completely transparent, meaning they'll blend in seamlessly on top of any skin tone. Plus, as Dr. Houshmand mentioned, chemical sunscreens also tend to come in a wider variety of formulas, including sprays and sticks, which are great for touch-ups while on-the-go.
How Does Chemical Sunscreen Work?
Chemical sunscreens work like a "sponge," says the AAD, absorbing the sun's UV rays and converting them into heat which is then scattered safely through the skin.
How Long Does Chemical Sunscreen Last?
Each chemical sunscreen is different, so be sure to check your sunscreen's packaging before application. Some formulas are water-resistant, while others are not, meaning you'll have to reapply them more regularly after a dip in the pool or ocean. Chemical sunscreens also take about 20 minutes to become fully effective, says Dr. Houshmand, so be sure to apply them before going out in the sun. Of course, you'll want to check your specific product's expiration date too.
The SkinCeuticals Daily Brightening UV Defense Sunscreen SPF 30 is a chemical sunscreen that should be reapplied after every 40 minutes of swimming, sweating and after towel-drying, according to the brand. All sunscreen products should be reapplied a minimum of every two hours.
Our Favorite Chemical Sunscreens
This sunscreen is ultra-lightweight, non-greasy and sheer, so it blends in easily on any skin tone without leaving a white or shiny cast. In addition to broad-spectrum chemical SPF filters, it's formulated with vitamins C and E for a boost of antioxidants.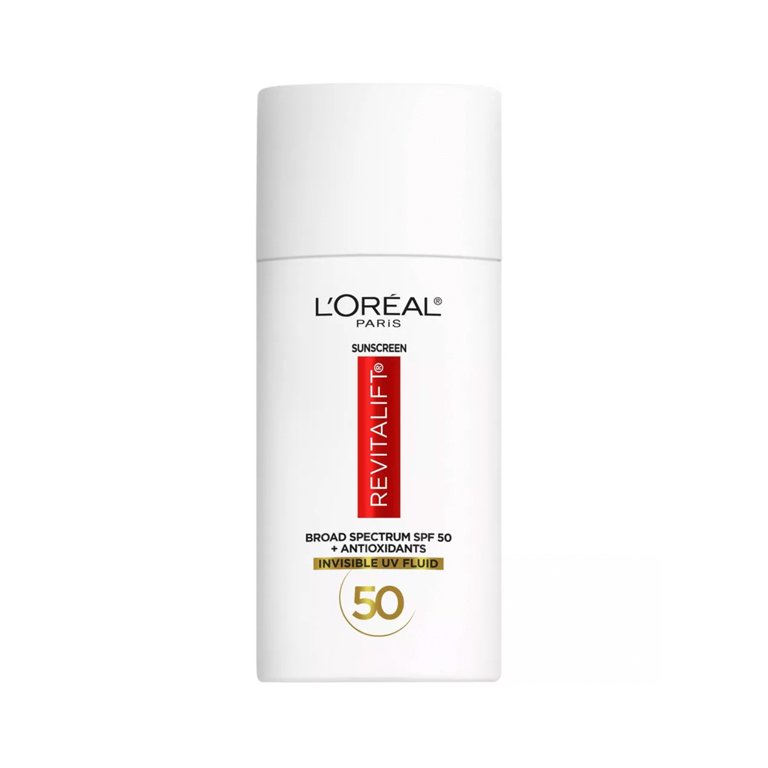 If you're looking for a chemical sunscreen that makes your skin glow — solo or under makeup — this is the one. It's recommended for normal, oily, dry and combination skin types, and has a subtle pearlescent tint that blends in easily on any skin tone. It also contains a combination of brightening ingredients that help fade skin discoloration.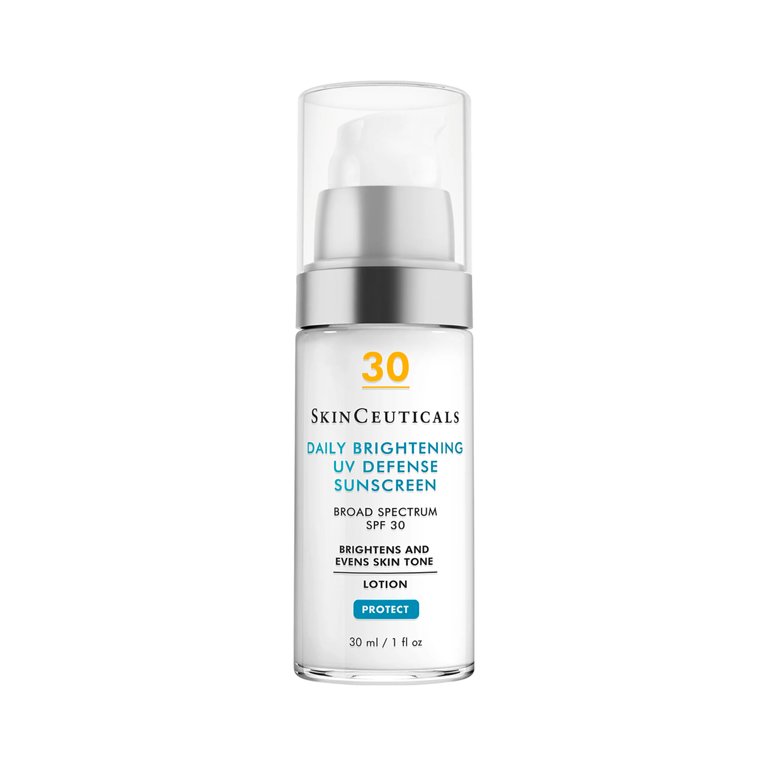 This SPF 70 sunscreen is an air-light formula that blends in easily with any skin tone and helps prevent as well as correct existing signs of sun damage. In addition to chemical filters, it contains antioxidants and soothing niacinamide. Over time, it helps soften the look of fine lines, uneven skin tone and texture.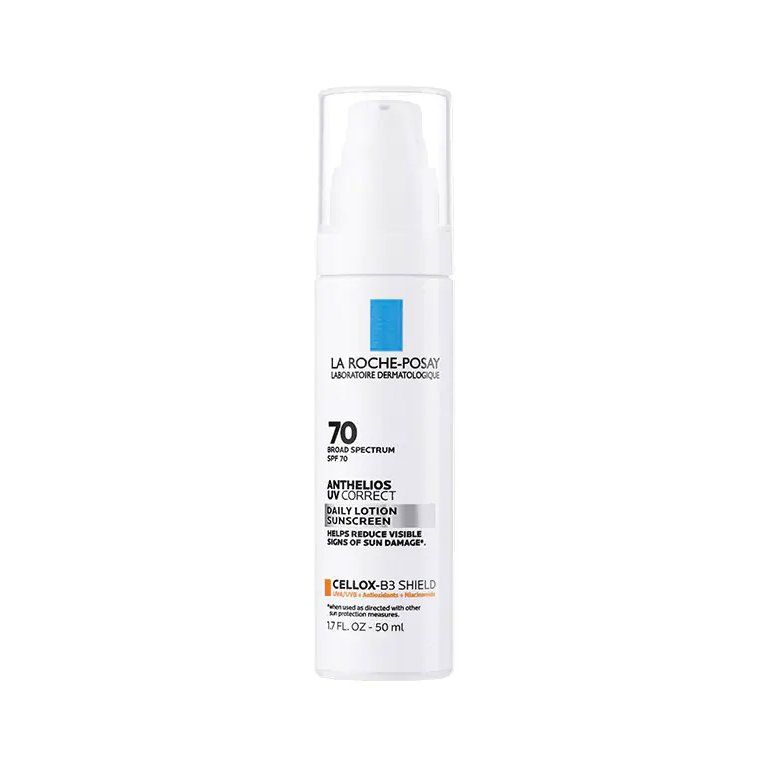 This sunscreen's transparent, gel-like consistency was made for acne-prone skin. It's completely clear and has a silky consistency that blends in easily, won't exacerbate breakouts and won't clog your pores. Plus, it's water-resistant for up to 80 minutes.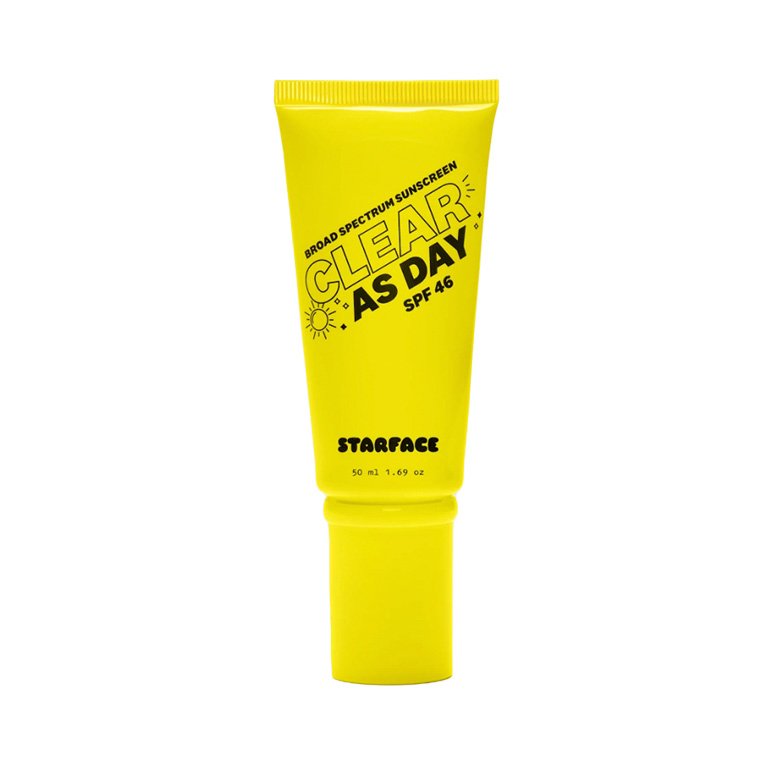 Black Girl Sunscreen was formulated specifically for melanin-rich skin, so there's no white cast detectable on any complexion. It moisturizes and protects with chemical filters and jojoba, cacao and avocado.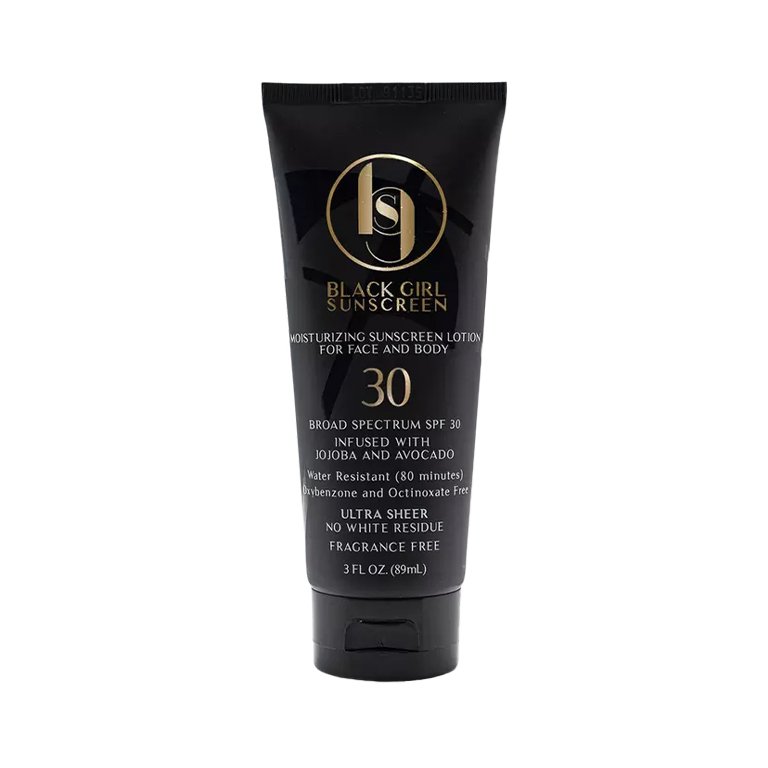 One of our editors with dry, sensitive skin swears by this sunscreen for giving their skin a dewy, radiant finish with or without makeup. It has a lightweight, refreshing feel with zero white cast and is packed with hydrating hyaluronic acid.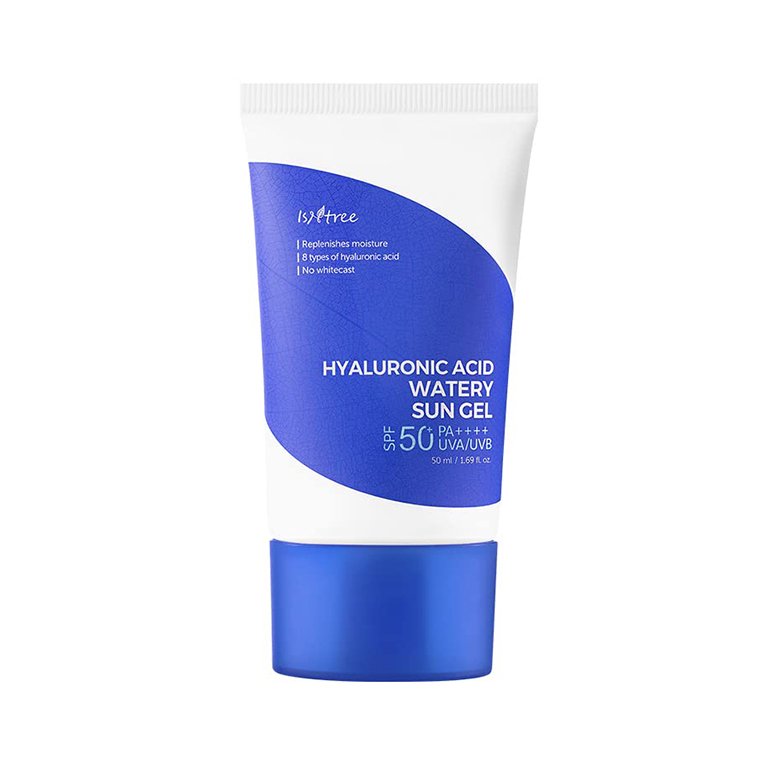 How To Apply Chemical Sunscreen
You should apply chemical sunscreen on dry skin 15 to 20 minutes prior to sun exposure. The AAD recommends using a full ounce of sunscreen (about the amount you'd need to fill a shot glass) for your entire body. Don't forget to apply sunscreen to often-missed areas like the ears, neck, hands, feet and scalp.
No matter what kind of sunscreen you use, the AAD also recommends taking extra sun-protective measures, such as wearing hats, sunscreens and long-sleeved shirts, seeking shade as much as possible and avoiding peak hours of sunlight (between 10 a.m. and 2 p.m.).
Mineral vs. Chemical Sunscreen: What's the Difference?
Physical sunscreens should start working as soon as you apply them, whereas chemical sunscreens typically require about 20 minutes to become fully effective, according to Dr. Houshmand.
The texture of physical sunscreen is typically denser, thicker and more opaque than chemical sunscreens, and can often appear chalky and leave a white cast, especially on darker skin tones (Dr. Vega recommends looking for one that's tinted to avoid this).
In addition, physical sunscreens tend to rub off more easily with sweat and water than chemical formulas. However, as mentioned earlier, the sun can naturally break down the barrier of chemical sunscreens, which means you'll also have to reapply them throughout the day, even if you're doing minimal activity outside.
In terms of which is right for you, it really depends on your skin type, your lifestyle and your personal preference of texture and application method. Some formulas will contain both chemical and physical blockers, which can help narrow down your pick — one example we're currently loving is the CeraVe Hydrating Sheer Sunscreen for Face and Body SPF 30.
Whether you choose a sunscreen with physical or chemical blockers, the AAD always recommends using a broad-spectrum sunscreen with water resistance and SPF 30 or higher. Don't forget to reapply your sunscreen of choice at least every two hours, and keep your lips protected with an SPF-enhanced lip balm, too.
Read more

Back to top