The Best Sunscreen If You're Spending Time Outside This Summer
May 11, 2018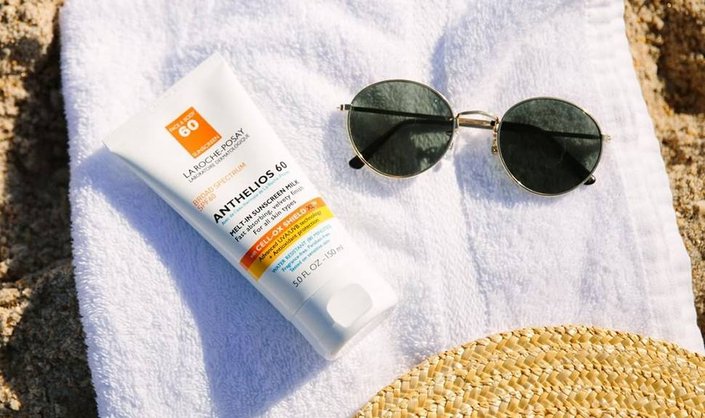 Ready for a scary story? In a recent test by Consumer Reports, over one third of the sunscreens they evaluated fell short. Turns out there are many sunscreens out there that claim to offer a shield against the sun's harmful UVA and UVB rays, but in reality, don't live up to the claims listed on their packaging. While that's an extraordinary number of sunscreens not providing the adequate amount of protection as advertised, there are formulas that earn high marks year after year. La Roche-Posay Anthelios 60 Melt-In Sunscreen Milk was rated by Consumer Reports, and has ranked at the top with a perfect score for the fourth year in a row. Just in time for summer, we're sharing details about this all-star sunscreen, ahead!
WHAT IS SPF?
SPF (or Sun Protection Factor) is the amount of time you can spend outdoors without burning. "Say, if you go outside and within ten minutes you turn red, well, when I give you a sunscreen, multiply that number by the normal amount of time it took you to burn, and that's how long it should work," says Dr. Lisa Ginn, board-certified dermatologist and Skincare.com consultant. "We used to recommend a minimum SPF of 15, but then the American Academy of Dermatology started to recommend a 30. SPF 30 is pretty mainstay and the difference between an SPF 8 and an SPF 30 is dramatic. If you have an active lifestyle, however, I would recommend an SPF 50+. Apply first thing in the morning, try to avoid the sun when it's at its peak from 11am to 3pm, and then reapply your sunscreen."
WHEN CLAIMS FALL SHORT
Dr. Ginn offers a quick word of warning when you're looking at products that claim to have a super high SPF—read: SPF over 100. "The chemicals in these products to get these high, high numbers are not necessarily good," she says. Plus, often, this also causes many of us to believe we can stay out longer without reapplying, despite instructions stating that sunscreen—and a full shot glass of it, at that—must be reapplied every two hours to remain effective.
A SUNSCREEN THAT KEEPS ITS PROMISE OF PROTECTION: LA ROCHE POSAY ANTHELIOS 60 MELT-IN SUNSCREEN MILK
Looking for a sunscreen that earned high marks? In the aforementioned Consumer Reports test*, one of the top ranking sunscreens was actually one of our favorites here at Skincare.com: La Roche-Posay's Anthelios 60 Melt-In Sunscreen Milk. This fast-absorbing sunscreen, with SPF 60, scored a perfect score in the test, for the fourth year in a row. The sunscreen is formulated with the brand's multi-patented Cell-Ox Shield technology which provides an optimized combo of UVA/UVB filters and an antioxidant complex for broad-spectrum protection. What's more, the formula delivers a velvety finish on the skin, is water-resistant for up to 80 minutes, and can be enjoyed by all skin types on face and body.
La Roche-Posay Anthelios 60 Melt-In Sunscreen Milk, $35.99 MSRP
*Consumer Reports does not endorse products or services.
Read more

Back to top