How to Minimize the Appearance of a New Scar
November 22, 2021
If you've ever suffered from an injury or needed surgery, then you might know a thing or two about scars. When the skin does not mend properly after being injured, scars form. While some people consider their scars a mark of pride, there are others who might  see them as painful reminders they'd like to go away. If you're looking to lessen the intensity of a recent scar, you're in luck because SkinCeuticals just launched its Advanced Scar Control scar gel to help improve the appearance of new scars. Ahead, find out everything there is to know about the product and how to use it. 
What is SkinCeuticals Advanced Scar Control?
According to the brand, Advanced Scar Control is a silicone scar gel that creates an occlusive barrier to help prevent new scar formation and improve the tone and texture of recent existing scars. It's ideal for use on incisions associated with surgical procedures, as well as scars caused by wounds like burns, scrapes and cuts.
How Does SkinCeuticals Advanced Scar Control Work?
While there are several factors that impact the formation and appearance of scars (age, skin tone, hormones, location and severity of the wound, for example), reducing water loss is essential to providing the perfect environment for scars to heal. The scar gel helps retain skin hydration and protects scars from environmental damage that can lead to changes in the texture, color and appearance of scars. 
The scar gel's formula is made up of silicones and allantoin, an ingredient known to reduce the appearance of scars thanks to its smoothing and hydrating properties, fatty acids and ultralight silica, the invisible, lightweight scar gel soothes post-procedure skin and minimizes the appearance of scarring.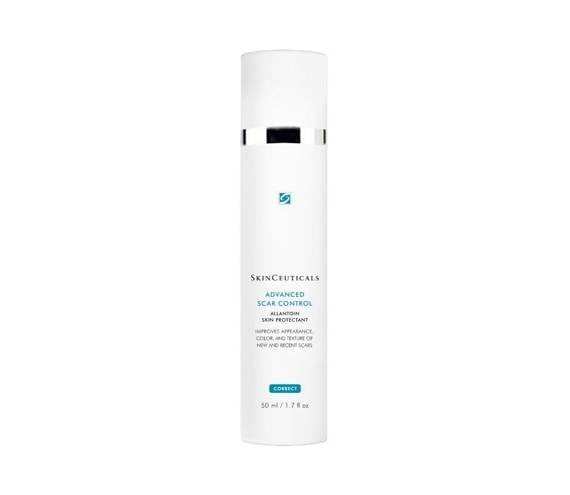 How to Use It Correctly
It's important to note that the scar gel should not be used on broken skin. Wait until the wound is healed before using the scar gel. Once the wound has healed, pop off the cap and carefully pump some of the clear, lightweight treatment gel onto your hand. Smooth it onto your scar, wherever it may be, making sure that the area is evenly coated in the gel. Within seconds, you'll notice that the gel dries down to a powdery finish that won't cling to clothing or leave behind a wet, sticky residue. We recommend following up with a sunscreen, like the La Roche-Posay Anthelios Melt in Milk Sunscreen SPF 60, to help shield the skin from UV rays that can increase the scar's discoloration and uneven texture.  
Photo Credit: Chaunte Vaughn
Read More:
Can You Get Rid of Stretch Marks?
Ways to Address Hyperpigmentation on Your Face
How to Treat Acne Scars — According to a Dermatologist
Read more

Back to top