How the Lancôme Tonique Confort Converted One Editor With Dry Skin Into a Loyal Toner User
January 11, 2022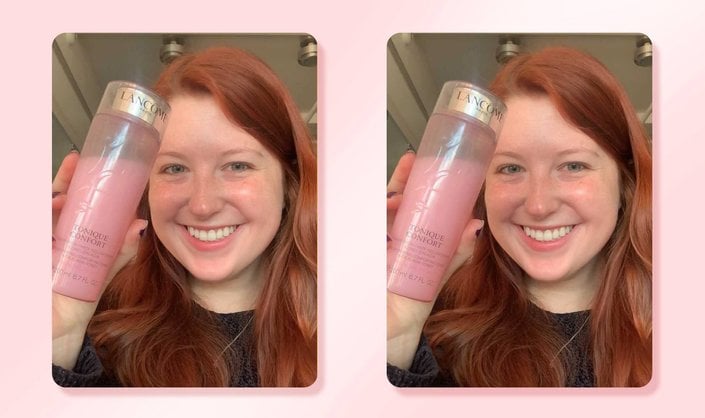 Before becoming a beauty editor, I never really thought I needed to add a toner to my skincare routine. Because I have dry skin, I assumed any toner would make it even drier. Only in the past few months did I learn about the various ways toners can benefit the skin — certain formulas can balance out pH, remove lingering impurities and even hydrate. I began researching hydrating toners and the Lancôme Tonique Confort Hydrating Facial Toner immediately caught my eye because of its gorgeous pink packaging and rave reviews. Luckily, the brand was kind enough to send me a complimentary sample to test out for myself.
My Review of Lancôme Tonique Confort Hydrating Facial Toner
Upon first use, this formula completely washed away all the preconceived notions I had about toner. Rather than having a watery consistency like I expected, the Tonique Confort has a serum-like milky texture. Formulated with acacia honey, hyaluronic acid and sweet almond oil, it works to gently remove dirt, excess oil and leftover makeup like most toners, but it also nourishes, softens and soothes the skin. 
Instead of using a cotton round, I like to pour a bit onto my hands and press it into my skin. I feel like it really preps my skin for the rest of my skincare — when using this toner as the first step in my routine, the rest of my products seamlessly sink into my skin. I also appreciate that the silky formula quickly absorbs leaving me looking fresh and radiant.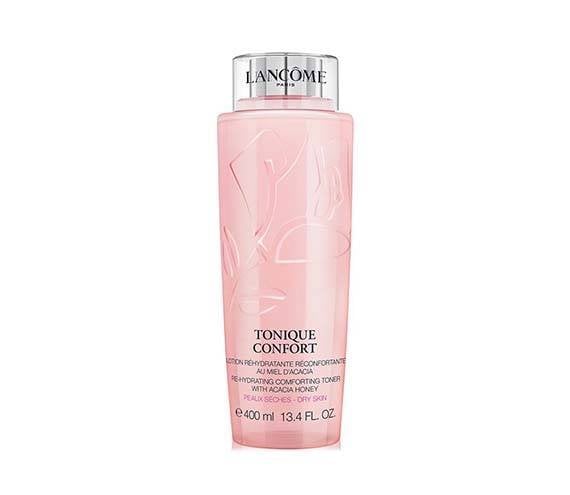 I also appreciate that a little bit goes a long way. Though I've been using it for a few months, the bottle is still more than three quarters full. Plus, it's the prettiest toner I've ever seen — I admit I get a little giddy when I find a product that is not only beautiful but also has an impressive formula to match. 
It's been almost three months since I first started using the Tonique Confort and it has helped keep my skin feeling moisturized. The transition from fall to winter usually causes my skin to freak out and become unbearably dry, but that didn't happen this year — and I attribute that to incorporating this extra-hydrating step into my routine. 
After using this product it's hard to believe I once thought toners were unnecessary — my skincare routine now feels incomplete when I don't use it. This is one product I'll definitely keep restocking time and time again. 
Photo: Mary Honkus, Design: Juliana Campisi
Read More: 
7 Best Toners for Oily Skin, According to Our Editors
6 Ways to Use Rose Water Spray in Your Beauty Routine
6 Glycolic Acid Toners for Smooth, Glowing Skin
Read more

Back to top