A Simple Men's Acne Routine for a Well-Balanced Complexion
October 26, 2021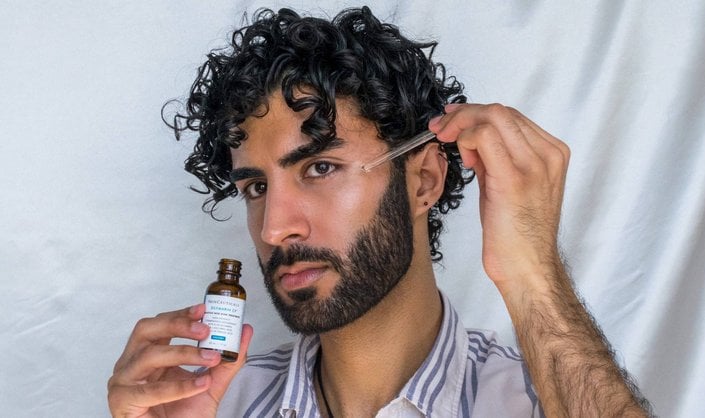 With new skincare products springing up all the time, it can be hard to figure out what's essential, especially for those with acne-prone skin. Things get even more confusing for men, who may prefer a more pared-down routine as opposed to a 10-step regimen. And although acne is one of the most common skin diseases in the United States — affecting all genders, races and ages — historically, skincare has been marketed to mostly women. This leaves men even further in the dark about what products to use.
To help narrow the search, we've put together a routine for men that includes just the necessities to achieve a well-balanced complexion. Below, follow four simple steps for treating blemishes.
Step 1: Use a Cleanser Formulated to Fight Acne
As with any skincare routine, you'll want to start by washing your face. However, look for a cleanser with either benzoyl peroxide or salicylic acid as its star ingredient. We suggest the CeraVe Acne Foaming Cream Cleanser formulated with 4% benzoyl peroxide to penetrate pores and kill the bacteria that contribute to the inflammation that results in acne.
Step 2: Apply an Oil-free Serum 
If you're new to the category, serums are concentrated liquid treatments that target concerns like wrinkles, discoloration and — you guessed it — acne. The SkinCeuticals Silymarin CF is an oil-free vitamin C serum that contains silymarin (milk thistle extract), ferulic acid and salicylic acid to prevent oil oxidation that can lead to breakouts and fight visible signs of aging.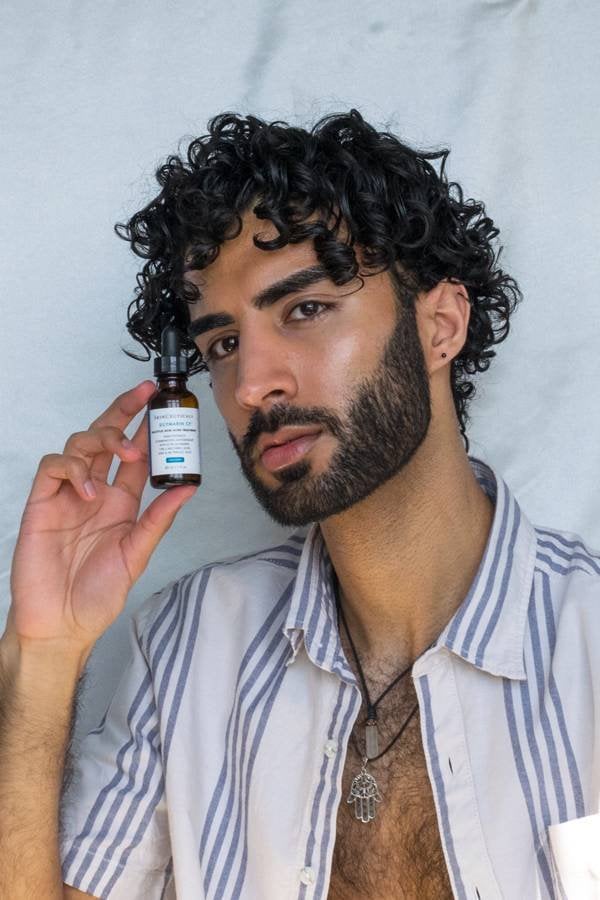 Step 3: Slather on a Mattifying SPF
Never skip sunscreen! This is especially important for acne-prone skin since many acne medications make your skin sensitive to sunburn The right sunscreen can give a mattifying effect and protect the skin without worsening breakouts. 
Enter: SkinCeuticals Physical Matte UV Defense SPF 50, a broad spectrum 100% physical tinted sunscreen with an oil-absorbing base that leaves a long-lasting matte finish.
Step 4: Finish With a Spot Treatment 
Of course, there's always that one (or few) stubborn pimple(s) that won't seem to get the memo that it's time to go. Using a spot treatment will be your secret weapon to reducing the number and severity of acne blemishes, pimples, blackheads and whiteheads. The La Roche-Posay Efflaclar Duo Acne Spot Treatment is our pick and can even be used all over the face if needed.
Photography: Saq Idrees
Read More:
How to Build a 7 Step Skincare Routine for Men
The Skin-Care Products Our Female Editors Steal From the Men in Their Lives
Read more

Back to top