6 Acne Hacks That Actually Work, According to a Dermatologist
March 18, 2022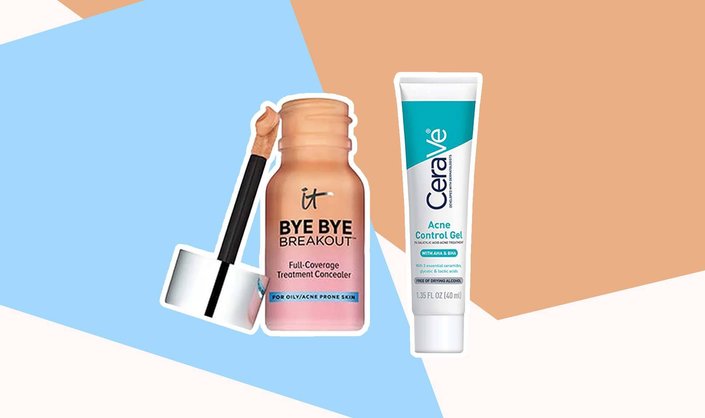 The world of skin care is full of dos and don'ts, especially when it comes to getting rid of acne. With so many acne treatments out there, it can be hard to decipher which tips and tricks are worth following, though. We understand that when you're dealing with blemishes, there's no time to fall for misinformation, which is why we tapped board-certified dermatologist, and Skincare.com consultant, Dhaval Bhanusali, M.D., to set the record straight. When it comes to addressing pimples, here are some must-try acne hacks that have earned his seal of approval.
Acne Hack #1: Apply Benzoyl Peroxide & Cover It
Benzoyl peroxide is one of the most common over-the-counter ingredients used to fight acne. According to the American Academy of Dermatology (AAD), benzoyl peroxide works by killing acne-causing bacteria. When used daily, it can help keep your acne under control as well as reduce the frequency of flares.
For this hack, reach for a benzoyl peroxide cream or spot treatment. Dab a bit of it on top of your blemish prior to going to bed. Before laying your head down, cover up the area where you applied the benzoyl peroxide cream with a small bandage. According to Dr. Bhanusali, covering up the benzoyl peroxide with a bandage can help with absorption. You can also reach for a benzoyl peroxide facial cleanser, like the CeraVe Acne Foaming Cleanser from our parent company, L'Oréal, which helps to clear pimples, whiteheads and blackheads from the skin's surface while preventing new acne from forming. For an even deeper clean, pair it with the Clarisonic Acne Brush Head (also owned by L'Oréal), which is packed with more bristles for an ultra-soft experience that gently whisks away dead skin, sebum and other pore clogging impurities.
It's important to note that benzoyl peroxide and other acne-fighting ingredients, like salicylic acid and sulfur, are notoriously drying. What's more, studies from the AAD show that products boasting a higher concentration of benzoyl peroxide may not equate to increased effectiveness, and may in fact, irritate the skin. So be sure to follow the instructions on the label of your products and talk to your dermatologist about any of your concerns.   
Acne Hack #2: Use Over-the-Counter Hydrocortisone Cream
This may sound strange, but Dr. Bhanusali tells us that over-the-counter hydrocortisone cream may help reduce the appearance of acne-related redness. To try this hack, start by washing your face. Squeeze a small amount of cream onto a clean finger and gently dab it onto your pimple.
Acne Hack #3: Calm the Look of Blemishes with Ice Cubes
"Ice cubes can help to slightly reduce pain and inflammation associated with acne," Dr. Bhanusali says. The cooling effect of ice can help vaso-constrict the problem area and, in turn, reduce the appearance of acne-related redness and swelling, even if just slightly. To try this hack, start by wrapping an ice cube around a washcloth or paper towel. Hold it against your blemish for a few minutes. Repeat as necessary in short intervals, taking breaks in between to give your skin a chance to warm back up.
Acne Hack #4: Try an LED Light Mask
According to Dr. Bhanusali, LED light therapy masks are becoming more and more common as a way to help reduce the appearance of acne. Interested in giving it a try? Head to your dermatologist to determine whether or not your skin is a good candidate for light therapy.
Acne Hack #5: Camouflage & Target Blemishes at the Same Time
When it comes to addressing your acne, immediate results can be hard to come by. That's why many people turn to concealer, which can help to instantly hide blemishes if you so choose. The best part about these formulas is that they can work in a pinch. Try using the L'Oréal-owned IT Cosmetics Bye Bye Breakout Concealer. Ideal for oily and acne-prone skin types, it's a full-coverage, treatment concealer formulated with skin-loving ingredients like sulfur, tea tree, peptides, witch hazel, kaolin clay and more. In addition to covering up the look of blemishes and acne-related redness immediately without creasing or cracking, the formula targets blemishes to deliver more transformative skin results over time. Think of it as an acne-fighting drying lotion and concealer all in one. 
Acne Hack #6: Use a Spot Treatment 
There's nothing worse than waking up with a new blemish. If you don't want to cover up your pimple with makeup, try using a clear acne patch. Acne patches have been growing in popularity for their ability to target pimples in their early stages, for their easy-to-use design. One of our favorites is the ZitSticka Killa Kit, which is a patch with tiny micro darts that poke the pimple upon application so that the infused ingredients can penetrate into your skin and prevent the pimple from becoming worse. You can wear it overnight while you sleep or wear it throughout the day for a couple of hours at a time. The best part about these patches is that they do the work for you and blend right in, thanks to the transparent color.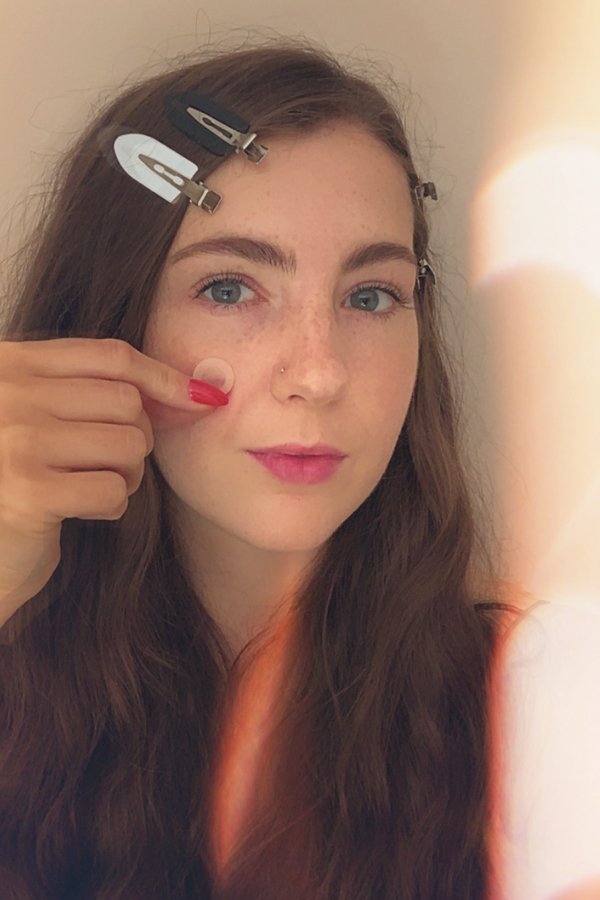 Hero Asset: Hannah Packer

Read More: 
Acne Face Mapping 101: How to Decode Your Breakouts
Do You Know What Type of Acne Do You Have?
How to Treat Acne Depending on Your Age
Read more

Back to top