4 Facial Cleansers You Need If You Have Acne-Prone Skin
March 03, 2017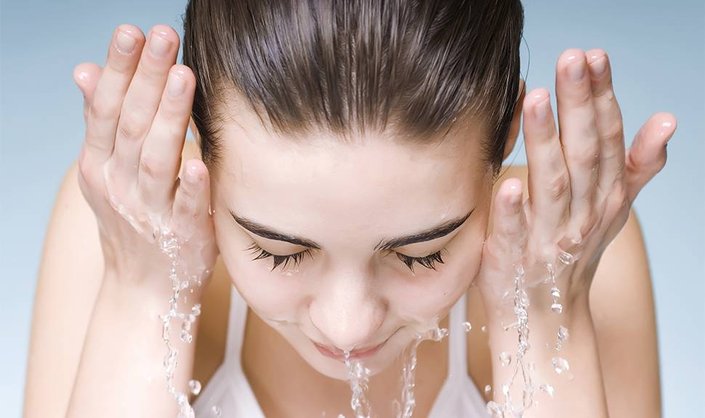 Have acne-prone skin? Chances are a facial cleanser formulated for acne-prone skin is already a staple in your beauty cabinet. These products typically are formulated with blemish-fighting ingredients like salicylic acid or benzoyl peroxide and can help your skin recover from constant breakouts and shield it against new, pesky formations. If a facial cleanser for acne-prone skin is not currently part of your routine (tisk tisk!) and you're on the hunt for a new face wash to help nip zits in the bud, you've come to the right place. Ahead, we share four all-star cleansers—from the L'Oreal portfolio of brands—your acne-prone skin needs in its arsenal.
La Roche-Posay Effaclar Medicated Gel Cleanser
If you're new to La Roche-Posay's Effaclar range, allow us to provide the formal introduction. The brand's Effaclar collection of daily skin care products are developed with dermatologists to provide efficient solutions to address the issues of oily and acne-prone skin. One such issue? Breakouts, duh! If you're looking for a facial cleanser for acne-prone skin (which you probably are if you're still reading!) look no further than Effaclar Medicated Gel Cleanser. The formula—with 2 percent salicylic acid and .05 percent micro-exfoliating LHA—thoroughly cleanses skin, removing excess oil and impurities without harsh scrubs that may irritate skin. As a result of use, skin is deeply cleansed with an even and smooth appearance, with breakouts diminished.
La Roche-Posay Effaclar Medicated Gel Cleanser, $14.99 MSRP
Vichy Normaderm Gel Cleanser
Formulated with salicylic-, glycolic-, and lipo-hydroxy acid, this cleanser helps purify pores, remove excess sebum, and prevent new skin imperfections from forming. The cleanser applies as a translucent gel and quickly lathers into a fresh foam that can be rinsed clean easily. The result? Skin that feels soft, velvety, and ultra clean.
Vichy Normaderm Gel Cleanser, $18 MSRP
SkinCeuticals LHA Cleansing Gel
Battling adult acne? That calls for a cleanser designed for adult skin, like this exfoliating gel formula by SkinCeuticals. Enriched with glycolic acid, LHA, and two forms of salicylic acid, LHA Cleansing Gel can help decongest pores to reduce breakouts while addressing visible signs of aging at the same time. 
SkinCeuticals LHA Cleansing Gel, $40 MSRP
Kiehl's Blue Herbal Gel Cleanser
Inspired by Kiehl's venerable Blue Astringent Herbal Lotion, this purifying gel cleanser—with salicylic acid and extracts of cinnamon bark and ginger root—thoroughly cleans pores and removes traces of acne-causing dirt, residue, and oil. Mild cleansing agents are used to formulate a completely oil-free but non-drying preparation, which helps keep skin clear of new acne blemishes.
Kiehl's Blue Herbal Gel Cleanser, $21 MSRP
Editor's note: While it may seem intuitive to use every acne-fighting product under the sun to kick your breakouts to the curb ASAP, bombarding your skin won't always provide the best end result. When using multiple topical acne products at the same time, skin irritation and dryness may occur. Since nobody wants to deal with dryness, irritation, AND breakouts at the same time, be wary of applying too many acne-fighting products formulated with salicylic acid and benzoyl peroxide to your skin. If irritation occurs, only use one topical acne formula at a time. This may mean using a cleanser for acne-prone skin but skipping an application of your spot treatment that same day, or vice versa. What's more, many acne-fighting ingredients can cause your skin to be more sensitive to the sun. To prevent sunburn—and the premature signs of skin aging—be sure to apply a broad-spectrum SPF each and every morning and reapply as necessary throughout the day!  
Read more

Back to top