The Best Makeup for Acne-Prone Skin
September 19, 2019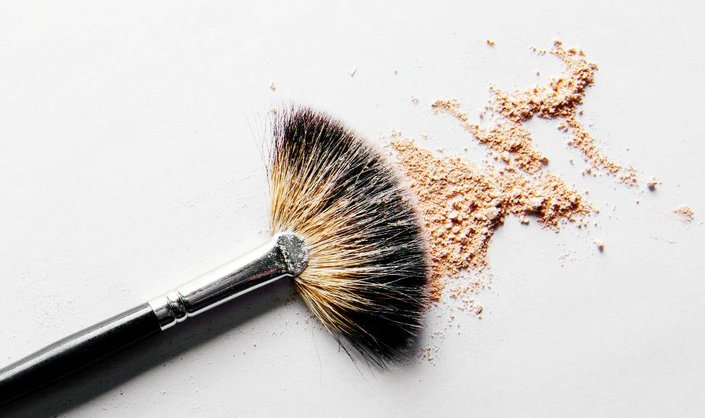 There's little as frustrating as waking up to a new pimple, except maybe the search to find the right makeup for your acne-prone skin. The questions are seemingly endless: Will makeup make the acne worse? Do I need to look for non-comedogenic formulas? Are some formulas better for my acne-prone skin? Thankfully, Skincare.com is here to help take the guesswork out of looking for makeup for acne-prone skin. Keep reading to discover how you can help to care for (and cover up) your acne-prone skin.
Does Makeup Cause Acne or Make Existing Breakouts Worse?
Ah, the million-dollar question. Does makeup cause acne? The short answer: Sort of…just not directly. While makeup is not one of the common causes of acne—for that you need to turn to the list below—it can indirectly cause breakouts or make existing acne worse. The common causes of acne include: 
1. Hormonal Fluctuations – The three P's: Puberty, Periods, Pregnancy.
2. Clogged Pores – Excessively oily skin mixed with a buildup of dead skin cells and other impurities on the skin's surface can cause pores to clog. When this clog also contains bacteria a breakout can ensue.
3. Bacteria – From your hands, other people's hands, your pillows, the world around you, the list really goes on and on. 
While makeup doesn't make the list of the top three, bacteria is actually one of the reasons your cosmetics may be the cause of your not-so-clear complexion. Dirty makeup brushes or sponges, sharing compacts with friends, and so on, are all reasons makeup can indirectly cause acne. Another culprit? Those "impurities on the skin's surface" that can clog pores. When worn during the day, makeup likely isn't going to clog your pores and cause breakouts, but when not removed properly each night—followed by cleansing and moisturizing—it absolutely can.
What Is Non-Comedogenic Makeup?
When looking for makeup for acne-prone skin you're going to want to look out for one word on the label: "non-comedogenic." This means the formula won't clog your pores (remember this is a leading cause of breakouts) and likely won't make existing acne worse. Luckily there are great non-comedogenic formulas available to choose from:
Foundation For Acne-Prone Skin

Foundations for acne-prone skin should be high-coverage and breathable and cushion compacts like Lancôme's Teint Idole Ultra Cushion Foundation is just that. Available in 18 diverse shades and tones, this long-wear, oil-free high-coverage makeup is formulated with broad-spectrum SPF 50, so not only does it help to hide imperfections, it also helps to protect your skin too.
For a lightweight pick that doesn't skimp on coverage, reach for a BB cream like La Roche-Posay's Effaclar BB Blur. This oil-absorbing BB cream delivers an all-day matte skin finish—so you can say goodbye to that shiny T-zone! It helps temporarily cover up the look of imperfections without weighing your skin down. What's more, the addition of SPF 20 can help shield your skin from the sun's harmful UV rays.
Concealer For Acne-Prone Skin
Green color correcting concealers are a great way to help hide visible redness. Urban Decay's Naked Skin Color Correcting Fluid in green helps to counteract any spot redness from blemishes. Learn more about how to use color correction for other skin care concerns—from pimples to dark circles—here.
After color correcting, go over with a concealer that best matches your skin tone. Dermablend Quick-Fix Concealer is a great makeup option as it offers full-coverage and a creamy finish. The concealer is available in 10 shades, is non-comedogenic, non-acnegenic, and even covers up any acne scars that may be lingering behind. 
Another concealer we can't get enough of is It Cosmetics' Bye Bye Breakout Concealer. The formula was developed specifically for acne-prone skin, and is an acne drying lotion and full coverage concealer all in one. Formulated with skin-loving ingredients—sulfur, witch hazel, and kaolin clay just to name a few—the Bye Bye Breakout Concealer can calm and cover the look of blemishes while targeting them at the same time. 
Setting Powder For Acne-Prone Skin
To set your makeup for the long-haul you're going to want to reach for a setting spray or powder. These products help to prolong the wear of your makeup and can often even help it to be transfer-resistant. Dermablend Setting Powder can help to set your makeup. The translucent powder helps to ensure the wearability of your makeup while leaving your complexion mattified. Another favorite? Maybelline SuperStay Better Skin Powder is a great pick for acne-prone skin types. Formulated with salicylic acid, this powder controls excess oil all day long and works to improve the look of your skin in just three weeks.
Whatever you do, don't share setting powders with your friends if you're worried about worsening your acne. The oils on your friend's face are foreign to your own skin, so when you share you run the risk of contaminating your brushes, compacts, and then your complexion with foreign oils which can cause or worsen breakouts. Discover the other beauty products you should absolutely never share, here.
How To Care For Acne-Prone Skin
While makeup is a great quick fix when you need to cover up a pimple on your acne-prone skin before a big event, it's not going to help you clear your complexion in the long run. For that, you'll need the help of skin care products formulated with approved acne-fighting ingredients—read: salicylic acid, benzoyl peroxide, and sulfur to name a few. If the occasional blemish is all that pops up on your complexion, try incorporating a spot treatment into your skin care routine. If you experience more than just a pimple here and there, look for cleansers and moisturizers formulated specifically for acne-prone skin.
Read More: 
You Definitely Would've Kept These Skin-Care Picks in Your High School Locker
5 Face Masks to Prep Your Skin for Your Best Makeup Application
These Two Beauty Products Are the Ultimate Skin-Care Dream Team
Read more

Back to top