A Simple 5-Step Skincare Routine for Acne-Prone Skin
April 06, 2023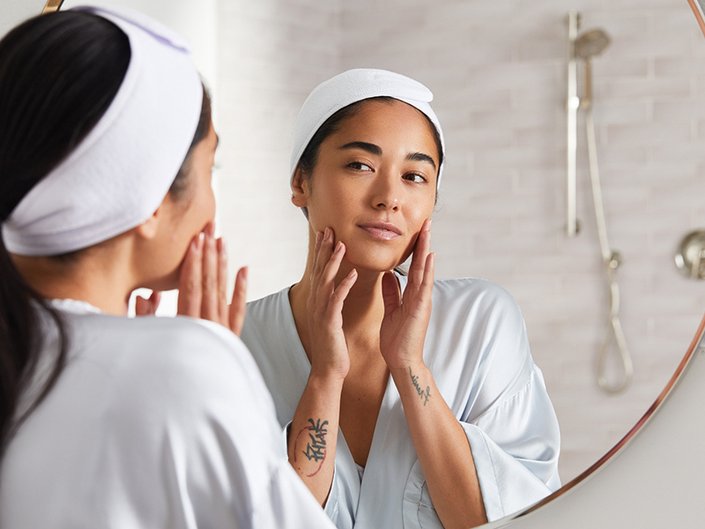 When it comes to developing a skincare routine, everyone is different. What products you should be using and when you use them ultimately depends on a variety of factors, including your skin type and skincare concerns. Someone with extremely dry skin, for example, is not necessarily going to benefit from the same skincare routine that works for someone with oily skin.
Acne is an example of a very common condition that may require particular types of products and care. That's why, with the help of New-York-City-based board-certified dermatologist Dr. Nava Greenfield, we're breaking down a good skincare routine for acne-prone skin and sharing some of our favorite products for those afflicted by frequent breakouts. However, if you have acne or are dealing with breakouts, we always recommend consulting with a board-certified dermatologist for a personalized routine.
What Is Acne?
According to Dr. Greenfield, "acne is a combination of bumps, cysts, nodules and comedones on the skin, coupled with inflammation." In other words, as per The Cleveland Clinic, "acne is a common skin condition where the pores of your skin clog." It may result in your skin breaking out in pimples or other types of blemishes, including blackheads and whiteheads.
What Causes Acne?
In addition to clogged pores, "acne has multiple causes — inflammation around hair follicles and sweat glands, bacterial colonization, hormonal influences and sweat gland overproduction," says Dr. Greenfield. Genetics can also play a role in predisposing you to acne if it runs in your family. Acne can manifest in different ways depending on the different causes. For example, hormonal acne that corresponds with your menstrual cycle may result in large, painful cysts on your chin and jaw.
How to Get Rid of and Prevent Acne
The most effective way to clear up breakouts and prevent future ones from occurring may depend on what is causing your acne, notes Dr. Greenfield. "Sometimes over-the-counter products are sufficient and other times prescription treatments are needed to clear [acne]," she says. "A good skincare routine, as well as a healthy lifestyle, is essential in preventing and treating acne."
If you suspect that you struggle with acne, be sure to visit a board-certified dermatologist to determine the best treatment plan for you. But, as Dr. Greenfield says, sticking to a proper skincare routine is a great place to start.
The Best Skincare Routine for Acne-Prone Skin
Step 1: Wash Your Face With a Gentle Cleanser
Whether you're breaking out minimally in localized areas or all over your face, start your mornings and end your evenings the same way — with a cleanser. We're not talking any old cleanser either, but rather a gentle, hydrating option that is formulated with acne-fighting ingredients. "The ingredient to consider here is salicylic acid," says Dr. Greenfield. "For more advanced acne, an antibacterial cleanser with benzoyl peroxide would be appropriate."
The Vichy Normaderm PhytoAction Daily Deep Cleansing Gel is formulated with salicylic acid, glycolic acid and micro-exfoliating LHA to gently exfoliate, remove excess sebum and unclog pores. Just be careful not to scrub too hard! At night, cleansing is also an essential step, since leaving makeup and impurities on your skin's surface overnight is a recipe for new pimples.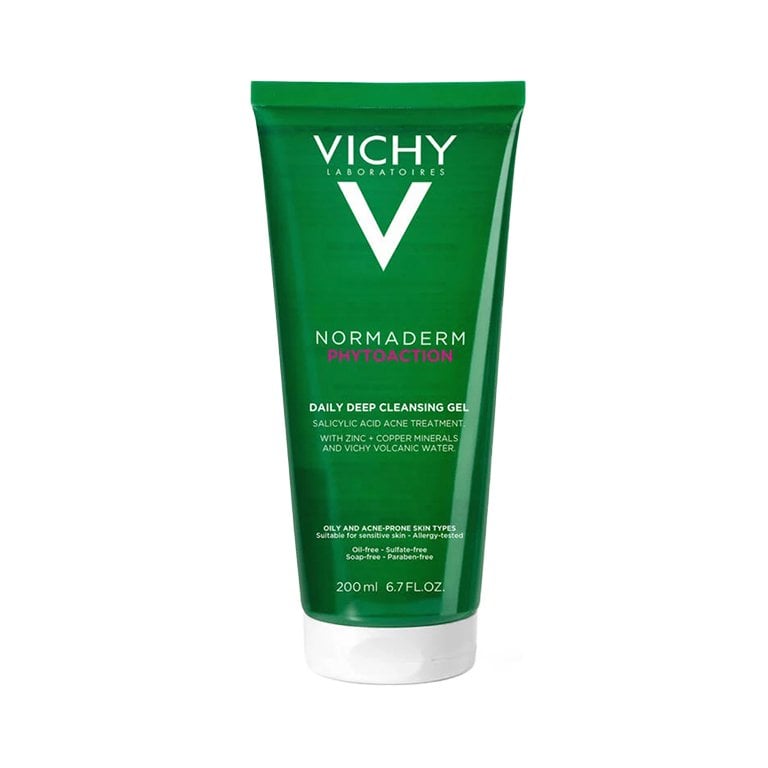 CeraVe is known for its gentle yet effective skincare products, and the Acne Control Cleanser is no exception. This gel-to-foam cleanser featuring salicylic acid exfoliates dead skin cells to help prevent your pores from getting clogged. The acne-fighting salicylic acid is balanced with calming, soothing ingredients like ceramides and niacinamide, leaving your skin feeling soft and smooth after washing.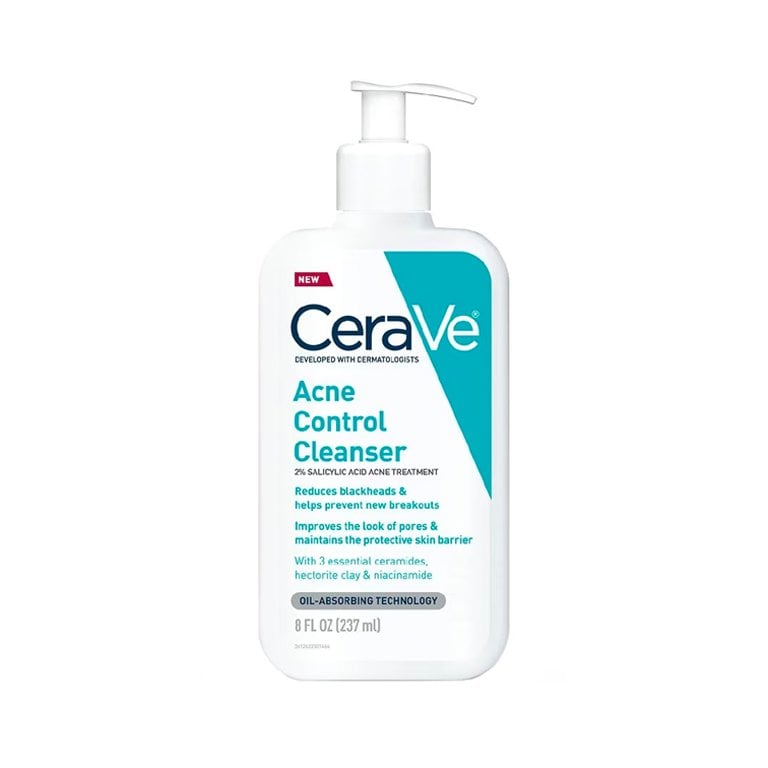 Step 2: Use an Exfoliator or Toner
This next step is not necessarily one you will do every day. Some toners are gentle enough to be used daily, depending on your skin's sensitivity, but stick to once or twice a week with exfoliating. "Exfoliating is important because dead skin cells building up inside hair follicles cause comedones," explains Dr. Greenfield. "Salicylic acid, lactic acid or glycolic acid are great ingredients for this step."
Toners are a cleanser's back-up plan. Their formulas work to clean up any leftover buildup the cleanser may have missed, which — in the case of acne-prone skin — could be excess oil and pore-clogging impurities.
The La Roche-Posay Effaclar Clarifying Solution Acne Toner is a great pick for acne-prone skin types because the salicylic-acid-infused formula helps eliminate leftover debris, excess sebum, and dead skin cells for skin that looks clean and feels smooth to the touch.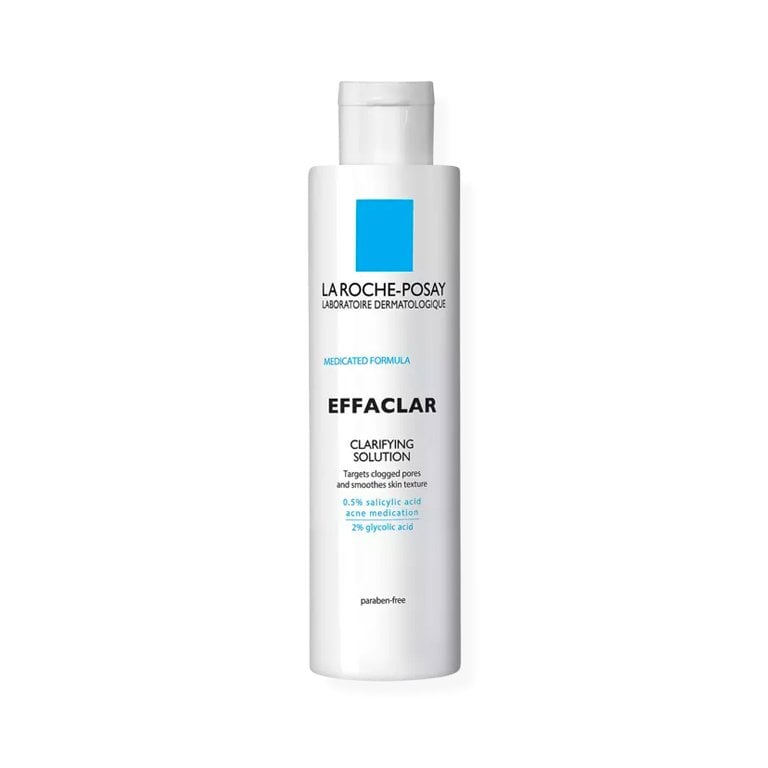 Acne is no match for the Thayers Blemish Clearing Salicylic Acid and Witch Hazel Acne Face Toner, formulated with maximum strength 2% salicylic acid. It works to clear up existing breakouts, including whiteheads, blackheads and acne blemishes, while simultaneously preventing new ones from forming. Ingredients like witch hazel and aloe vera renew and soothe the skin, as well.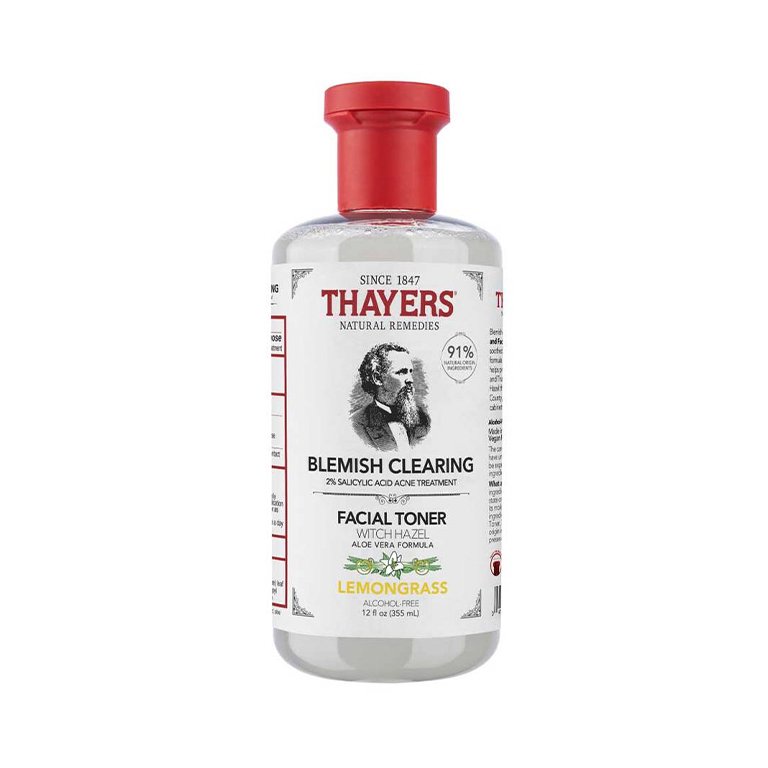 Formulated with 2% salicylic acid and 3% lactic acid, the IT Cosmetics Bye Bye Breakout Salicylic Acid Acne Serum gently exfoliates your skin and treats every stage of the acne lifecycle. Not only does it help clear up active acne breakouts, but it also works to fade post-acne marks at the same time with continued use.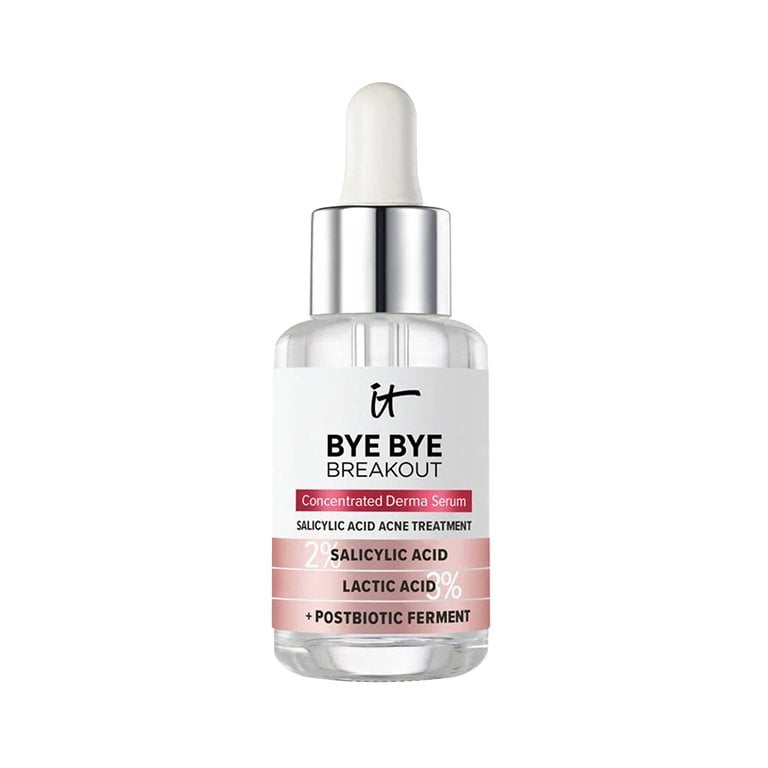 Step 3: Apply a Spot Treatment
Once your skin has dried after cleansing and exfoliating, it's time to target your individual pimples directly. For this step, you'll want to use a spot treatment. like
Formulated with benzoyl peroxide, the La Roche-Posay Effaclar Duo Acne Spot Treatment works to reduce the number and severity of blemishes including blackheads, whiteheads and other pimples. To use, cover your blemishes with a thin layer of the formula one to three times daily. Be sure to pair this product with a broad-spectrum sunscreen since it may make your skin more sensitive to the sun.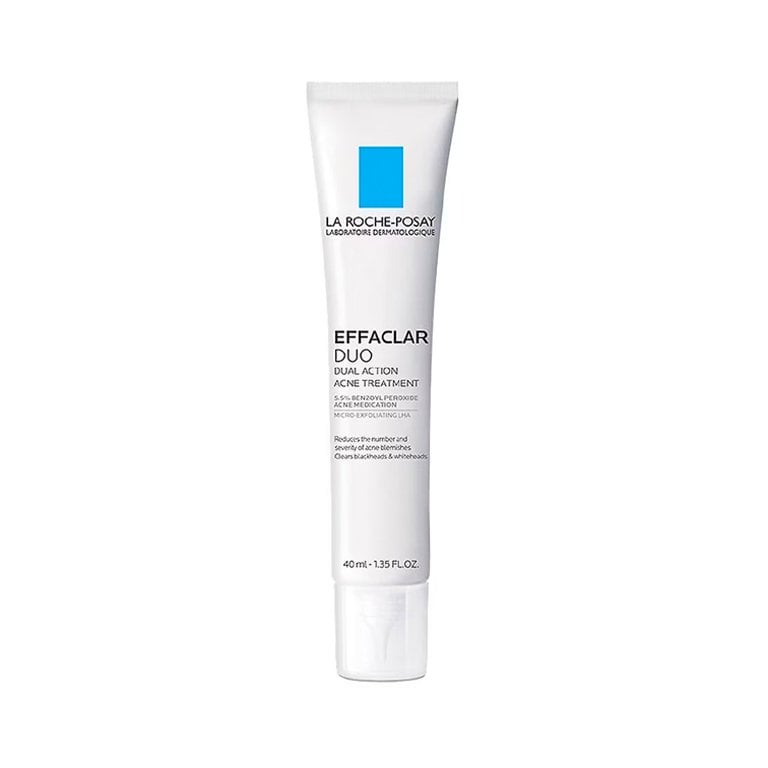 Banish blemishes overnight with the fast-acting Mario Badescu Drying Lotion. This chalky pink lotion suspended in liquid helps dry up pimples, drawing out impurities and visibly reducing their size and appearance. Just dab a spot of the stuff on the surface blemishes that are bothering you. Pro tip: You should apply this spot treatment after moisturizing, not before.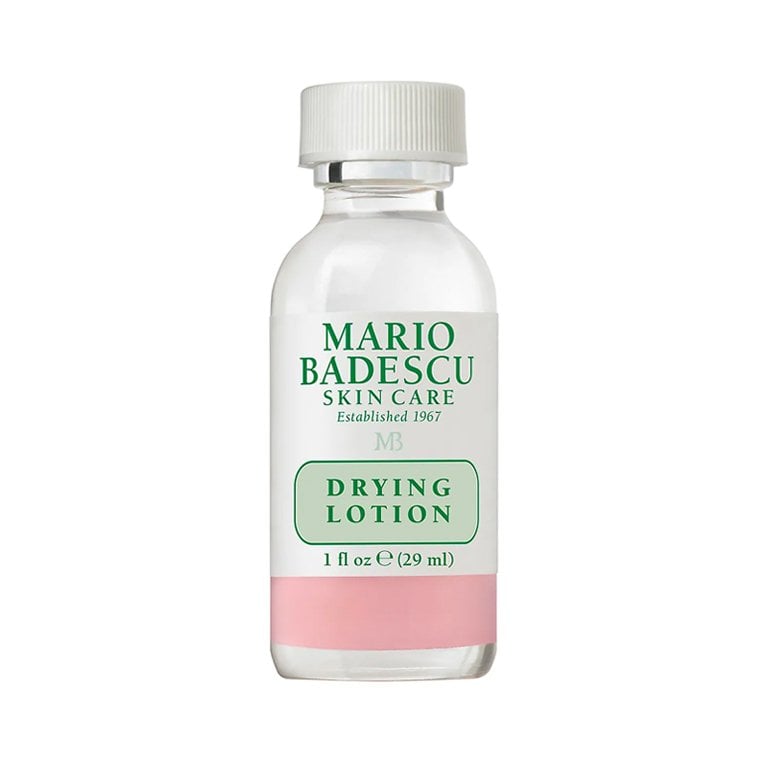 Step 4: Moisturize With An Oil-Free Cream or Gel
Think skin that's battling breakouts doesn't need moisturizer? Think again. All skin needs hydration, day in and day out. "Keeping skin healthy requires liberal hydration," says Dr. Greenfield. "Hydrated and healthy skin is less prone to breakouts." Plus, acne-fighting ingredients are notorious for their drying effects (which FYI, can lead to a hypersecretion of oil and actually cause more breakouts), so keeping skin hydrated is a must! Reach for a non-comedogenic cream that won't clog your pores further.
The Kiehl's Ultra Facial Oil-Free Gel Cream quickly absorbs to help skin retain moisture without a greasy finish.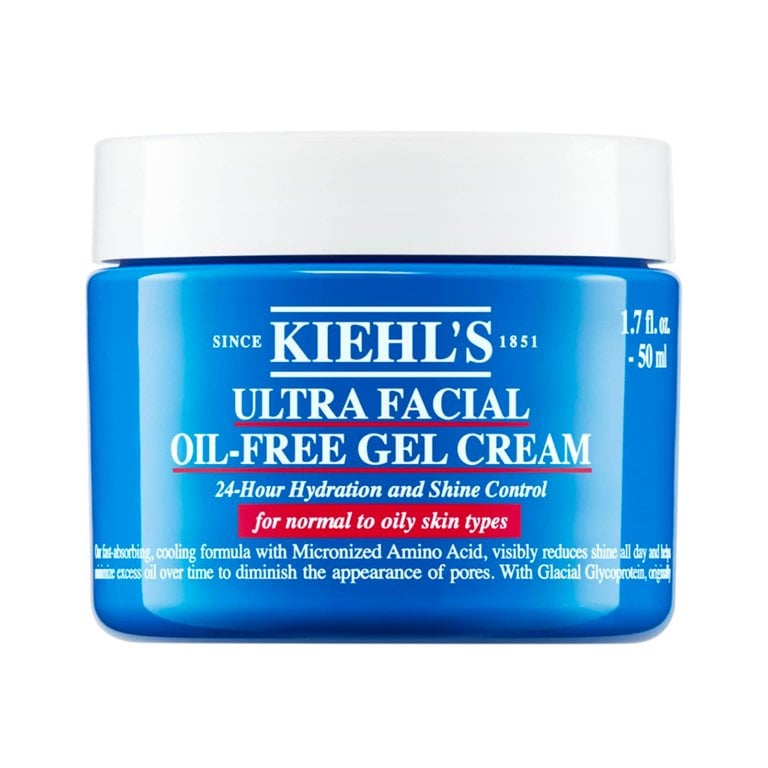 Dr. Greenfield's pick for a moisturizer is the REN Clean Skincare Everhydrate Marine Moisture-Replenish Cream "because this product has green algae, which will add essential emollients to the skin and lock it in for many hours."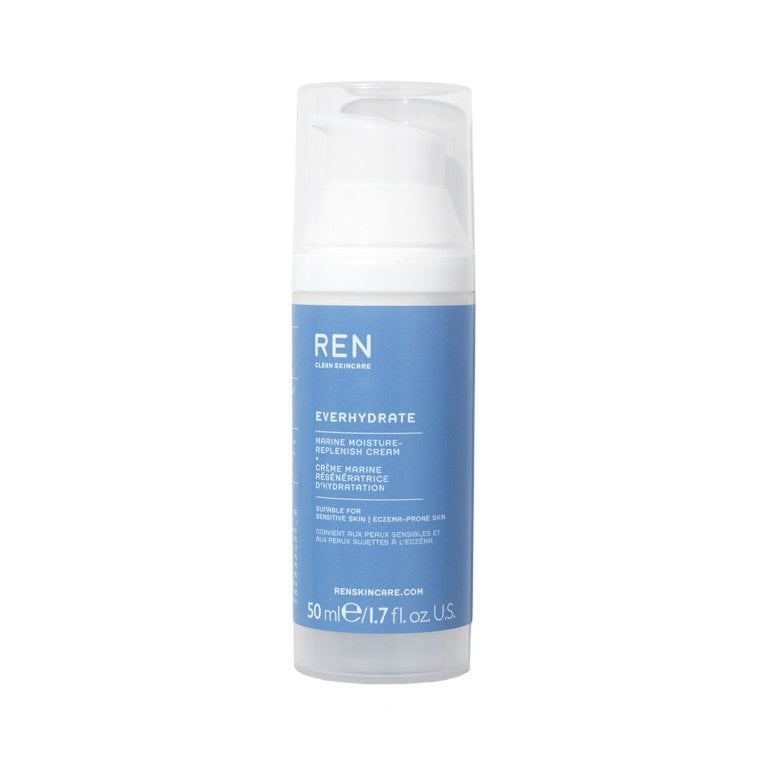 Another great option for a refreshing, lightweight moisturizer is the Peter Thomas Roth Water Drench Hyaluronic Cloud Cream Hydrating Moisturizer. The weightless, cloud-like texture does not feel greasy on your skin, but don't be fooled into thinking it doesn't have hydrating benefits. This potent, hyaluronic-acid packed cream locks in hydration for up to 72 hours after application.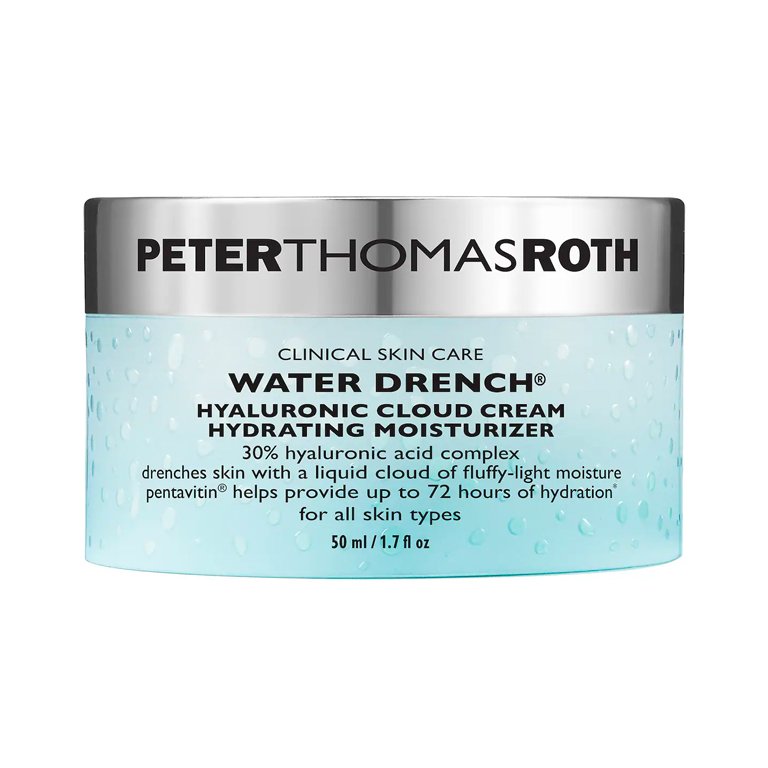 Step 5: Apply Broad-Spectrum SPF
This step only applies to your morning skincare routine, but it is absolutely essential. While you should already be slathering on sunscreen every day before you head out the door, it's especially important not to skip this step when you are using acne-fighting products as the ingredients in these types of products (such as salicylic acid) can make your skin more sensitive to the sun. "A mineral-based sunscreen is great for acne prone skin — zinc or titanium dioxide," recommends Dr. Greenfield.
The CeraVe Hydrating Sheer Sunscreen Broad Spectrum SPF 30 for Face & Body is an innovative mineral-chemical hybrid sunscreen that combines zinc oxide with chemical sun filters for effective, hydrating sun protection. The fluid formula is ultra lightweight and non-greasy, which is a major plus for oily, acne-prone skin. We also love how you can use this versatile sunscreen on both your face and your body.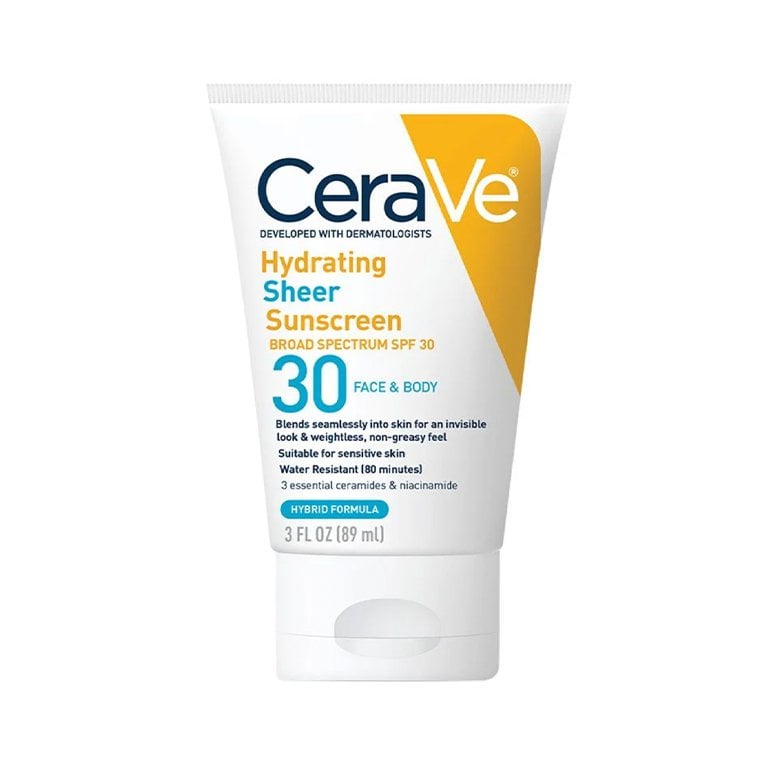 Editor's Note: Salicylic acid can be drying, so heed with caution. If excessive drying occurs, decrease your daily applications as tolerated. As always, remember to wear broad-spectrum SPF of 30 or more each and every day, especially when using products formulated with ingredients like salicylic acid.
Photo: Chaunte Vaughn
Read more

Back to top