Four Ways Stress Could Noticeably Impact Your Skin and Hair
August 19, 2020
Stress manifests itself in many ways, including your skin's appearance. With everything going on in the world due to the coronavirus pandemic, you might be experiencing stress acne and flare-ups or other skin conditions such as rosacea and eczema firsthand. We asked Skincare.com expert, Dr. Vlada Doktor, a board-certified dermatologist at The Dermatology Specialists, to share the various ways stress can impact the appearance of skin and hair, plus tips to help manage it. 
Acne
"The main stress hormone at fault here is called cortisol," says Dr. Doktor. "Cortisol signals and interacts with several endocrine hormones, the most significant of which, for acne purposes, is testosterone. This in turn induces changes in sebum (oil) production and results in cystic acne." 
Like hormonal cystic acne, stress acne often presents itself on the cheeks and can be painful. One of the best things you can do is reduce your stress levels as best you can. Dr. Doktor says that maintaining a healthy lifestyle including regular exercise, meditation and making adjustments to your diet can all help. In addition, she suggests considering topical products formulated with ingredients like retinoids and benzoyl peroxide (try the La Roche-Posay Effaclar Duo Dual Action Acne Spot Treatment Cream, which contains benzoyl peroxide). If you can schedule an appointment with your dermatologist, you can ask for more information about options, including oral medications, to treat stress-related acne.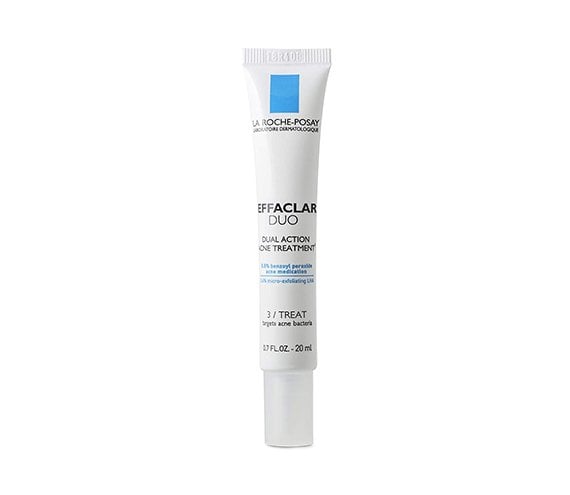 Chronic and Inflammatory Skin Conditions
"There are many skin conditions that can be exacerbated or even triggered by stress," explains Dr. Doktor. These include psoriasis, eczema and rosacea. In addition to following the stress-reducing tips mentioned above, Dr. Doktor advises that it's best to speak with your doctor about treatment options which may include prescription topical anti-inflammatory corticosteroids to help with stress-worsened skin   
Acute Skin Conditions
Another  skin  condition that can crop up when you're stressed are hives (Dr. Doktor recommends asking your doctor about over-the-counter antihistamine) and seborrheic dermatitis on areas like the scalp and T-zone. 
Hair and Nail Thinning
If you've been losing more hair in the shower than usual or your nails feel weak lately, yep, you guessed it — it could be due to stress. "Stress can exacerbate telogen effluvium — temporary hair shedding or thinning — and create changes in the texture and thickness of our nails," says. Dr. Doktor. She recommends speaking to your health-care professional about hair supplements, anti-inflammatory herbs, collagen and even vitamins to help. To promote healthy nails during stressful times, try some of the products mentioned here.
Photo: Chaunte Vaughn
Read more:
How to Address Skin Discoloration in 3 Steps
6 Face Cleansers to Use With Your Clarisonic
The Best Hand Creams for Dry Cracked Skin
Read more

Back to top