5 Skin-Positivity Influencers Who Keep It Real With No-Makeup Selfies
June 03, 2021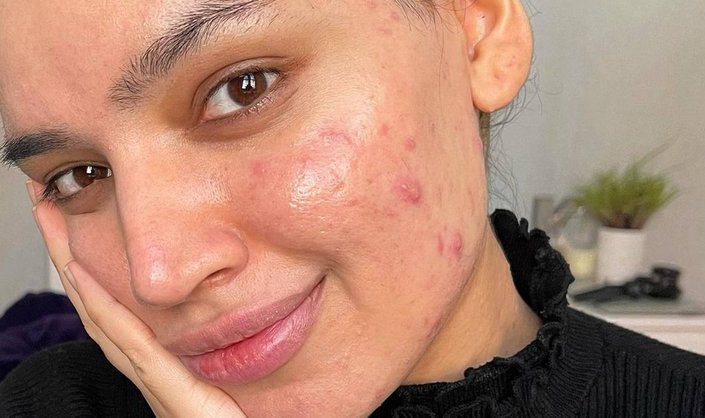 In an age of photo-editing apps and filters, it's rare to see bare face, no makeup, unretouched pictures on social media, especially Instagram. Don't get us wrong — we love seeing over-the-top, jaw dropping makeup looks (we are beauty editors, after all), but sometimes, a dose of reality is much-needed. We're talking about normalizing real-life skincare concerns: acne, dark circles, hyperpigmentation, pores, scars, uneven texture and more. If you're with us, then allow us to introduce you to a few of our favorite beauty influencers who are empowering their followers with no-makeup selfies.
Keekz Curls
Keekz is a New York-based content creator who has been sharing her journey with acne and hyperpigmentation for the past year, along with hair, fashion and lifestyle posts. She also chronicles her changing skincare routine and travels on her YouTube.
Abigail Collins
With her Instagram handle @abis_acne, Abigail has an entire account dedicated to documenting her acne — from testing skincare products to creating full glam makeup looks.
Kadeeja Sel Khan
Beauty blogger Kadeeja Sel Khan shares her experiences with acne (as well as some pretty awesome makeup tutorials) to encourage her followers to feel beautiful in their own skin.
Theresa Nicole
In between posting colorful makeup looks and clearing up skincare rumors, esthetician and beauty blogger Theresa Nicole chats openly about her struggles with cystic acne and the products that help her clear it.
Em Ford
London-based YouTuber Em Ford has been posting a mix of makeup tutorials and bare-faced selfies since 2015, while speaking candidly about her mental and physical health in her posts.
Photo: Kadeeja Sel Khan
Read More:
Derm DMs: Is My Body Butter Making Me Break Out?
7 Allergy-Tested Products Perfect for Sensitive Skin
Your Guide to Active Ingredients
Read more

Back to top