Acne Face Mapping 101: How to Decode Your Breakouts
March 18, 2020
Whether it be one lone pimple or a family of zits, it's safe to say that at one point or another, we have all experienced acne. While dirt and debris can play a key role in clogged pores and blemished skin, they aren't necessarily the only culprit. Our complexions are like a mirror that reflects what's going on inside of our bodies — from poor diet to hormonal fluctuations to allergies — so, with a better understanding of why we are experiencing breakouts on certain areas of our face, we can start to understand why breakouts are happening in the first place. This is called face mapping. To learn more, we turned to board-certified dermatologist and Skincare.com expert, Dr. Dendy Engelman. 
Breakouts on Your Cheeks
If you are experiencing breakouts on your cheeks, Dr. Engelman says that it could be due to allergies, pollution and cell buildup. She suggests using deep cleansing masks to help control excess oil and rid the skin's surface of dead skin cells and other impurities that may cause breakouts. You'll also want to keep the items that touch your cheeks (like your makeup brushes, pillowcases and cleansing brushes) as clean as possible. Dirty brushes are a breeding ground for blemish-causing bacteria, so cleaning them is truly non-negotiable.
Breakouts on Your Jaw
"A hormonal imbalance can be what is causing the acne on your jawline," Engelman says. "If you are experiencing this, try steaming your face and using a purifying mask formulated for blemished skin." You may also want to try munching on foods like leafy greens, almonds and salmon. For more insight on how you can eat your way to better skin, read up on all of the best superfoods to add to your diet, here.
Breakouts on Your T-Zone
The T-zone (the nose and forehead area) is one of the more common areas to experience a breakout. From excess oil to stress, the reasons for these breakouts can vary case-by-case. One reason why you might be breaking out on your T-zone isyour diet. "If you are experiencing breakouts in your T-zone, you may want to revise your diet to include more fruits and vegetables," Dr. Engelman suggests. "You'll also want to keep yourself hydrated by drinking more water." 
Breakouts Around Your Mouth
Breaking out around your mouth can be linked to the same culprit as your T-zone: your diet. Only this may be a more topical matter. Residue from foods that are high in acid can leave the skin around the mouth, especially the corners, feeling irritated and may cause redness or swelling. If this is something you experience often, you may want to start carrying facial wipes in your purse and give the skin around your mouth a good cleanse after you chow down.
Breakouts on Your Hairline
Breakouts around your hairline can often be linked to your hair products and these breakouts can occur in a number of different ways. If you're the kind of person who messes with their hair often, chances are you are coming in contact with the skin on your hairline and essentially exposing that skin to a product that should remain on your strands. You can prevent these breakouts by washing your hands after applying hair products or playing with your hair, and paying close attention to your hairline when you cleanse your skin at the end of the day. 
The Best Products to Target Acne 
Acne might not be the only skin concern you're dealing with. Are you looking to target signs of skin aging, dryness, a dulled complexion? The good news is you can address acne plus your additional concerns all at once. Below, we're sharing our favorite acne-fighting products that do more than just combat blemishes. 
Acne and Signs of Aging: SkinCeuticals Blemish + Age Defense
When you're dealing with acne, coupled with visible signs of skin aging, reach for a salicylic acne treatment that's specifically formulated for aging skin. We recommend SkinCeuticals Blemish + Age Defense. It can help diminish the appearance of visible signs of aging, as well as decongest clogged pores.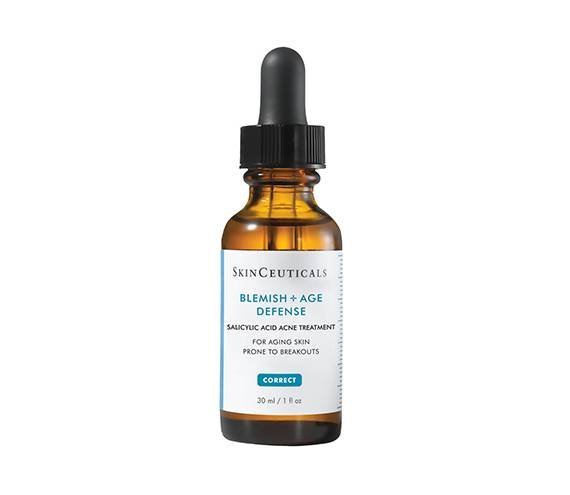 Acne and Large Pores: La Roche-Posay Effaclar Serum 
If you're currently struggling with acne and large pores? Consider reaching for the La Roche-Posay Effaclar Serum. The refining serum helps tighten the look of large pores and visibly smooths the skin's texture for a more even tone.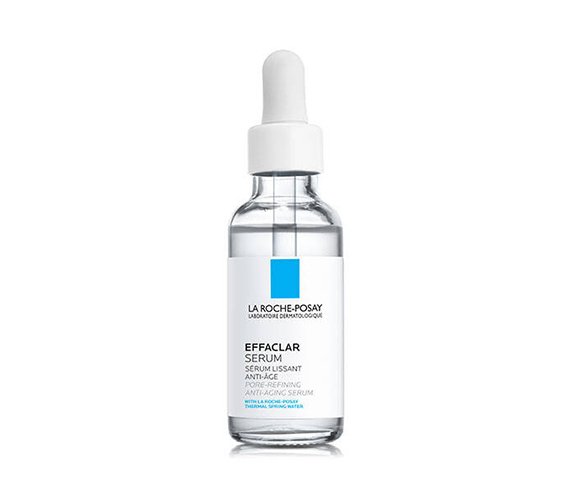 Acne and Dry Skin: Kiehl's Rare Earth Deep Pore Daily Cleanse
If breakouts and dry skin are a top concern for you, the Kiehl's Rare Earth Deep Pore Daily Cleanser is a moisturizer formulated for blemish-prone skin. It can help keep skin hydrated while also decongesting pores and exfoliating your skin. It's gentle, non-stripping and keeps skin feeling refreshed and healthy.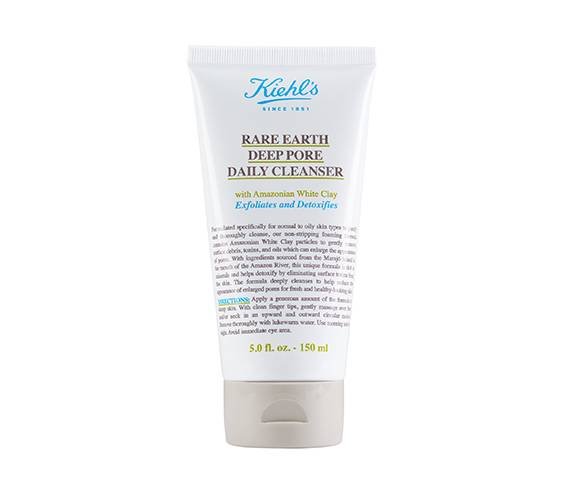 Read More:
6 Cleansers for Combination Skin
Skin Sleuth: Why This Glycolic Acid Is Gentle Enough to Use on Sensitive Skin
Derm DMs: Can You Use Body Lotion on Your Face?
Photo: Chaunte Vaughn
Read more

Back to top