Hands Off: How to Stop Picking at Your Skin
June 20, 2016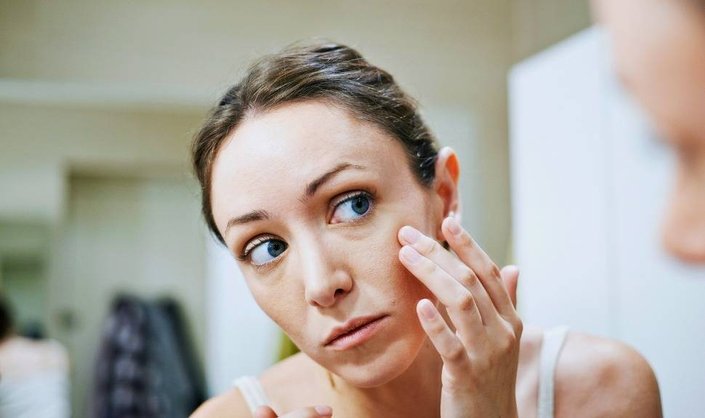 You know better than to pop that zit staring straight back at you in the mirror. Tell that to your hands, though. Before you know it, your face looks like a war zone—where nobody came out on top. Truth is: We all touch, pick, and pry at our skin sometimes, even though we know we shouldn't. "Interfering with the skin's natural recovery process can pose a risk of cross contamination, skin discoloration, and permanent scarring," says Vanda Serrador, facialist and body care expert at The Body Shop. Yikes! "To break the habit, you should think of the permanent damage that [picking] can do to the skin." But it's not always easy. Even picturing the worst-case scenario may not curb the insatiable urge to pick at pimples and blemishes. Feel like you've exhausted all of your options? Below, a few tips that may help you quit prying at those pesky zits once and for all. 
KEEP YOUR HANDS BUSY
If you find yourself picking at your skin, find ways to keep yourself—and your hands!—occupied throughout the day. Engage in activities or hobbies you enjoy and stay focused on the task at hand. Some ideas include: getting a manicure or a hand massage, playing cards, and knitting.
CONCEAL BLEMISHES
Many people dislike how unsightly blemishes appear on their skin. What's ironic is that picking at the blemishes often creates more irritation, leaving you worse-off. Apply a tinted moisturizer, concealer, or foundation to help even out the skin tone and make blemishes appear less obvious. As the old proverb says: out of sight, out of mind.
Need help choosing the right form of coverage? We share our favorite concealers and foundations that can help camouflage breakouts on acne-prone skin, here!
KEEP SPOT TREATMENTS ON HAND
Feeling picky? Instead of reaching for your face, reach for a spot treatment formulated with acne-fighting ingredients, like salicylic acid or benzoyl peroxide. Dab a small amount over blemishes and be patient. It may not work instantly, but doing so can help you feel more proactive about treating the breakout—the right way.
APPLY A CLAY MASK
Clay masks are a great way to decongest pores and remove excess oil on skin that can lead to breakouts. And since you can't pick at blemishes when they're covered in clay, we think it's a win-win situation. SkinCeuticals Clarifying Clay Mask formula combines kaolin and bentonite clays with aloe and chamomile to help calm the skin, gently exfoliate, decongest pores and lift impurities. We realize it's only a temporary solution—don't apply it more than once per week—but continued use may help keep blemishes at bay. Who knows, soon enough there may very well not be anything left to pick at! We're not making any promises, though.
AVOID TRIGGERS 
For some self-professed skin pickers, just the sight of a mirror sparks the urge to stare and examine every. last. pimple. Magnifying mirrors? Forget it. We're not urging you to completely rid your home of these tools, but trying to avoid them—where possible—may be helpful.
Read more

Back to top