How to Get Clearer-Looking Skin in Just 3 Days!
June 05, 2017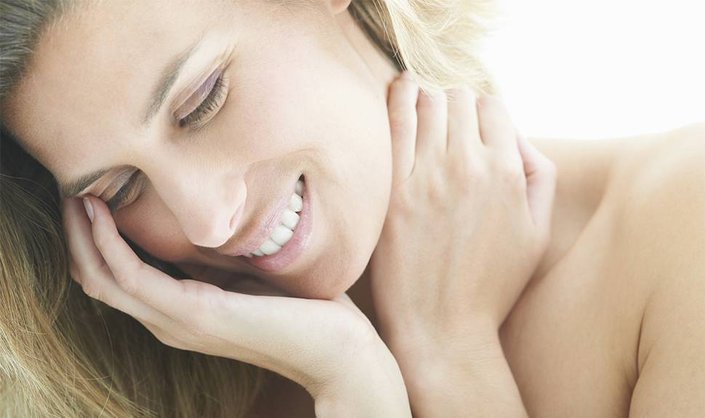 We know that when we get a blemish, going back to our former complexion can take time. The question is not just one of possibility but also one of length. How little time can it take to achieve a better-looking complexion? Since pesky blemishes more often than not show up unannounced, that's not an easy question to answer precisely. Well, if you are using La Roche-Posay Effaclar System, we have a more clear answer for you and your skin. The innovative three-step system is formulated with a unique set of dermatological ingredients to visibly improve the appearance of skin and reduce acne blemishes in as little as three days time!  Sign us up! Ahead, discover how you can show acne who's boss with La Roche-Posay's Effaclar System.
What Is Adult Acne?
Before we deep-dive into all the fine details of Effaclar System, we'd like to set the record straight on a few acne-related myths out there. (You know, to make sure you're not falling for any word-of-mouth fabrications.) Scores of people wrongly assume that acne is just a teenage problem. The truth is, acne can strike adults well into their 30s, 40s, and even 50s. In fact, some adults get blemishes for the first time as adults, rather than as teens. But unlike acne that's typically experienced in high school—usually whiteheads and blackheads caused by excess oil and blocked pores—adult acne can be cyclical in nature and more difficult to care for. It presents most often in women around the mouth, chin, jaw line, and on the cheeks. 
What Can Cause Adult Acne?
As mentioned, teenage acne is more often caused by excess oil production and clogged pores. Adult acne, on the other hand, is likely due to one or more of the following reasons:
1. Fluctuating hormones: An imbalance in your hormone levels can cause your sebaceous glands to act out and in turn lead to breakouts. Most women experience fluctuating hormones around the periods, during pregnancy, menopause, or when discontinuing or starting birth control pills.
2. Stress: It's no secret that stress can worsen the existing condition of your skin. If your skin is already prone to breakouts, a stressful situation—be it studying for a big exam or dealing with a break-up—may cause a skin flare-up. Also, our bodies produce more androgens in response to stress. These hormones stimulate our oil glands, which can lead to acne, according to the AAD.
3. Genetics: Does your Mom, Dad, or sibling battle acne? Studies suggest that some may have a genetic predisposition to acne, and are thus more likely to experience adult acne.
4. Bacteria: Your hands are often covered in oil and bacteria daily from touching doorknobs, typing on keyboards, shaking other hands, etc. If you then use your bacteria-laden fingers to touch your face, or apply your makeup and skin care products, the acne-causing bacteria can easily transfer onto your skin and cause a breakout. 
5. Using the Wrong Types of Products: Acne-prone skin requires a different touch than its counterparts. When shopping for skin care or makeup products for your acne-prone skin look for formulas that are non-comedogenic, non-acnegenic, and/or oil-free. This will reduce the chances of clogged pores that can lead to breakouts.   
Acne-Fighting Ingredients
Effaclar System's skin care trio—a cleanser, toner, and a spot treatment—harness the power of acne-fighting ingredients such as salicylic acid. Here's the scoop on these powerful and effective ingredients.
Salicylic Acid: Salicylic acid is one of the most common ingredients used to help reduce the number of acne blemishes. That's why you can find it in a number of acne-fighting scrubs, gels, and cleansers. Since salicylic acid may cause dryness and irritation on the skin, it's important not to over-use the ingredient. What's more, since salicylic acid can make your skin more sensitive to sunlight, it's even more important to apply (and reapply) broad-spectrum SPF each day when using a product formulated with it.
To learn more about the benefits of salicylic acid, read this!
Benzoyl Peroxide: Benzoyl peroxide is also a well-known ingredient to help clear up the severity of acne pimples. Similar to salicylic acid, benzoyl peroxide may lead to dryness, peeling, and irritation. Use it as directed. Again, you'll want to be mindful to apply and reapply broad-spectrum sunscreen each day when you use a product formulated with benzoyl peroxide. 
Additional Ingredients Found in the Effaclar System
Glycolic Acid: Glycolic acid is one of the most common fruit acids, derived from sugar cane. The ingredient helps to smooth the appearance of the surface skin, and can be found in a host of products including creams, serums, and cleansers.
Lipo-Hydroxy Acid: Lipo-hydroxy acid (LHA) is widely found in creams, cleansers, toners, and spot treatments thanks to its gentle exfoliating powers.
La Roche-Posay Effaclar System
Without further ado, meet La Roche-Posay Effaclar System. The pack includes an Effaclar Medicated Gel Cleanser (100ml), Effaclar Clarifying Solution (100ml), and Effaclar Duo (20ml) to be used in a 3-step routine. Below, we walk you through the steps.    
Step 1: Cleanse
Effaclar Medicated Gel Cleanser—formulated with salicylic acid and LHA—thoroughly cleanses skin to remove pore-clogging dirt, impurities, and excess oil.
To Use:  Twice daily, wet face and apply a quarter size amount of Medicated Gel Cleanser onto fingers. Using your fingertips, apply the cleanser onto your face in rotating circular motions. Rinse with lukewarm water and pat dry.
Step 2: Tone
Effaclar Clarifying Solution—formulated with salicylic and glycolic acids—gently tones while clearing clogged pores and smoothing skin's texture. The product also helps to reduce the appearance of mild imperfections.
To Use: After cleansing, sweep Clarifying Solution over your entire face using a soft cotton ball or pad. Do not rinse. 
Step 3: Treat
Effaclar Duo—formulated with benzoyl peroxide and LHA—helps remove dull surface cellular debris and oil, clear moderate blemishes over time, and gradually even skin's texture.
To Use: Apply a thin layer—about half-a-pea sized amount—on affected areas 1-2 times daily. If irritation or excessive skin peeling occurs, cut down your use of this product. As mentioned above, when you use products formulated with salicylic acid and benzoyl peroxide you'll want to be mindful to apply and reapply broad-spectrum SPF each day as these ingredients can cause your skin to be more sensitive to the sun.
La Roche-Posay Effaclar System, $29.99 MSRP                                                        
Read more

Back to top