The In-Flight Skin Care Product You Aren't Using But Should
September 22, 2016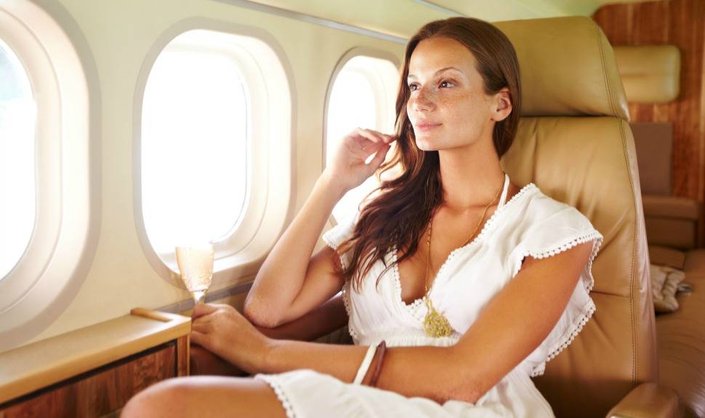 You don't have to be a frequent flyer to know that moisture-sucking airplanes can do a number on the skin. Pressurized, recycled cabin air can be incredibly drying, which in turn can make your complexion look parched and dull—not exactly how you want to look when you start a vacation. Thankfully, there's a skin care product you can use at 30,000 feet (and right here on the ground!) that can help to counteract the drying effects of being airborne so your skin doesn't look and feel like sandpaper by the time you reach your destination. Any guesses? Keep reading to find out what it is!
In-flight face masks are all the rage. And, while we think it's perfectly fine to sport that ghostly-looking sheet mask while in route to your final destination, we can venture to guess your fellow passengers may not want to sit near someone who looks like an extra in the season's scariest horror flick. This is where our favorite in-flight skin care product comes in. Unlike sheet masks, clay masks, and even masks you have to rinse off, overnight masks melt into the skin becoming virtually undetectable as they work to moisturize parched complexions. Applied to clean—makeup-free!—skin in flight, overnight masks can help you to arrive to your destination with a soft, supple-looking complexion that will appear like you traveled in First Class… even if you were stuck in Coach. Below, one of our favorite overnight face masks to store in your carry-on ahead of a long-haul flight. It's smooth sailing—er, flying—from here on out, as far as your skin is concerned.
Lancôme Énergie de Vie Night Mask
Your in-flight routine should be centered around hydrating skin thoroughly to combat water loss and dryness, and protecting it against damaging free radicals that can prematurely age skin. Good news, folks: This hydrating, antioxidant-infused sleeping mask does both! The formula—infused with goji berry, lemon balm, gentian, and vitamin E—melts into the skin and gets to work instantly by packing a serious punch of moisture. Skin will immediately feel softer and more comfortable, sans oily film or residue. Over time—aka throughout the duration of your flight—skin will look fresh, reawakened and hydrated with an envious glow, the opposite of dehydrated and dull. Did someone say mission accomplished? 
To use, cleanse your face and remove any makeup before boarding. Once you've reached cruising altitude, apply a thick layer of the mask onto your face. Your seat neighbors might stare at you, but they'll be wishing they were doing the same thing once it's all over. Let the mask do its thing—read: soak in—and since there's no removal necessary, feel free to sit back, relax, and snooze away. Easy enough, no?
Read more

Back to top