Use the La Roche-Posay PoreScan Tool to Find Your Skin Score and Get Personalized Advice in Seconds
September 24, 2019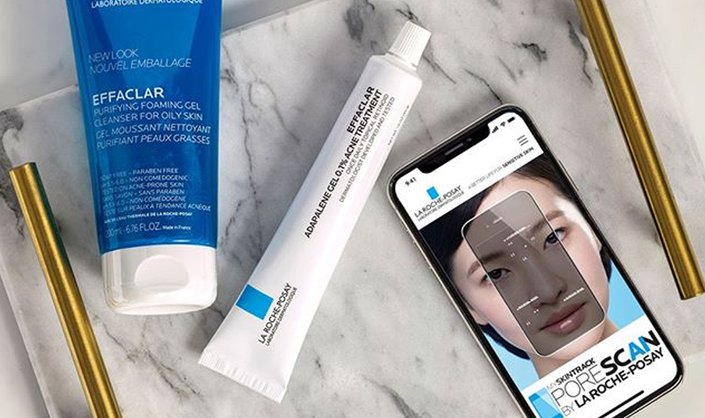 We know — getting to the dermatologist every time you have a new skin issue can be hard, not to mention expensive. In American alone, over 50 million people struggle with adult acne and many struggle to receive care for it. Luckily, with dermatologist-grade products now available over-the-counter, like the La Roche-Posay Effaclar Adapalene Gel 0.1% Acne Treatment, that's all beginning to change. But, committing to products that can help cure your acne is only half the battle — the first step is finding them. That's where the new My Skin Track PoreScan comes in. 
Developed by La Roche-Posay and partnering dermatologists, PoreScan is a personalized, at-home skin analysis that can provide product recommendations with just a quick selfie. The tool is powered by artificial intelligence and uses its database of thousands of images to help determine your custom skin score. All you have to do is snap three quick selfies — one front facing, and one facing to the left and right — and answer a few questions to get your skin-care advice and personalized routine. The skin score is on a scale from 0 to 4+, with zero being the least severe and four being the most severe. To determine your score, the scan looks at any clogged pores, raised imperfections and residual marks on your skin. 
You're supposed to start the scan with clean, freshly cleansed skin that's free of makeup and other products that could sway the results. Then, simply give the website permission to access your camera and snap away. 
More good news: if you're someone who is hesitant to download a new app or signup to receive information (because, same here) you'll love PoreScan even more. All you have to do is visit Porescan.com on your cell phone to access the tool immediately! There's no gimmick to get you to share your email address or even your name. 
Head over to PoreScan.com to try it out for yourself and receive your personalized skin-care advice. 
Read More:
The Best Tools and Accessories for Head-to-Toe Exfoliation
3 Dermatologist Tips to De-puff Puffy-Looking Eyes
6 Best Toners for Acne-Prone and Oily Skin
Read more

Back to top