This Is Why You Break Out Before Your Period
September 01, 2021
Between cramps, bloating and PMS, there's no doubt that periods can be tough. For some of us, we experience cyclical breakouts that can occur just a couple of days before that time of the month — almost like clockwork. If you're one of the many women who finds themselves asking, "why do I break out before my period?," you'll want to keep reading. Ahead, learn about the most likely culprit — hormones — and what you can do about the pre-period and hormonal acne.
How Hormones Affect Skin
Just like breakouts that appear during puberty and pregnancy, premenstrual breakouts are often due to hormonal changes and fluctuations. Prior to your period, you experience an increase in androgens — male sex hormones that are in both males and females — and a decrease in female sex hormones. This fluctuation during your time of the month can lead to hormonal acne flare-ups by overstimulating the sebaceous glands and, according to the American Academy of Dermatology, "altering the development of skin cells that line the hair follicles in the skin." 
When our hormones are out of whack — even just for a short period of time each month — our sebaceous glands may go into overdrive, which can lead to oily skin, oily hair, and increased hormonal cystic acne. Excess oil on the skin's surface can congest and clog the pores with dead skin cells and other impurities, which, in turn, causes breakouts. With hormonal acne, these breakouts often appear near the mouth, chin and jaw line just before your period begins. Pre-period pimples can happen to women at any age. While it has often been misconstrued that hormonal acne is exclusive to teenagers, this is a myth. The American Academy of Dermatology notes that women in their 20s, 30s, 40s and even 50s can experience hormonal acne. 
Other Lifestyle Factors of Breakouts
While perhaps the driving force behind pre-period pimples are hormonal fluctuations, they don't always work alone. Lifestyle factors can come into play when it comes to breakouts, too. For instance, while it's important to always keep your hands away from your face, leading up to your period (when your skin may be more prone to breakouts) it's extra important to be hands off. Our hands can harbor all kinds of pore-clogging dirt, so do your best to keep them far away from your complexion and always wash them before starting your skincare routine. 
Another hidden cause of breakouts may be your cell phone. Between touching them with your hands all day long, putting them on random surfaces and allowing your friends to borrow them, your smartphone is a breeding ground for bacteria. Wipe yours down often to help to reduce the risk.
Do you work out? How soon after breaking a sweat do you hop in the shower? Fact is, if you wait more than ten minutes after a workout to, at the very least, rinse off the sweat from your face and your body, you may experience breakouts from your face all the way to your chest, shoulders, back and even your butt. In the weeks before your period, make even more of an effort to cleanse your skin from head to toe after you exercise because sweat can mix with excess oils, clog your pores and turn into blemishes.
How Should I Change My Skincare Routine for My Period?
Your skincare routine shouldn't remain the same 365 days a year. Just as you adjust for different seasons, travel plans and environmental factors, you'll want to make a few changes to your routine during that time of the month. By going on the offense and using the right products, — like mild cleansers and non-comedogenic moisturizers — you can help stave off blemishes. 
Your Pre-Period Skincare Routine
STEP 1: Cleanse Properly 
Start your day by cleansing your skin to help remove impurities, dirt and excess oil from the surface of your skin that could potentially clog your pores and cause breakouts. If you typically experience breakouts before the arrival of your monthly cycle, consider a cleanser formulated with benzoyl peroxide and use it twice daily. We love the CeraVe Acne Foaming Cream Cleanser. Formulated with benzoyl peroxide, hyaluronic acid and niacinamide, it works to clear acne without stripping the skin of moisture.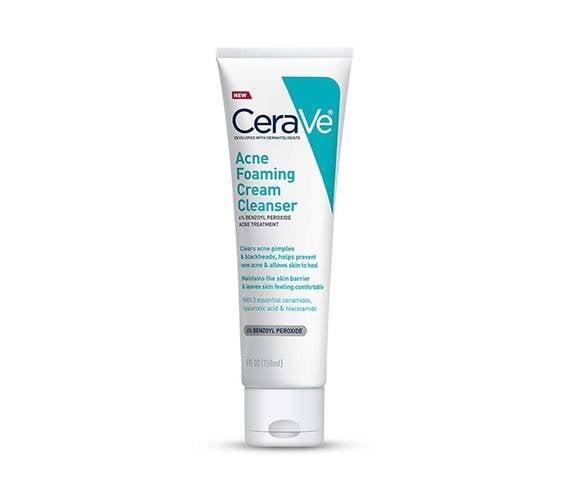 STEP 2: Tone Your Skin
In order to effectively and thoroughly cleanse your skin, you're going to want to follow up with a toner. Toners can help balance your skin's pH levels and reduce excess shine on the skin's surface. We recommend the Thayers Blemish Clearing Toner which is formulated with witch hazel and salicylic acid and works to balance your skin's pH levels while also managing your skin's oil production.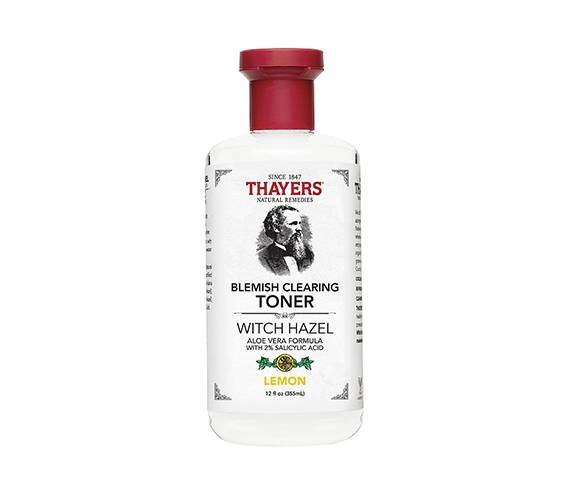 STEP 3: Moisturize 
Just because you are experiencing extra oil doesn't give you a pass on hydration. Even oily skin needs moisture or else you can run the risk of dehydrating your skin, which in turn can cause your oil glands to produce even more sebum than before. If breakouts are an issue during the weeks leading up to your period, reach for lotions that are formulated for blemish-prone skin; typically they will contain salicylic acid. Other great options are water-based moisturizers with hyaluronic acid, like the Kiehl's Ultra Facial Oil-Free Gel Cream, which tend to be lightweight and offer just enough hydration for oily skin.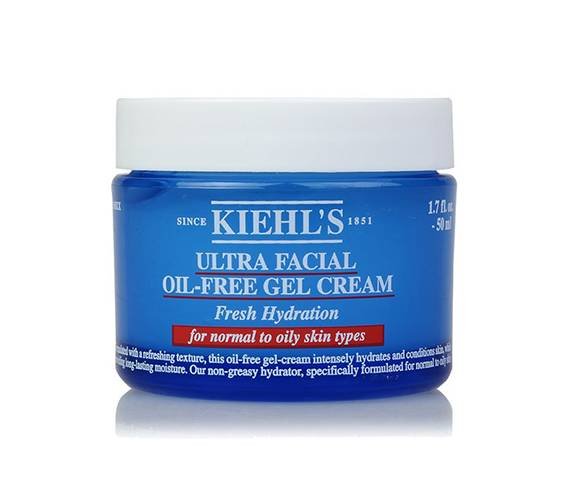 STEP 4: Spot Treat
Even the most diligent skincare routines are no match for some breakouts, and in these cases you'll want to use a spot treatment. The best spot treatments help to target acne and unclog pores. Look for ones with acne-fighting ingredients including salicylic acid or benzoyl peroxide. We always try to keep our medicine cabinets stocked with the La Roche-Posay Effaclar Duo Acne Spot Treatment. Formulated with micronized benzoyl peroxide, this spot treatment helps to fight acne bacteria and fend off breakouts between applications.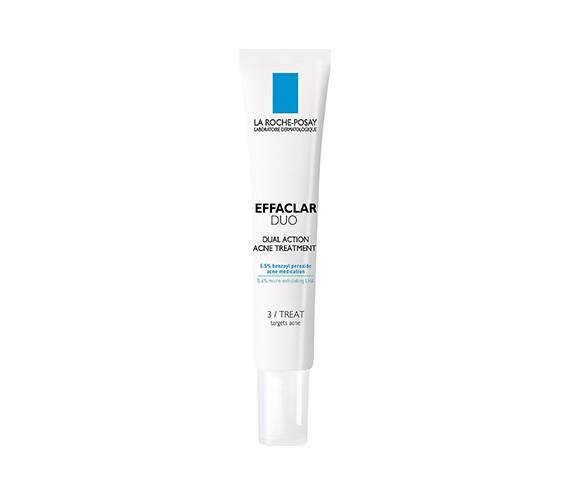 STEP 5: Blot 
If you notice your skin gets extra oily as the day goes on and you can't wash your face, reach for blotting papers to help you combat breakouts. Blotting papers — like the NYX Professional Makeup Blotting Paper — help to remove excess oil from the skin's surface and help to get rid of the appearance of shine without ruining your makeup application.
STEP 6: Mask 
If there's any week of the month that you're deserving of a spa-like experience, it's during your period. Indulge in an at-home spa night with a clay mask, which is great for blemish-prone skin because it helps to purify pores. One of our favorites is the L'Oréal Paris Pure Clay Detox & Brighten Face Mask. Made with kaolin clay and charcoal, this mask helps draw out impurities while smoothing and brightening the skin.
Photo: Chaunte Vaughn
Read More:
6 Detoxifying Clay Masks Perfect for Oily Skin
Is Salicylic Acid Good for Your Skin?
5 Face Mists to Freshen Up Acne-Prone Skin
Read more

Back to top