5 Products You Need for Your Most-Liked Selfie Ever
September 26, 2016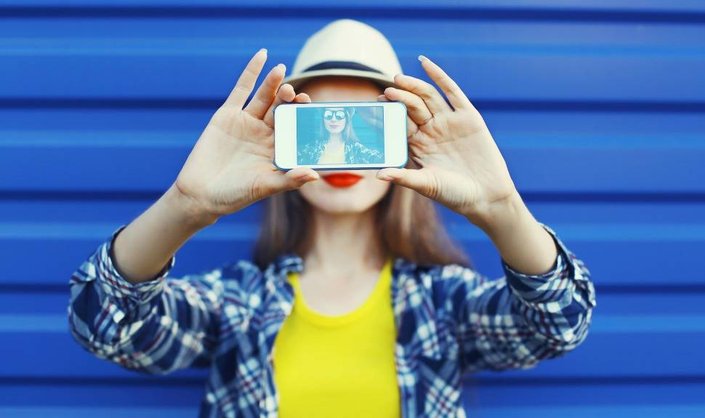 Let's face it: Taking the perfect selfie is basically an art form. A lot of things have to be in your favor for it to go smoothly. The camera angle has to be just right to accentuate your features (hey, we didn't contour for nothing), the lighting has to be at an optimal level (too bright and you'll look ghostly, too dark and you can't see a damn thing), your hair has to be done up (see ya, flyaways!), and last but not least, your skin has to look #flawless. So yea, it can be exhausting. But the outcome is always worth the extra work because the better the photo, the more likes it'll rake up on social media. And if your motto is anything like ours, "when in doubt, do it for the likes," you'll understand why mastering such a selfie is ever so important.
Now, unless you wake up looking flawless (we're jealous!), it's safe to assume that most selfies aren't taken without some prep work. So, in honor of most gals' favorite pastime, we're sharing the products you need to make your skin look worthy of a double-tap, below. Want to get your most-liked selfie, ever? Keep reading. 
CLEANSER
Your skin can't and won't look its best if it's bogged down with buildup—plain and simple. Pre-selfie, give your face a good rubdown with your favorite cleanser to deep clean your pores. If you're short on time, reach for La Roche-Posay Micellar Water. The gentle formula cleanses, tones, and removes makeup in one quick and easy step—no harsh rubbing needed. It's great for use on-the-go, too, because you don't have to rinse! 
MOISTURIZER 
After you cleanse, you must add moisture back to your skin with a hydrating cream. If you're headed outdoors, go with a moisturizer that also boasts SPF to protect your skin from UV damage. If wrinkles are your concern, try a moisturizer with anti-aging benefits. The sky's the limit! Use a facial massage technique to apply the moisturizer—this is a secret of top makeup artists who do makeup for fashion shows and photoshoots! By this step, your skin should feel squeaky clean, soft, and nourished with a slight gleam. 
CONCEALER
It's fair to say that blemishes, dark spots, and dark circles have no business in your selfie. But since none of them can do a disappearing act with the snap of your fingers, concealer is your best bet at instant coverage. In times of need, we look to Maybelline Super Stay Better Skin Concealer + Corrector. It helps visibly reduce the appearance of problem areas and imperfections, with better-looking skin in just three weeks.
HIGHLIGHER 
There's really no point in making a duck face if you're not showing off your perfectly highlighted cheekbones, right? Apply NYX Professional Makeup Born to Glow Liquid Illuminator over the high points of your face for a natural lit-from-within glow that shines as bright as the camera's flash. 
LIPSTICK
Whether you're making a kissy face or not, you'll want your pout to look on point. After applying lip balm, sweep a few strokes of Yves Saint Laurent Beauté Vinyl Cream Lip Stain onto your lips. Available in 10 high-impact shades, the creamy formula will top off your look with the right amount of 'wow' factor.
And voila—you're ready for your close-up. Say cheese! 
Read more

Back to top