Will a Silk Face Mask Help My Maskne?
January 11, 2021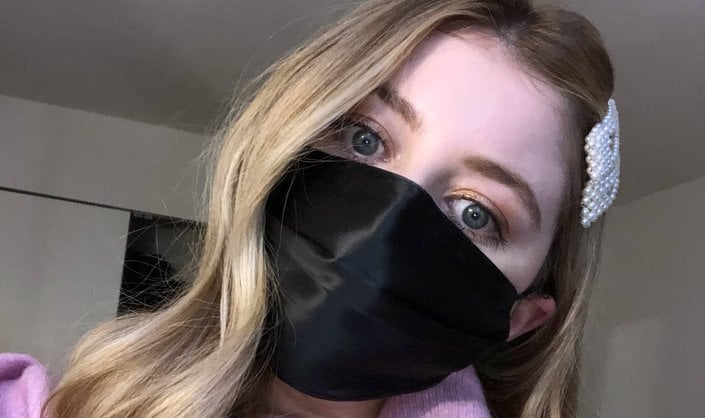 Here's the deal: My acne hasn't been this bad since I was in high school. But wearing a mask —  while important to protect myself and others — has made me intimately familiar with cystic pimples on my chin and cheeks once again. That's why I decided to learn more about silk face masks, which are supposed to be a more skin-friendly option. To get the lowdown on how silk masks may benefit the skin (and hopefully keep my maskne at bay), I turned to board-certified esthetician Nicole Hatfield from Pomp Beauty and board-certified dermatologist and Skincare.com expert Dr. Hadley King. 
How Do Masks Cause Acne, Anyway? 
Face masks, which are important to wear when leaving the house in order to help prevent the spread of coronavirus, can create an environment that also fosters the formation of acne. "The occlusive nature of a protective mask creates a humid and warm condition under the mask that can lead to increased sebum and sweat," says Dr. King. "In turn, this can lead to irritation, inflammation, clogged pores and breakouts." 
While a hot and sticky environment can be to blame for the uptick in acne, Hatfield adds that friction also plays a part. "Maskne is caused mainly by acne mechanica," she says. "This is where friction, pressure or rubbing causes acne regardless of a pre-existing condition of acne." 
Are Silk Face Masks Better on Skin Than Other Types of Masks? 
Wearing a silk face mask, as opposed to a nylon or cotton one, won't necessarily stop maskne altogether, but it may help. "Wearing a silk face mask has similar benefits to using a silk pillowcase," says Hatfield. "Silk is better than other fabrics because it is more breathable and less abrasive, meaning it causes less friction and restriction on the skin." Dr. King agrees and adds: "The nature of silk will also be less irritating as less heat and moisture will build up." 
The best way to prevent maskne, though, is to make sure that your protective mask (silk or not) stays clean. "Be sure to wash your face mask after each use with a mild soap or laundry detergent free of pore-clogging ingredients such as sulfates," says Hatfield. "You may want to avoid fragrant fabric softener and dryer sheets, and stick to gentle fragrance-free options ." 
Dr. King also suggests skipping makeup on the areas under your mask and using non-comedogenic skin-care products. 
Some of Our Favorite Silk Face Masks 
This two-layer mask is made of 100% silk and feels super soft against the skin. It has adjustable, elastic ear loops and an adjustable nose piece for secure wear. To wash it, just use warm water and a mild soap. 
If you want a face mask that also makes a fashion statement, look to this option from Slip. The mask, which has a nose wire and adjustable ear loops, comes in six shades, including a cheetah print option, a spotted pattern and one with an embossed lip design. 
Want a silk mask you can just throw in the wash? Check out this option from Blissy. The breathable silk fabric is gentle on your skin to help prevent friction, and the adjustable ear loops ensure the mask is fitted tightly to your face. 
Read More:
3 Benefits of Body Exfoliation
How to Get Glowing Skin in 8 Easy Steps 
Derm DMs: How Long Does It Take for Skin Care to Work?
Read more

Back to top