What is Micellar Water & How Can it Benefit the Skin?
February 21, 2018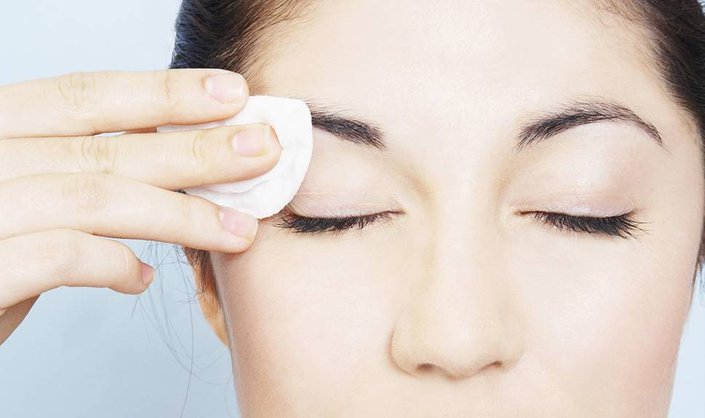 French-favorite micellar water has been available Stateside for quite some time, though many people still struggle to understand what it is and—more importantly—how it can benefit their skin. Though it has water in the name, this multi-tasking elixir is anything but your ordinary tap. To help the masses gain clarity on what micellar water is and why it deserves a spot on your top shelf, we're sharing everything there is to know about micellar water ahead.
WHAT IS MICELLAR WATER?
Micellar water gets its name from micelle technology. All micellar waters utilize gentle micelles, which are small, round cleansing molecules that work together to trap and collect dirt, oil, makeup, and other impurities off your skin's surface. The majority of micellar waters are no rinse, meaning all you have to do is sweep the liquid across your skin in a few quick strokes to get clean. As such, it's become a godsend for women on the go who can cleanse their skin from virtually anywhere without hassle. Throw it into your gym bag and you'll have little excuse not to cleanse your skin post-workout! Some formulas do call for a follow-up rinse with lukewarm water though, so scan the use instructions of your micellar water of choice.
Convenience and time-saving benefits aside, micellar water is simply a gentle way to cleanse the skin. While some harsh cleansers can strip the skin dry, micellar water can remove pore-clogging impurities without all the wear and tear, and without disrupting the skin's pH levels. Now do you see why it's such a hit amongst editors and influencers alike? 
WHAT ARE THE DIFFERENT FORMS OF MICELLAR WATER?

 
Micelle technology has expanded beyond just micellar water, and can be found in many different types of products. From foaming cleansers to facial wipes, there's a variety of options to choose from depending on your skin type, concern, or personal preference. Below, we name three different products that utilize micelle technology, as well as our favorite Garnier products you can snag under each category!
Cleansing Water
Micellar water's claim to fame can be owed to its traditional role as a gentle-yet-effective cleansing water.
These formulas remove makeup, dirt, and grime with the simple sweep of a cotton round. Store them in your gym bag, in your purse, or on your nightstand for easy breezy cleansing without the need to rinse! Garnier's SkinActive Micellar Cleansing Water range offers three products, each with their own benefits.
SkinActive Micellar Cleansing Water All-in-1 Waterproof: If you're a fan of waterproof makeup, this micellar water is the one you should turn to. The formula effectively removes long-wear makeup (waterproof mascara included) while cleansing and leaving it feeling refreshed and comfortable. 
SkinActive Micellar Cleansing Water All-in-1: Suitable for use on all skin types—even sensitive—this cult-favorite cleansing water works as a triple duty powerhouse in removing makeup, cleansing the skin, and soothing it all at the same time. The best part? There's no need for rinsing or harsh rubbing—just a few gentle sweeps will do the trick. The results will leave you with skin that feels perfectly-clean, hydrated, and refreshed.
SkinActive Micellar Cleansing Water All-in-1 Mattifying: If excess oil or a shiny T-zone is a concern for you, reach for this mattifying micellar water to purify your pores and remove makeup. The formula lifts away oil, dirt, and makeup without harsh rubbing or a greasy residue. Use it twice daily, morning and night. 
Cleansing Towelettes

 
If you're a fan of cleansing waters but prefer a compact option, cleansing towelettes with micelle technology are calling your name. They're ideal for on-the-go use, providing an easy outlet for removing makeup and impurities without the need for turning on the tap. Not to mention, they make the perfect gym bag companion. Here are two of our favorites from Garnier's SkinActive line: 
SkinActive Micellar Makeup Removing All-in-1 Towelettes: These gentle wipes can remove face, lip, and eye makeup with a soft touch. The best part? All skin types can benefit–even those with sensitive skin. 
 SkinActive Micellar Makeup Removing All-in-1 Waterproof Towelettes: The micelles in these towelettes lift away waterproof and long-wear makeup like a magnet. Morning and night, gently wipe these wipes over your facial contours until your skin is completely clean. No need for harsh rubbing, they're designed to feel soft to the skin.
Foaming Gel Cleansers

 
Those who prefer the option to rinse after cleansing will adore the newest additions to Garnier's SkinActive portfolio. Depending on your skin type or concern, you can turn to two ultra-gentle yet powerful formulas that Garnier has to offer. 
Micellar Foaming Gel Cleanser All-in-1 Rinse-Off: In just one easy step, you can lather and rinse your way to skin that feels perfectly cleansed and refreshed. All skin types can benefit from this formula's ability to capture and lifts away dirt, oil, and makeup without over-drying.
Micellar Foaming Gel Cleanser All-in-1 for Combination to Oily Skin: Oily, combination skin types can turn to this foaming gel cleanser to help mattify their complexion. Using circular motions, massage this gentle foaming cleanser into your skin as it helps remove makeup, impurities, and excess sebum from the surface. The results will leave your skin feeling clean and fresh.
Read more

Back to top