6 Skin-Care Masks That Work as Cleansers
March 22, 2019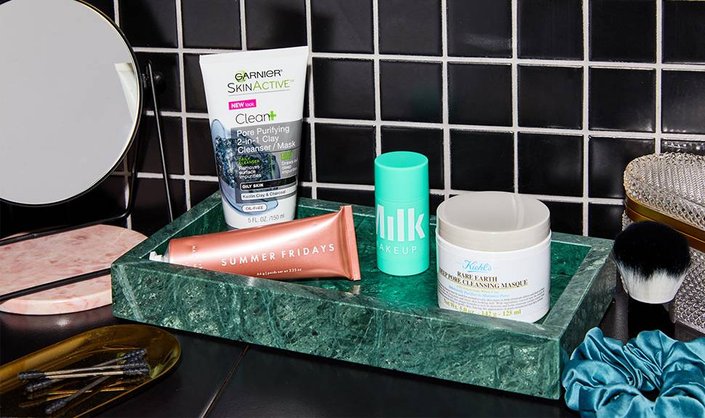 Innovative skin-care products don't just involve new methods of cleansing, sometimes they combine two established ones. One example? Products that work as face masks and cleansers. These hybrid formulas allow you to get two skin-care steps done in one shot, saving you both time and money. Ahead, we rounded up five of our favorite mask-cleanser combos.  
This deep cleaning cleanser/mask is specifically made for oily skin. Use it daily as cleanser to remove surface impurities, or leave it on your face for five minutes to ten times a week to draw out deep impurities. It is formulated with kaolin clay and charcoal and leaves your skin feeling clean and pores look smaller.  
This detoxifying matcha mask is a lightweight clay formula that you leave on for five to ten minutes and rinse off with warm water. You can also use it to spot treat specific areas.
For quick, gentle exfoliation, try this Glow Mud Cleanser. Massage it into your skin for 30 seconds and then rinse off with warm water. It's formulated with 5% glycolic acid to enhance your complexion's glow and aloe vera to soothe and hydrate.
For a deep clean that works to purify and minimize the appearance of pores, we recommend Rare Earth. This is best suited for oily and normal skin types and works to eliminate debris that can clog pores and leave skin looking dull. Apply a thin layer and wash off after ten minutes for a quick mask-and-cleanse process.
This dual-purpose product can be used as a cleanser or a purifying mask. It's made with charcoal, kaolin clay, vitamin E and zinc, is completely fragrance free and works to both detox and care for the skin.  
R+R by Summer Fridays is the new oil exfoliating mask that every skin-care lover should try. It's two-in-one formula works to buff and soften skin on the face, neck and décolletage. Massage it in for ten minutes and cleanse it off gently for brighter-looking skin.
Photo Credit: Chaunte Vaughn
Prop Stylist: Katrina Rozenville
Read More
The Best Makeup Primer and Foundation Pairs
The Ultimate Lip Care Nighttime Routine
6 Hacks for an Anti-Aging Body-Care Routine
Read more

Back to top