Why You Have Flaky Skin Around Your Eyebrows
January 10, 2022
Just like the rest of your face, your eyebrows deserve some TLC and skincare-focused attention. This is especially true if you deal with flaky, dry skin in your eyebrow area, which can actually be a symptom of seborrheic dermatitis, just like a flaking scalp. Ahead, we tapped NYC-based dermatologist and Skincare.com consultant Dr. Marissa Garshick for her advice on what steps you can take to help  care for flaky eyebrows.
What Are Some Causes of Flaky Eyebrows?
"Flaking eyebrows can result from different conditions including dry skin, seborrheic dermatitis, contact dermatitis and atopic dermatitis, among others," says Dr. Garshick. While dry skin typically worsens in the winter, seborrheic dermatitis can flare any time of the year, which can give your doctor a clue as to which condition you may be experiencing. "Seborrheic dermatitis is often the most common cause of flaking around the brows and can also be related to dandruff in the scalp," she adds. 
What Treatment Options Are Available For Flaking Brows
According to Dr. Garshick, while moisturizer can be one way to help flaky eyebrows, there are various treatment options your doctor may recommend. "If the flaking is related to dry skin, I usually advise my patients to start with moisturizer," she says. "If the flaking is associated with redness, it might require a topical steroid or non-steroidal anti-inflammatory cream, which can be prescribed to you by your dermatologist."
Our Moisturizer Picks for Your Brows
If you have dry skin in the eyebrow area, apply moisturizer  such as CeraVe Moisturizing Cream, which is packed with ceramides and hyaluronic acid to get the job done, or the Biossance Squalane + Omega Repair Cream with fatty acids. "If your eyebrows are flaky, it is important to avoid any products that may be irritating such as retinoids or exfoliators in the area," says Dr. Garshick.  Remember to apply moisturizer to the brow area over and around the hairs when you are applying moisturizer to the rest of your face.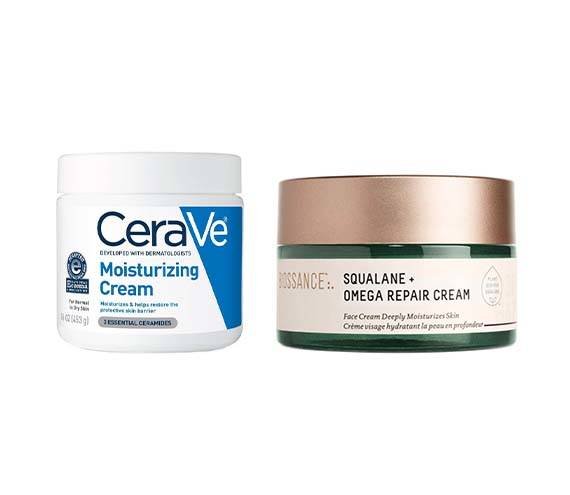 Moreover, if you're experiencing flaky eyebrows, see your board-certified dermatologist to determine the culprit. "This will help determine the exact etiology and treatments options," Dr. Garshick says.
Design: Juliana Campisi
Read More:
What is Ruddy Skin? Plus, How to Treat It
How to Incorporate Retinol Into Your Body Routine
This article, including text, images, and graphics, is offered for informational purposes only.  The content is not intended to substitute for professional medical advice, diagnoses or treatments.  Please consult your dermatologist or doctor if you have any skin issues or concerns.
Read more

Back to top