The Ultimate Guide to La Roche-Posay's Anti-Aging Serums
August 15, 2022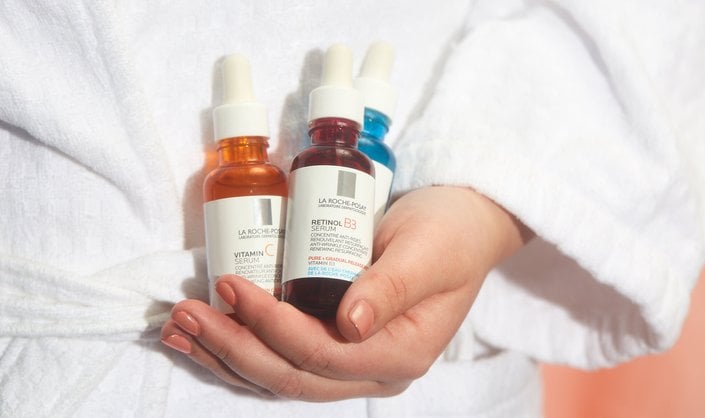 To help keep my complexion looking 20-something for as long as possible, I'm all about loading up on anti-aging skincare ingredients like retinol, vitamin C and hyaluronic acid. Enter La Roche-Posay's anti-aging routine, which happens to offer all three of those ingredients in drugstore serums. The brand gifted me the products to try and review and I'm sharing my first impressions on this set of anti-aging serums below.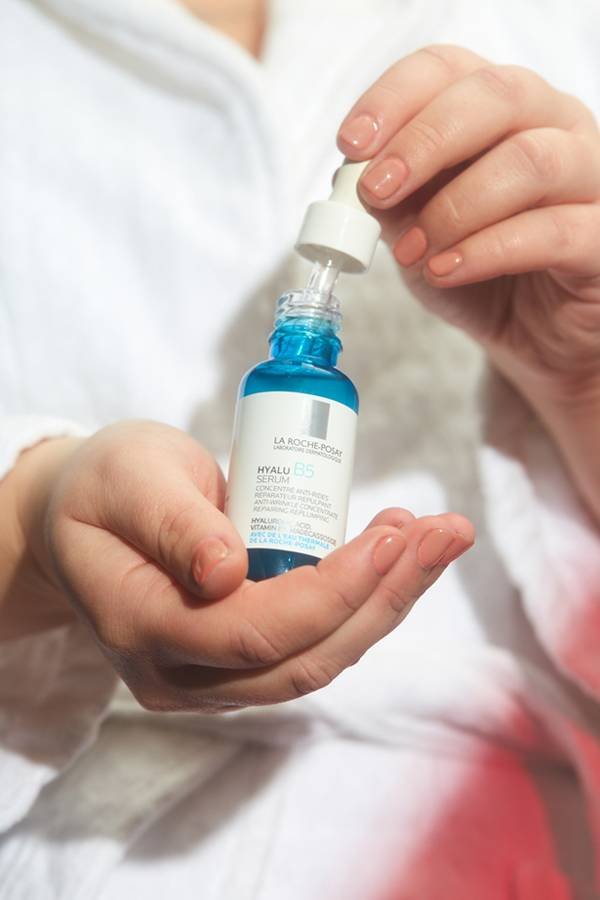 What's in the La Roche-Posay Anti-Aging Product Lineup
The La Roche-Posay anti-aging lineup contains three serums: Retinol B3 Pure Retinol Serum, Vitamin C 10% Pure Vitamin C Serum and the Hyalu B5 Pure Hyaluronic Acid Serum. Together, they make up a powerful anti-aging trio that visibly reduces fine lines, wrinkles and addresses skin tone, texture and hydration.


The retinol serum, which helps boost collagen production and cellular turnover, is formulated with both pure and gradual-release retinol. That means your skin reaps the benefits of the product long after application. Given that retinol can be harsh, drying and irritating to skin, I was pleased to see that this serum also has vitamin B3, otherwise known as niacinamide, which helps to hydrate and soothe.


Next, the vitamin C serum. The bottle is packed with 10% pure vitamin C, salicylic acid and neurosensine. With a powerhouse combination of antioxidants, exfoliants and hydrators, this formula is great for refining skin tone and brightening your complexion.


Last but not least is the Hyalu B5 Pure Hyaluronic Acid Serum. The plumping, replenishing and hydrating serum is great for giving any skin type an extra burst of moisture, especially those that are dehydrated.
My Review of the La Roche-Posay Anti-Aging Line
It takes around six weeks for me to see real results with just about anything. So, armed with my serum trio and a six-week observation period, I set out on my anti-aging skincare journey.


In the morning, I washed my face and then immediately applied the hyaluronic acid serum. A few drops of the Hyalu B5 every day made my skin look plump and gave off the vibe that I got a full eight hours of sleep, even when that was far from reality. Once I had given that a second to absorb, I followed with the vitamin C serum. It's definitely milkier in texture than the hyaluronic acid serum, but the formula spread on and dried down just as nicely. As soon as I applied the product, I noticed that a nice glow and sheen was left behind. Both the Hyalu B5 and vitamin C serums have fragrant scents that help perk me up in the morning. I topped both products with moisturizer and SPF.


Come nighttime, I cleansed my face and then gave the Retinol B3 serum a go. I saved this step for the evening because retinol can make skin sensitive to the sun. I put a few drops into my hands and then patted the product into my skin. The formula has a similar viscosity and milky texture to the vitamin C serum. I was thrilled with the quick-absorbing, non-greasy feel and pleasantly surprised that it didn't cause irritation or dryness the next morning. That being said, I made sure to lock in hydration with a moisturizer before bed and lather on sunscreen in the morning due to increased photosensitivity.


While I immediately saw an increase in hydration, glow and radiance, the real benefits of this anti-aging trio started to kick in after a few weeks. I had some fine lines around my eyes and mouth that became less noticeable, thanks to the combination of antioxidants, retinol and hyaluronic acid. What's more, my overall skin tone appears smoother and more even. Trust me when I say you should get on board with this anti-aging routine from La Roche-Posay — it seriously works.
Photo: Chaunte Vaughn
Read more

Back to top