Quick Question, What The Heck Is a Cream Sheet Mask?
May 03, 2019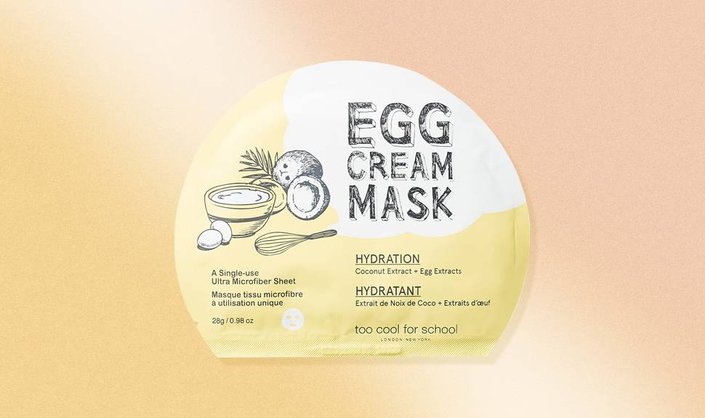 Sheet masks come in all shapes and sizes — whether you prefer an all-over hydrating sheet or under-eye gold masks. Among these many masking trends is the cream sheet mask: which involves a sheet soaked in a creamy formula, as opposed to a simple liquid serum. Ahead, we chatted with K-beauty expert Ashley Brown, who is also the Director of Education for Too Cool for School about the cream sheet-masking trend, including how to use one and the best one to try. Here's what she had to say.
What Is a Cream Sheet Mask?
According to Brown, a cream sheet mask, like the Too Cool for School Egg Cream Hydration Mask, is a microfiber sheet that is drenched in a hydrating cream or milky hybrid serum. The aforementioned mask, for example, is infused with coconut and egg extracts. As far as how they're different from other masks, she says, "typical sheet masks are comprised of thinner, less pliable materials with a watery type of serum, while the cream formula is more dense in texture, which is nourishing — and helps keep the serum on your face and not running down your neck!" The microfiber material also makes the Too Cool for School mask unique because hugs every curve and crevice of the skin.
Who Might Benefit From Cream Sheet Masks
According to Brown, every skin type can benefit from a cream sheet mask. "They can be used in conjunction with your moisturizer if you are on the drier side or in replacement of your moisturizer if you lean more oily." Of course, the creamy, hydrating consistency is especially helpful if your skin is feeling dull or dehydrated, as it can help the skin retain moisture post-masking, too.
How to Incorporate a Cream Sheet Mask Into Your Regimen
"I like to say that sheet masking is a booster to any routine when needed," says Brown. If you feel like your skin could use a little brightening and TLC on the reg, she recommends masking with a cream sheet mask about once a week. "But listen to your skin," Brown urges. "If your skin is feeling good, feel free to skip, but again, this all depends on your skin type and overall concerns."
The Too Cool for School Egg Cream Hydration Mask has been in Brown's arsenal for years... "I always know that after I use this, my skin will look noticeably soothed, hydrated and glowy!"
Read More
Our Editors Put The L'Oréal Paris 1.5% Hyaluronic Acid Serum to the Test
The Ultimate Combination Skin Regimen
Derm DMs: What Is an Exfoliating Powder?
Read more

Back to top