Can Too Much Retinol Cause Retinol Damage? A Skincare.com Dermatologist Weighs In
October 27, 2020
If we had to pick one skin-care ingredient that is the closest we'll ever get to the fountain of youth, it'd be retinol. This powerhouse anti-aging ingredient is a vitamin A derivative known to prevent and reduce fine lines and even deep wrinkles with continued use. But is too much of a good thing not so good after all? We've heard rumors floating around the internet that "retinol damage" is possible. To find out the truth, we spoke with Skincare.com expert and Director of Cosmetic & Clinical Research in Dermatology at Mount Sinai Hospital in NYC, Dr. Joshua Zeichner about how much retinol is too much retinol.
How Does Retinol Work?
First, Dr. Zeichner says it's important to know how retinol works. "Retinol binds to receptors in skin cells and tells them to increase cell turnover and rev up collagen production," he says. "But your skin needs to adjust to retinol, as it is known to cause irritation in the first two to four weeks of use. To minimize irritation, use just a small amount and start applying it every other night." This process is known as retinizing the skin.
How Much Retinol Is Too Much Retinol?
Once the skin becomes accustomed to regular retinol use, most people don't experience further irritation, but that doesn't mean you should keep upping the amount or frequency you're using. "The greater amount of retinol you are using, the more likely you are to develop irritation," he says. This means that even if your skin is tolerant to using retinol every night, you want to use the exact amount recommended on the package when applying. "I typically recommend a green pea-size amount for the full face." If you're using more than that, take this as your warning to stop, ASAP.
What Is Retinol Damage?
Using too much retinol can lead to many obstacles for the skin. "It can disrupt the skin barrier, cause loss of hydration and inflammation," Dr. Zeichner adds. "Mild cases are manageable with moisturizers as you adjust to using retinol, but severe redness, burning, stinging or peeling can signify a retinoid dermatitis — a rash caused by the retinol." This means that the side effects from the retinol you're using are more significant than the benefits, and it's probably best to take it easy.
"If this happens, hold off on using retinol until your face calms down over the next few days," he continues. "If you want to restart, use it only every few days along with moisturizer." Dr. Zeichner also notes that if pure retinol is too irritating, switch to a retinyl ester, like retinyl propionate, which is a milder form of retinol and should not be as irritating to the skin.
How to Incorporate Retinol Into Your Routine Safely
While there are many retinol options to choose from, we recommend trying a formula like the L'Oréal Paris Revitalift Derm Intensives Night Serum, 0.3% Pure Retinol that contains soothing ingredients to help counteract the potential irritation of the product. In this case, glycerin helps soothe and calm the skin while the retinol works. Be sure to follow the directions on the package, though, and incorporate it into your routine over a period of three weeks, applying no more than 2-3 drops during every use.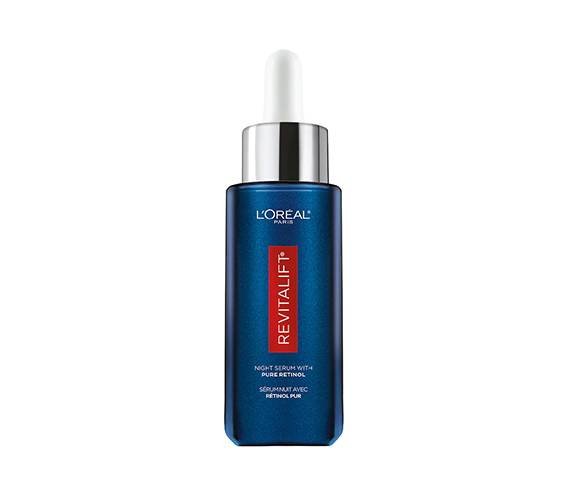 Dr. Zeichner also advises using SPF every morning after applying your retinol the night before. "While retinol thickens the deeper skin levels, it thins the outer layer. This explains the retinol glow patients experience but also increases your risk for a sunburn."
Photo Credit: Chaunte Vaughn 
Read More:
The Best Lip Masks, According to Our Editors
I Stopped Laser Hair Removal Because of COVID-19 — Now What? 
Read more

Back to top