How to Diminish the Appearance of Large Pores
February 09, 2018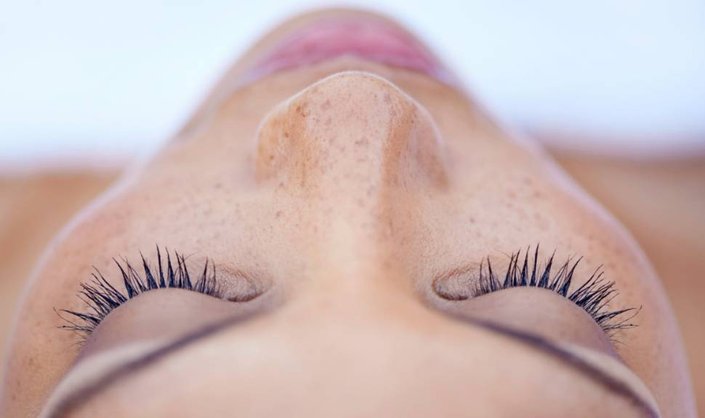 Get ready for the cold hard (unfortunate) truth: There's nothing you can do or use to get rid of your pores. What you can do, however, is take the right steps toward diminishing their appearance. Below, discover expert tips to building a skin care routine that'll help keep your pores in check.
WHAT ARE PORES?
Before you can understand how to reduce the look of enlarged pores, it's essential to know why they're important to your body's largest organ. According to the American Academy of Dermatology (AAD), pores are "tiny holes in your skin, from which hair grows." They secrete the skin's natural oil—also known as sebum—and help keep your skin feeling soft and smooth.  
Be it from excess oil production or just plain genetics, the obvious downside to pores is that they can appear large. Thankfully, with the right regimen, you can shrink the appearance of your pores. Keep reading to find out what you can do to help your pores appear less visible. 
MAINTAIN A REGULAR SKIN CARE ROUTINE
Pores are responsible for emitting sweat to keep us cool and oil to keep our skin nourished. However, occasionally pores will become clogged with excess oil, dead skin cells, and other impurities which can make them appear larger than usual. When these clogs become infected with bacteria it can result in blackheads and breakouts. Maintaining a regular, skin-type-specific skin care routine is an important step in helping to make pores appear smaller and keeping skin healthy.
TIP #1: PICK NON-COMEDOGENIC PRODUCTS
An easy way to keep your pores from looking enlarged is to prevent them from clogging. This is especially important if you have oily skin, as excess oil can mix with dirt on the skin's surface and form a clog. Allow your skin care products to help. When searching for the right products to use—be it cleansers, lotions, serums, or makeup foundations—scan the label for the term "non-comedogenic." If that's plastered on the bottle, that means the formula won't clog your pores. 
TIP #2: CLEANSE MORNING AND NIGHT

 
Dirt, sweat, leftover makeup and other impurities built-up on the skin's surface is a fast-track to pores that appear larger. Cleanse twice a day with a gentle face wash to keep the surface clean, and to help ensure bacteria doesn't make its way into your pores and wreak havoc.
TIP #3: USE A TONER
Think of toner as a backup for your cleanser. It can help ensure that all pore-clogging dirt and grime is effectively whisked off the skin's surface. Most formulas can also help reduce excess oil, and leave the skin feeling instantly hydrated and fresh. Try: SkinCeuticals Equalizing Toner. 
TIP #4: EXFOLIATE
Exfoliation is key to sloughing away dead skin cells. Turn to exfoliating products enhanced with alpha-hydroxy acids, such as glycolic-, lactic-, tartaric- and citric acids. In addition to helping reduce the appearance of enlarged pores, formulas enhanced with these ingredients can also help to visibly improve the appearance of fine lines and age spots. 
Tip #5: CONSIDER RETINOL

 
It's no secret that our skin changes as we age. With the ticking hands of time comes the inevitable slow-down of our skin's production of collagen and elastin, two necessary components of youthful-looking skin. As these proteins decrease our pores may begin to look larger than when we were young.  "[Pores} can appear more noticeable over time," says dermatologist, SkinCeuticals ambassador, and Skincare.com consultant Dr. Karan Sra. To help reduce their appearance, Dr. Sra recommends turning to retinol. The powerhouse ingredient is known to help diminish the look of pores and blemishes, while targeting common skin concerns like signs of aging and dark spots. You can find the vitamin A derivative making cameos within a plethora of skin care products, including creams, serums, lotions, peels, and more.
Editor's note: Retinol should be used diligently. If you're a beginner, use it two to three times a week to allow time for your skin to build up tolerance. Always follow up with a broad-spectrum sunscreen of at least SPF 15 or higher in the morning, as retinol can cause increased skin sensitivity to sunlight. 
TIP #6: USE A CLAY MASK

 
Incorporating a clay mask into your routine at least once a week is a good way to detox your pores of excess oil, dirt, and impurities that have formed on the skin's surface. Between kaolin, bentonite, and Moroccan rhassoul, there are plenty of mineral-rich clays that can provide a multitude of benefits for different skin types. 
TIP #7: STAY SUN SAFE
Can the sun's harmful UV rays enlarge pores? If your skin gets damaged as a result, it certainly could says Dr. Sra. "Large pores are usually not caused by direct sun exposure, [but] overtime sun-damaged skin does make the pores [look] more noticeable," she says. The Skin Cancer Foundation recommends wearing a broadspectrum SPF of at least 15 every day. A good moisturizer with broad spectrum sun protection is necessary for not only helping to diminish the appearance of large pores and other signs of premature aging, but also for protecting your skin against the effects of harmful UV rays. To take your sun protection a step further, incorporate additional protection measures when outdoors such as seeking shade, wearing protective clothing, and avoiding peak sun hours—10 a.m. to 4 p.m.—when rays are strongest. 
TIP #8: Conceal with makeup
With so many fantastic primers, BB creams, and blurring balms on the market, temporarily hiding your pores is as simple as a quick swipe. Many of these products diffuse light, making the skin appear smoother—and pores appear smaller—in a snap.
Read more

Back to top