How to Get an Even-Looking Skin Tone Instantly
May 16, 2017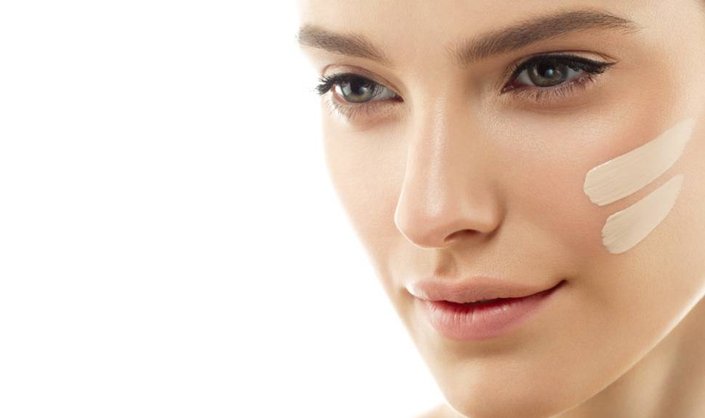 Ruddiness, dullness, dark spots, and even acne—these are all issues that can make our skin look more drab than fab in no time at all. While you should definitely reach for skin care products to curate a routine that can best fit your needs and help you achieve a more even-looking skin tone, sometimes, there's just no time to wait. In those times, reach for makeup products that can help to visibly even the appearance of your skin tone instantly. When we're in a pinch and need to hide discoloration on our complexion one of our favorite brands to lean on is Dermablend. Below we're sharing exactly how we use Dermablend's high-color, long-wear cosmetics to hide skin imperfections and help us get the even-looking skin tone we're after.
Step 1: Cleanse & Moisturize
Even if your complexion already looks flawless, you should never start a makeup application with dirty skin. Whether it's leftover makeup, excess oils, or simply built-up impurities, you'll want your skin's surface to be clean before reaching for foundation and concealers. Use a cleanser that is formulated for your skin type for the best results. After cleansing your skin it's time to moisturize. For a smoother-looking makeup application, well-hydrated skin is key—you won't want that foundation to settle in any dryness after all!  
Step 2: Foundation
Now that your skin is prepped for makeup application, reach for a high-color, long-wear foundation like Dermablend's Intense Powder Camo. This buildable, medium-to-full coverage foundation is formulated to camouflage an uneven skin tone, redness, acne, birthmarks, and even freckles. The powder foundation delivers a shine-proof finish and is available in a wide variety of shades. For medium coverage apply with a powder brush and for maximum coverage apply to the skin with a sponge. Layer the foundation until you have achieved your desired level of coverage.
Step 3: Concealer
For dark circles or any areas that require a little extra coverage reach for a concealer. Try Dermablend's Quick Fix Concealer. This full-coverage cream concealer stick features a velvety-smooth finish and is formulated to help camouflage everything from dark under-eye circles to blemishes and more. When worn with Dermablend's Setting Powder (Step 4!) it can help to provide coverage for up to 16 hours. 
Step 4: Set
Once your look is in place, set it for long-wear by dusting on a little setting powder like Dermablend's Setting Powder. The loose powder can be applied over Dermablend's foundations and concealers to help to reinforce wearability for up to 16 hours of color wear that's both smudge and transfer resistant. Apply a generous amount of the product over any Dermablend coverage product, allow it to set for two minutes, and brush away any excess powder. The powder comes in three shades so you can find one that best complements your skin tone and gives you your desired finish. 
Read more

Back to top