How To Address Skin Discoloration in 3 Steps
March 31, 2020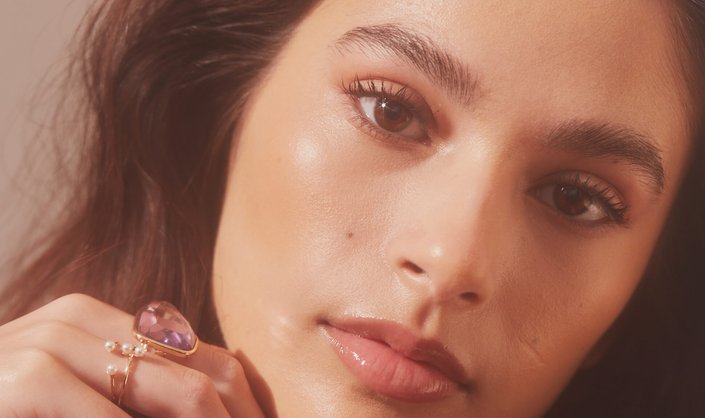 Thanks to UV rays and general aging, skin discoloration is a common concern that many people deal with. Discoloration doesn't have to be a feat you simply accept, though. Ahead, we're sharing how you can prevent, correct and protect your skin from noticeable discoloration, plus a few of our favorite game-changing products.
Step #1: Prevent
Every morning after you cleanse, apply a toner that will help even out your skin's tone and texture like the INNBeauty Project Down to Tone. Not only does this formula clear skin with a blend of six acids, it also uses niacinamide and an "even-out complex" to tame redness and blotchiness. After toning, apply four to five drops of the Skinceuticals Phloretin CF to a dry face, neck and chest. This triple antioxidant serum offers your skin environmental protection against free radicals while simultaneously reducing the appearance of discoloration, fine lines and wrinkles.The formula features a blend of three antioxidants: phloretin, l-ascorbic acid (or pure vitamin C for those in the know) and ferulic acid. Because recent studies have shown that free radicals may play a part in the onset of discoloration, it's more important than ever to shield your skin from these environmental aggressors.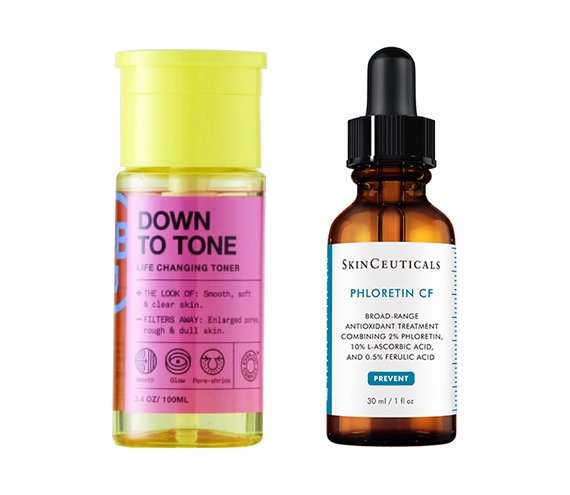 Step #2: Correct
In the morning, apply the L'Oréal Age Perfect Rosy Tone Moisturizer with SPF 30. The pink hue of this formula works to color correct dullness and brighten the skin, as well as protect from the sun throughout the day. In the morning and at night, apply the Skinceuticals Advanced Pigment Corrector to your dry face and any other areas you may be experiencing discoloration. This multi-layer treatment helps reduce the appearance of stubborn discoloration and prevent reoccurrence with continued use. Formulated with salicylic acid, hydroxyphenoxy propionic acid and ellagic acid, the corrector works by exfoliating the skin's surface (so don't forget to apply SPF afterwards for daytime use).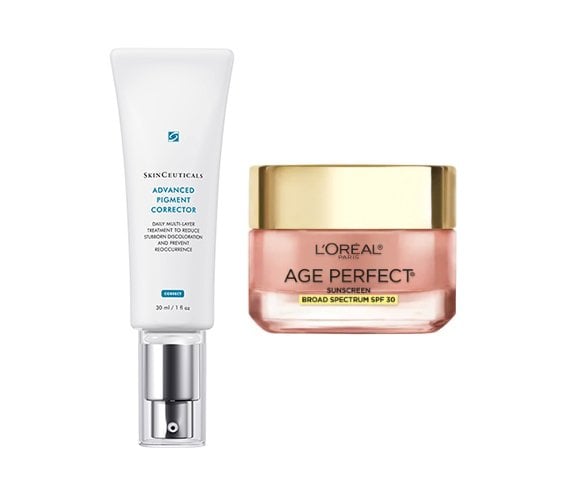 Step #3: Protect
While certain serums and creams are great for diminishing the appearance of skin discoloration, if you truly want to make a difference, consider sunscreen your BFF. UV rays are the leading source of skin discoloration and can even make existing discoloration more prominent. This is why it's so important to wear a sunscreen with broad spectrum SPF (meaning it protects you against both UVA and UVB rays) each and every day — and to reapply every two hours. Think you need to choose between your makeup and your sun protection? Think again.

Each morning as the final step in your skin-care routine, reach for Physical Fusion UV Defense SPF 50. This lightweight tinted sunscreen provides broad spectrum mineral protection while enhancing the skin's natural tone and boosting the appearance of radiance. If you want an anti-aging sunscreen, try the Vichy Liftactiv Peptide-C Sunscreen SPF 30. It contains a blend of peptides, vitamin C and Vichy Mineralizing Water to target dark spots, uneven skin tone and wrinkles.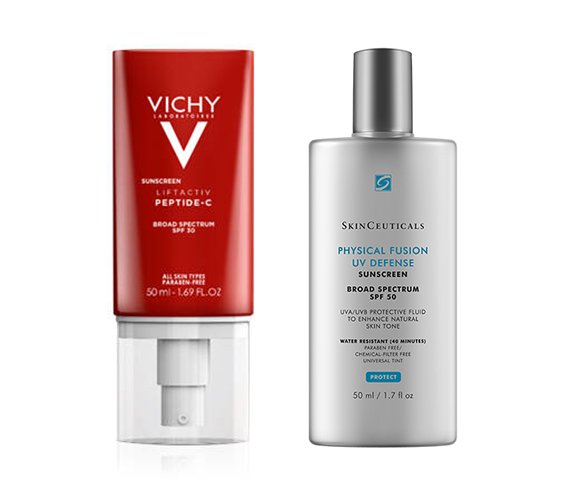 Read More:
Serums, Ampoules, Emulsions and Essences: Is There Really a Difference?
Why Dead Skin Cells Build Up and How to Get Rid of Them
These Are the Best Moisturizers to Wear Under Makeup
Read more

Back to top