6 Skincare Brands Changing How the Industry Looks at Melanated Skin
March 01, 2022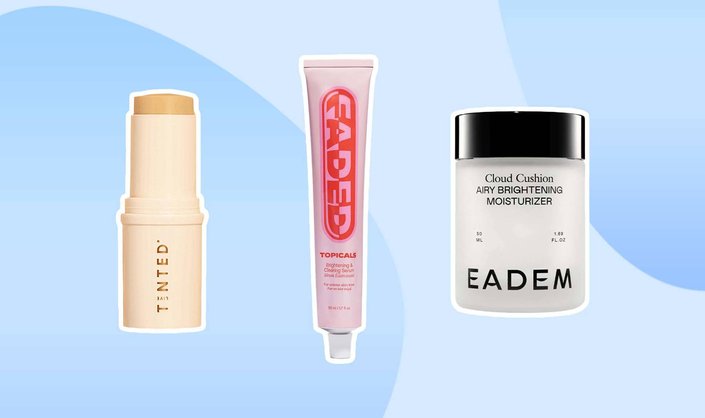 In addition to your skin type, your skin tone can affect certain complexion concerns that come your way. If you have black or brown skin, for example, you're more prone to hyperpigmentation and may experience a white cast after applying sunscreen.
Using products formulated with melanated skin in mind can help prevent and treat these skin insecurities. Here, we're rounding up six cult-favorite skincare brands — many of which are Black-owned — that were created especially for Black skin.
If you have yet to find a sunscreen that truly dries clear, you need to check out Black Girl Sunscreen. The formulas were created by Shontay Lundy for people of color, are ultra-sheer and contain natural, moisturizing ingredients like jojoba, avocado and sunflower oils. There are currently three protection level options: SPF 50, 45 and 30 so it's easy to find a sunscreen that fits your needs.
Founders Marie Kouadio Amouzame and Alice Lin Glover struggled for years to find beauty products that worked with instead of against their skin tones before they took matters into their own hands to create Eadem, which means "made for all" in Latin. Its first product, the Milk Marvel Dark Spot Serum, gained popularity so quickly that it had a waitlist of over 1,000 people. Powered by a special Smart Melanin Technology, the serum helps to gently fade and prevent dark spots without lightening the rest of your skin. Recently, the brand was picked up by Sephora and introduced its second product: the Cloud Cushion Airy Brightening Moisturizer which deeply hydrates while helping prevent hyperpigmentation.
After experiencing acne and dark marks during pregnancy, Desiree Verdejo set out to create her own solution — and Hyper Skin was born. The brand has two supercharged products: Hyper Clear, a powerful vitamin C serum that contains vitamin E, fruit enzymes, bearberry, turmeric and kojic acid, in addition to 15% vitamin C; and the newest addition Hyper Even Fade and Glow AHA Mask, an exfoliating mask that utilizes glycolic, mandelic and salicylic acids to clear out pores and brighten skin.
What started as an inclusive beauty community board has since blossomed into an award-winning cosmetics and skincare brand that caters to those with brown and black skin. Founder Deepica Mutyala's mission has always been to make beauty more accessible to people of color, and every product put out caters to that mission — from the color-correcting HueStick which not only addresses an array of coloration concerns, but can also be used as a lipstick, blush or eyeshadow, to the latest launch, the SuperHue Serum Stick, which is designed to fade dark spots and smooth fine lines.
Topicals co-founders Olamide Olowe and Claudia Teng created the brand to transform the way people feel about skin by making treatments for eczema and hyperpigmentation feel more like self-care rather than a burdensome ritual. Since its inception in 2020 the brand has quickly become a household name thanks to two products — Faded, a brightening and clearing serum and Like Butter, a hydrating mask — that are just as effective as they are Instagrammable.
Buttah Skin founder Dorion Renaud started using raw, organic, shea butter to treat his complexion challenges and quickly knew he had to share his discovery with those who have melanin-rich skin like his. The brand's Facial Shea Butter is a smooth textured butter that easily spreads and quickly absorbs into the skin's surface. Plus, it also leaves a noticeable, healthy-looking sheen on skin — making it a must-have moisturizer, especially during the colder, drier months.
Design: Juliana Campisi
Read More:
A Skincare Routine for Dark Olive Skin Tones
How a Makeup Artist Covers Up Melasma
How to Choose a Vitamin C Product
Read more

Back to top