The Best Skin Care Routine for Wrinkles & Fine Lines
September 22, 2016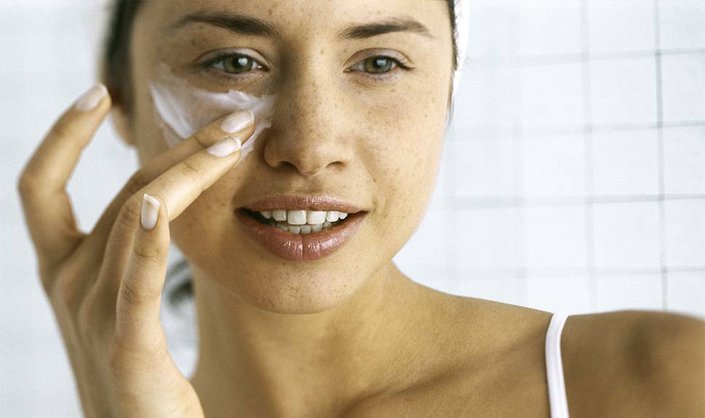 Fact of life: We'll all have to deal with wrinkles and fine lines at one point or another. Even though we can't avoid signs of aging forever, we can—and should!—do our best to keep them at bay for as long as possible. But with so many skin care products to choose from—cleansers, moisturizers, eye creams, and beyond—it's not always clear what formula is best to use and in what order. That's why we created this foolproof A.M. and P.M. regimen. Below, find the best anti-aging skin care routine for wrinkles and fine lines to help keep time on your side, below.
MORNING ROUTINE 
Step 1: Wash your face 
Ridding your skin of dirt and grime is a non-negotiable in any sound skin routine. Aside from keeping your pores free of bacteria, a clean canvas will also allow subsequent products to work more effectively. Use a gentle, alcohol-free cleanser for all skin types, like Kiehl's Ultra Facial Cleanser. Just be careful not to rub too aggressively, as this can cause a negative reaction. 
Step 2: Layer on antioxidants and SPF 
An important component of helping diminish the appearance of wrinkles and fine lines is preventing them from popping up in the first place. Since environmental aggressors—think: air pollution, UV rays, smoking, etc.—can cause free radicals to break down skin's collagen and make signs of aging more visible, it's important to put up a wall of defense by using products formulated with antioxidants and SPF. SkinCeuticals C E Ferulic is an antioxidant powerhouse formulated with vitamin C and ferulic acid to help neutralize free radicals caused by pollution and help improve the appearance of fine lines. You don't want to forget to arm your skin against the free radicals caused by UV rays, though. For that, you'll need a broad spectrum SPF, like SkinCeuticals Physical Fusion UV Defense SPF 50.
Step 3: Treat your eyes
The contour area of your eyes is one of the first places to show visible signs of aging, so picking a cream or serum that will target your problem spots is key. If you have crow's feet, reach for Vichy LiftActiv Retinol HA Eyes. Formulated with retinol palmitate and hyaluronic acid, it helps to hydrate and plump the look of the eye area. For fine lines, puffiness, and dark circles, try a skin tightening product formulated with vitamins and caffeine, like Kiehl's Eye Alert.
Tip: The delicate skin around your eyes tends to be thinner and more sensitive than other areas of your face, so be extra gentle when you apply product. Better yet, read these tips on how to apply eye cream like a celebrity facialist!
Step 4: Moisturize
All skin needs moisture, especially after it is washed. The good news is that today's moisturizers do a hell of a lot more than just hydrate skin. There are formulas that target dark spots, and—yup, you guessed it—signs of aging. One of our favorite anti-aging moisturizers to use daily is Kiehl's Powerful Wrinkle Reducing Cream SPF 30. It helps to not only diminish the look of fine lines but also smooths the appearance of your skin's texture and improves the feel of firmness. It also boasts SPF so it's a bit of a multi-tasker as well.
EVENING ROUTINE 
Step 1: Cleanse your skin 
Just like you do in the morning, wash your face with a gentle cleanser. You can use the same one from the A.M. or swap in another favorite. If you wore heavy makeup that day, consider following up with a toner to ensure that all traces of dirt, oil, and cosmetics are thoroughly removed. 
Step 2: Exfoliate two to three times per week 
Dead skin cells that build up on the skin's surface can turn a once radiant complexion into a dull, uneven mess. This will only exacerbate the appearance of your wrinkles. For skin that's bright and younger-looking, derms recommend exfoliating weekly depending on your tolerance. To do so, you can opt for a chemical peel with alpha hydroxyl acids—L'Oreal Paris RevitaLift Bright Reveal Brightening Daily Peel Pads are formulated with glycolic acid to help reduce the appearance of wrinkles over time—or you can incorporate a physical exfoliant—think: a salt or sugar-based scrub—to reveal polished, fresh-looking skin.  
Step 3: Apply eye cream 
Before bed, treat your eyes once again with a targeted formula for wrinkles and fine lines.
Step 4: Moisturize
Of course, you'll have to nourish your recently-cleansed skin in the evening as well. Go with a hydrating night cream that also boasts anti-aging benefits. One of our favorites is Vichy LiftActiv Night. With continued use, wrinkles will be visibly reduced, and skin will appear firmer, feel softer, look smoother and more radiant. 
Read more

Back to top