How to Reduce the Appearance of Crepey Skin
September 28, 2022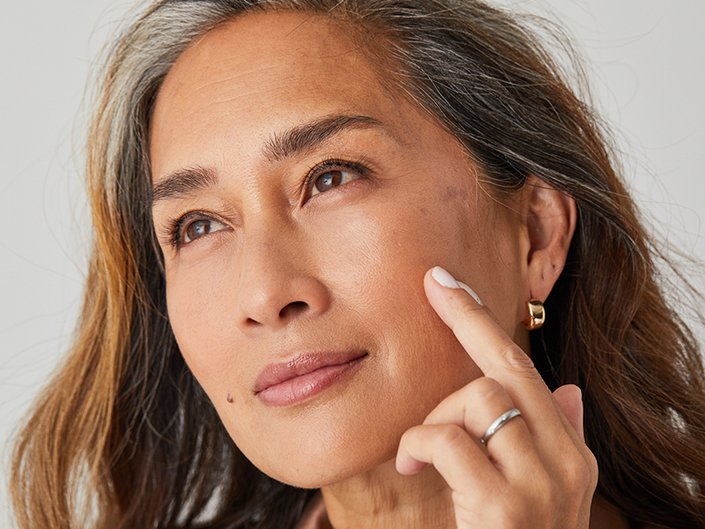 When it comes to aging, some of the most common skin concerns are fine lines, wrinkles, dullness and discoloration. A lesser talked about sign of aging, yet no less common, is crepey skin. Similar to sagging skin, it can make your complexion appear loose. Whether you're experiencing crepey skin or need some help determining if you are, keep reading for expert tips.
What Is Crepey Skin?
According to the Cleveland Clinic, as you age, skin can gradually become more loose and flaccid. Over time, it begins to feel increasingly thin, like paper. If your skin doesn't appear crepey, it doesn't necessarily mean this is a concern you won't ever have to think about. Crepiness can appear as early as your 20s but it typically begins in your 40s. It's also important to note that aging isn't the only thing that can cause crepey skin.
Dr. Forrest S. Roth, board-certified plastic surgeon, SkinCeuticals expert and Skincare.com consultant, explains that the most common sources of crepey skin are aging, environmental pollutants and a lack of a skincare regime. According to the Cleveland Clinic, crepey skin can most often be traced to sun damage, as exposure to the sun over time can break down elastin, which are the fibers in your skin that allow it to stretch and then return to its normal position.
How to Prevent Crepey Skin
Crepey skin is a natural part of aging that many people experience. That being said, it can be delayed by incorporating the dermatologist-approved tips below.
Develop a Targeted Skincare Routine
Dr. Roth recommends starting with a "retinol product to keep the dermis thick." Then, use a hydrating product like the SkinCeuticals Hyaluronic Acid Intensifier to increase the skin's ability to maintain moisture. According to the Cleveland Clinic, using moisturizers and other facial creams can help reduce the appearance of mildly crepey skin, while topical retinol creams help restore skin's elasticity. Follow up with the SkinCeuticals Triple Lipid Restore 2:4:2 or the IT Cosmetics Confidence in a Cream Anti-Aging Hydrating Moisturizer to replenish the skin of moisture.
If you're new to retinol, be sure to incorporate the ingredient into your routine in small amounts and at a lower concentration. We love the Kiehl's Fast Release Wrinkle-Reducing 0.3% Retinol Night Serum. Despite its lower retinol concentration, this serum penetrates skin quickly and deeply — 15 layers, to be exact. Retinol can also cause skin sensitivity to sunlight, so be sure to apply broad-spectrum SPF 15 or higher.
Look for Specific Ingredients
When picking the right products for your prevention plan, Cleveland Clinic states you'll want to pay attention to ingredients. Look for a moisturizer that contains alpha- or beta-hydroxy-acids, such as salicylic acid, lactic acid or glycolic acid, which help to gently exfoliate the skin of dead surface skin cells to unveil a more youthful and radiant-looking complexion.
Limit Sun Exposure
Beyond your skincare routine, the Cleveland Clinic names the most critical thing you can do for your complexion is protecting your skin from the sun's harmful UV rays. Be sure to apply broad-spectrum SPF 15 or higher every single day, even when it's cloudy outside. If you know you're going to spend a long period of time outdoors, pair your sunscreen use with additional sun protection measures such as wearing protective clothing.
Photo: Chaunte Vaughn
Read more

Back to top